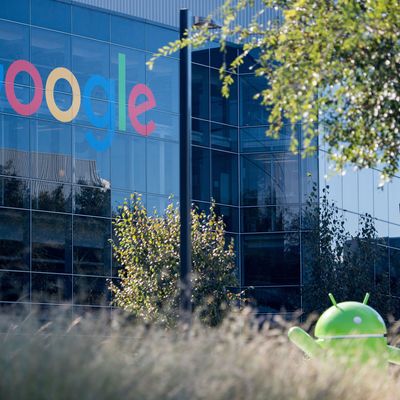 Photo: Josh Edelson/AFP/Getty Images
It's no secret that Silicon Valley — and tech as an industry, in general — is lacking in diversity. (See here, here, and here.) But higher-ups within the industry claim that not hiring women or people of color to work at their companies isn't for lack of trying. They're trying! They're trying really hard!
A new piece in the New York Times looks at a trend that is rippling through the valley to combat the dire lack of diversity: Big tech companies are practically begging powerful women in tech to join their boards. Interesting. From the Times:

Even by Silicon Valley standards, where recruiting wars are legion, attracting women to join tech company boards has become intense. While many companies still want the highest-profile women in the industry — think Sheryl Sandberg of Facebook or Meg Whitman of Hewlett Packard Enterprise — a new pool of candidates is also being hotly pursued. And those women are younger, tend to be ethnically diverse and have grown up in digital businesses for much of their careers.
Huh. That sounds somewhat promising. According to the report, the reason board diversity is so important is because boards are "power centers that can help spur broader changes." It also doesn't hurt that board members are often paid handsome paychecks and stock in the company, which means a higher chance of retaining women in these positions.
One obvious hurdle that remains is the same thing that impacts the hiring practices at all kinds of companies, not just tech companies: a restricted and familiar talent pool. When Julie Bornstein, a COO at Stitch Fix, was interviewing for a board position at several tech companies, she found that directors were looking to their friends and acquaintances for those positions, and made little effort to expand outside of their networks. Since there are "fewer natural high-profile women in tech," she told the Times, "it requires taking bets on new people."