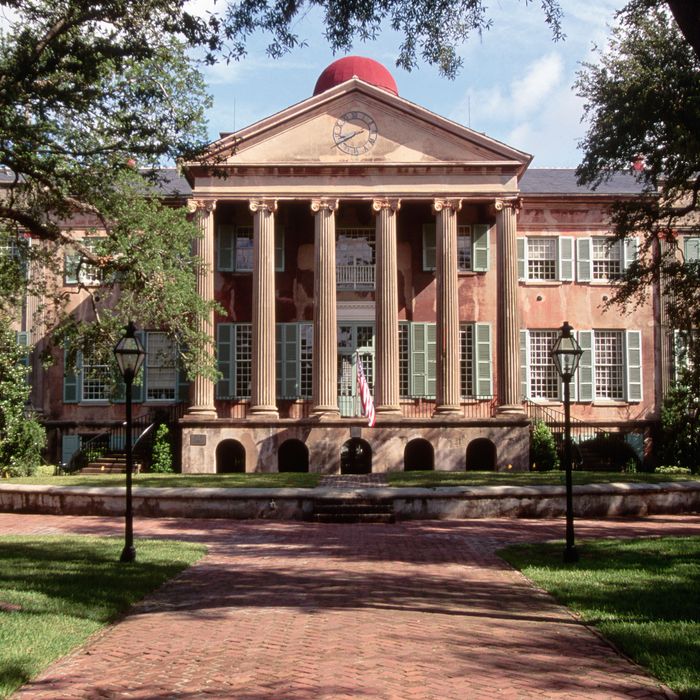 College of Charleston.
Photo: Bob Krist/Getty Images
A former student at the College of Charleston says she was drugged and raped at a fraternity house in August when she was 17 years old, per a lawsuit she filed on Friday against the school, the Alpha Epsilon Pi fraternity, and its Chi Omicron chapter.
According to the lawsuit, she claims she was at the fraternity's party when Timothy Seppi and James West III — two frat brothers — "forcibly led" her into a bedroom, stripped her, drugged her, and made her perform sexual acts on West while Seppi recorded the incident on his iPhone.
Per the Post and Courier:
She "continued to try and get away from Seppi and West" before they eventually "became annoyed" with her, the lawsuit states, so they left her "alone and crying on the bedroom floor with no clothes."

Both Seppi and West were arrested; the former was charged with first and third-degree exploitation of a minor, the latter with engaging a child for sexual performance. They're currently out on bail and still being investigated, while the Chi Omicron chapter had their charter revoked.
According to the lawsuit, the teenager — who has since dropped out of college — is seeking unspecified damages for "serious personal injuries" which led to her hospitalization.