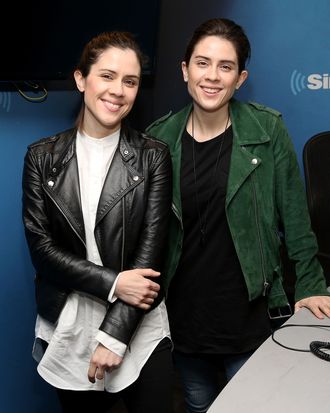 The Tegan and Sara Foundation will benefit LGBTQ women and girls.
Photo: Robin Marchant/Getty Images
Tegan and Sara, who recently wrote the perfect coming-out anthem, are reaching out to their fans in a new way. On Monday, the Canadian duo announced the launch of the Tegan and Sara Foundation, which will fight for economic justice, health, and representation for LGBTQ women and girls. "Our fans not only support us, but each other as well," they wrote in a letter on the foundation's website. Then they told fans what they hope to accomplish:
We will support the work of other organizations who have been fighting for LGBTQ and women's rights by raising funds and awareness for their initiatives. We will fight against the repressive legislation of the incoming Trump administration. We will fight against regressive homophobic, transphobic, and misogynistic legislation. We will fight for economic, racial and gender justice. We started the Foundation to dismantle the systems of inequity that prevent LGBTQ girls and women from reaching their full potential.
In other words: Yes, they really are perfect.