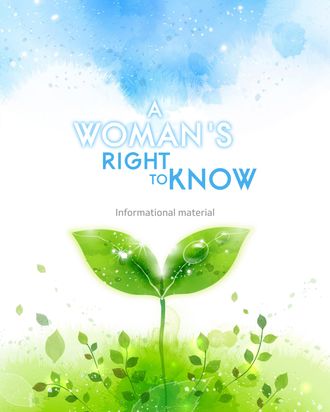 "A Woman's Right to Know."
Photo: Courtesy of Texas Dept of State Health Services
Texas is at it again. Last week, the state announced a new rule that would require fetal remains to be cremated regardless of gestational age and, now, state health officials have released an updated version of a booklet doctors must give to women seeking abortions — and it's littered with biased and inaccurate information.
A 2003 law requires that clinicians give materials to women that describe the characteristics of the unborn child at two-week increments and any health risks associated with the procedure 24 hours before a scheduled abortion. (They have to get a sonogram then, too.)
The law says that any materials "must be objective and nonjudgmental and be designed to convey only accurate scientific information about the unborn child at the various gestational ages," but using the phrase "your baby" 79 times in the booklet is neither objective nor accurate. Consider this sentence from the section on development: At 4 weeks' gestation, "your baby is scientifically referred to as an embryo." The previous version of the booklet favored the phrase "unborn child."

In a section about abortion risks, death is listed first. The stats are accurate (about 0.7 deaths for every 100,000 legal abortions) but the booklet misrepresents how the risk of death following an abortion compares to the maternal mortality rate. Of the risk of death following childbirth, it says: "very rare — 1.7 in-hospital deaths occurring after delivery per 100,000 vaginal deliveries during 2000-2006." The total maternal mortality rate (not just in hospitals) was 15.9 deaths per 100,000 births in 2012. A study in the journal Obstetrics & Gynecology that looked at data from 2014 determined the rate was higher, at 23.8, and Texas was particularly bad at 35.8.

It also falsely suggests that having an abortion means you won't have increased protection against breast cancer that comes with pregnancy. Both the American Cancer Society and the American College of Obstetricians and Gynecologists refute that there's a causal relationship between abortion and breast cancer, citing multiple studies. The booklet also says that women who have abortions might become depressed, suicidal, or infertile, without citing any evidence.