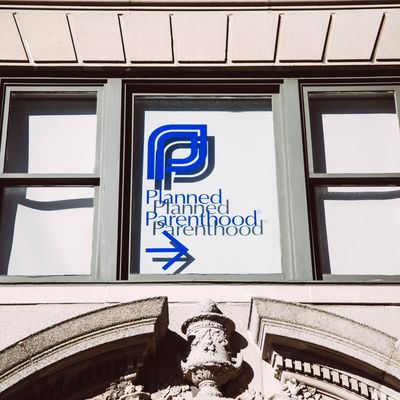 Photo: Portland Press Herald/Press Herald via Getty Images
In October of last year, Texas health officials threatened to revoke funding for Planned Parenthood by blocking Medicaid funds for the organization's affiliate clinics in the state. That notice of intent to remove Planned Parenthood from the insurance program, however, sat idle for a year without the follow-up "formal notice of termination" that officials said would come a month later.

On Tuesday, more than a year later, Texas health officials made good on their initial promise and officially kicked Planned Parenthood out of the state's Medicaid program, potentially affecting thousands of low-income women who rely on the organization for women's health services and counseling.

According to the final legal notice that Texas health officials delivered to Planned Parenthood, the organization's Medicaid funds will be cut in 30 days, the Texas Tribune reports. There's an opportunity for the cutoff date to be delayed if a hearing is scheduled with the Texas Health and Human Services Commission, according to the Tribune, but the organization plans to fight it out in the courts. Planned Parenthood said it will seek a preliminary injunction in an ongoing lawsuit filed in November 2015, after the state's initial threats to take away funding, according to a press release. "This is not over, and we will leave no stone unturned to protect access to care," Yvonne Gutierrez, executive director of Planned Parenthood Texas Votes, said in a statement. "We have seen the devastation caused to Texans when the state blocks access to care at Planned Parenthood. Already, tens of thousands of people are going without birth control, cancer screenings, HIV tests, and other care. The maternal mortality rate continues to rise. Yet [Texas Gov. Greg Abbott] is hell-bent on chasing this ideological agenda, regardless of how many women it hurts."
The Medicaid cuts have the potential to severely impact the lives of low-income women in the state seeking services from Planned Parenthood, which cares for nearly 11,000 patients through the public insurance program. Previously, the organization received $3.1 million in Medicaid funding, of which 90 percent comes from the federal government. Patients who use Medicaid often have very low incomes or no other health insurance.

The trouble regarding the Medicaid funding can be traced to last year, when controversial undercover videos were released purporting to show Planned Parenthood officials discussing the selling of fetal tissue, which is illegal. The videos, however, were shown to be highly edited and when the issue came before a grand jury, jurors cleared Planned Parenthood and instead decided to indict the duo behind the making of the videos. In the final notice given on Tuesday, Stuart Bowen, the Texas Health and Human Services Inspector General, again cites the undercover videos, saying they showed "that Planned Parenthood violated state and federal law," according to the Tribune.