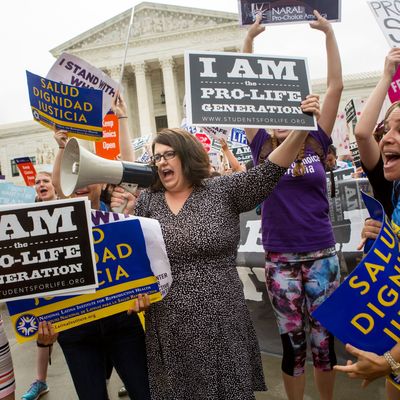 Anti-abortion protesters.
Photo: Allison Shelley/Getty Images
The Center for Reproductive Rights on Monday filed a lawsuit against Texas over its new rule requiring fetal remains to be buried or cremated, claiming the regulation is unconstitutional and asking the court to block it from being enforced.
The set of regulations, finalized in late November, require Texas medical providers to stop disposing of fetal remains in sanitary landfills. Instead, they now have to provide a burial or cremation for the remains, regardless of the gestation period or of the patient's wishes. In the new lawsuit, health-center plaintiffs argue that the rule goes against the patient's right to privacy, poses a threat to abortion access, and will cause spiritual and emotional harm to women.
"These regulations are an insult to Texas women, the rule of law and the U.S. Supreme Court, which declared less than six months ago that medically unnecessary restrictions on abortion access are unconstitutional," Nancy Northup, president and CEO of the Center for Reproductive Rights, said in a statement.
The new regulations are merely part of an ongoing attack against women's reproductive rights all over the United States. Over the past five years alone, more than 330 new regulations have been passed by state lawmakers to restrict abortion access, including a recent Ohio bill seeking to ban abortions after six weeks of pregnancy.