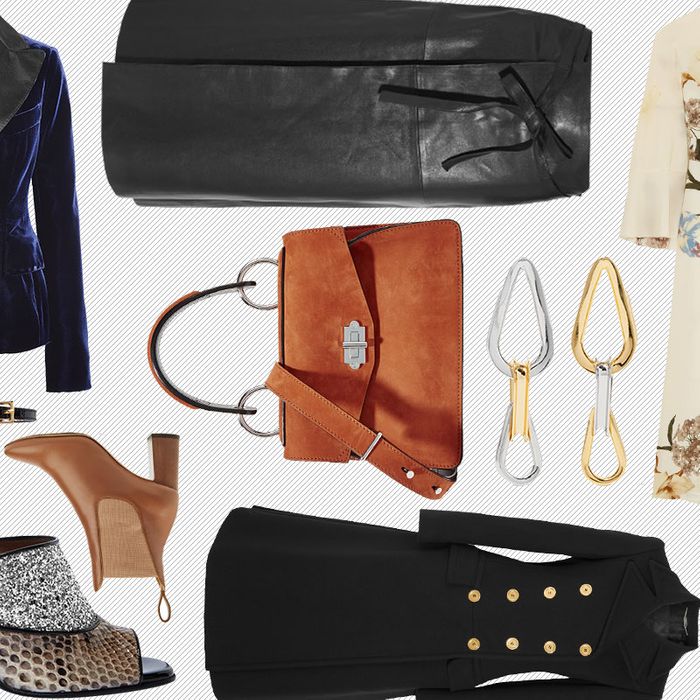 As a fashion editor, being selective about clothes is a big part of my job. Unfortunately, my professional abilities don't always transfer to my personal closet. I can't resist a cute crop top or cool-looking pair of pants. The trouble is, these items never look as amazing in my wardrobe as they do on a computer screen flashing a big "on sale" logo. This year, I'm resolving to spend my money cautiously rather than impulsively, on pieces that will stay in my closet for years to come. There's no better place to start than Net-a-Porter's annual winter sale, which offers an array of designer goods for a fraction of their normal prices. Scroll below for 13 items that won't be giving me buyer's remorse.
This silk-lamé Saint Laurent shirt is a stunner that will dress up any pair of jeans or black pants. Add black boots and you're done.
The bucket-bag trend is still going strong, but if you're looking for a refresh, consider this Alaïa bag. The eyelet-embellished leather detailing feels really different, but more important, Alaïa hardly ever goes on sale. Don't wait too long on this one.
I always seem to need more shirts for work, and this cotton shirt basically fits the bill of being both professional and comfortable. It's also one of J.Crew's best-selling men's shirts that they've now made into a women's style, making it one of the best slightly oversize, relaxed-fit shirts out there, and a steal at only $63.
I'm a huge fan of Tibi for the obvious reasons that it's one of the few runway fashion designers making clothes that real women want to wear, and this skirt is no exception. It's an elegant and interesting skirt, hits right at the ankles, and has flattering pleats.
If I'm investing in jewelry, I want to be able to wear it to work and not only on special occasions. Annelise Michelson's pieces come in fancy tones and shapes, but nothing is too over-the-top. This pair is an elevated take on the everyday dangling earring.
If your closet has become a rotating assortment of cheap fast-fashion blazers, it might finally be time to take the plunge and splurge on a really nice one. This Tom Ford satin-trimmed velvet blazer is pricey (even at 50 percent off)m but the tailoring is impeccable and the color really pops.
If you're looking for a practical bag that still feels timely, consider this camel suede bag by Proenza Schouler. It's beautiful to look at, feels like butter, and has two large compartments to fit your daily essentials.
This Valentino dress is very, very expensive, but it's impossible to deny its elegance. It's an obvious choice to wear on special occasions, including the many weddings I'm attending in 2017. I could wear it to my own bridal shower, too.
There are plenty of high-end heels up for grabs, but if you're looking for fancy minus the pain, these Prada point-toe flats are your answer.
Even if you don't believe in spending an exorbitant amount of money on coats, this Alexander McQueen one may even win you over. It's double-breasted and goes down to the calves, so you'll look great but actually be warm, too.
It's not too late to treat yourself to some really nice boots, especially if they're as timeless as this Chloé pair. You'll have them for winters to come, at 40 percent off the original price.
This Isabel Marant black leather wrap skirt is a stylish twist on the classic pencil skirt, and it can be worn a million ways. From tucked in with a sweater, to wearing with a fancy blouse or even a T-shirt and sneakers, it's an effortless addition to anyone's closet.
The snakeskin on these sparkly Marni shoes makes them wearable year 'round, as opposed to other glittery heels that scream "holiday party." Pair them with jeans or flared pants for a glamorous, retro look.
If you buy something through our links, New York may earn an affiliate commission.