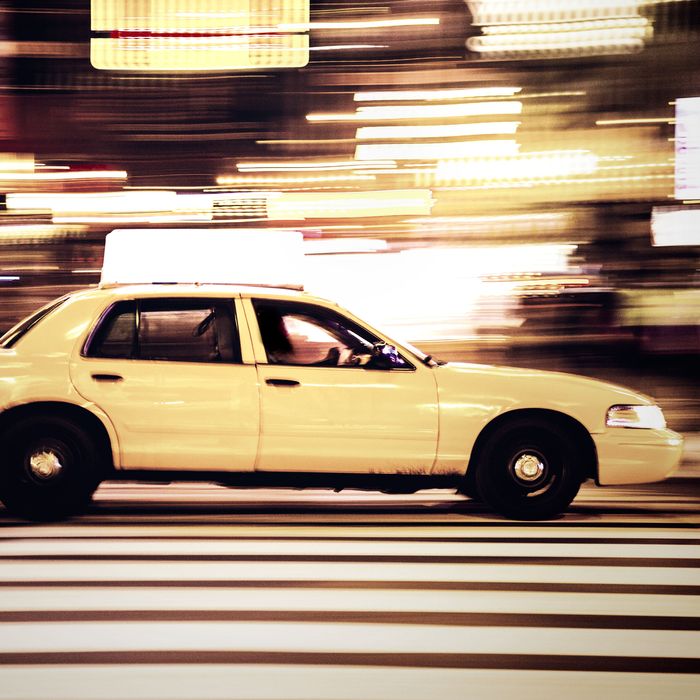 Get Sex Diaries delivered every week.
New York's Sex Diaries series asks anonymous city dwellers to record a week in their sex lives — with comic, tragic, often sexy, and always revealing results. This week, a 27-year-old publicist dating several men of all ages, in between face masks and blowouts: single, straight, Tribeca.

DAY ONE


9 a.m.: I took the day off work to prepare for the upcoming weekend. Randomly, my friend is having a costume party. I got an airbrush tan last night, but I still require a blowout and some last-minute costume shopping.

11 a.m.: My costume is rather revealing, so I wasn't going to eat much today — but I am starting to get a little hungry. Decide to take off all my clothes. Something about being naked makes me less likely to eat.
12 p.m.: Fuck it: I'm eating. Greek-yogurt parfait; it's awesome.
12:30 p.m.: I get a text from Christian. I initially met Christian at a dinner party, but we did not date until almost a year later, when we met again at another dinner party (he said that at first he thought I was too young for him). Our bodies are very compatible — we once stayed in bed for eight straight hours having sex. Despite being a fantastic lover, he is too old for me to realistically see him as a long-term partner. He is divorced with a child and stringent in his routines. I need someone younger who is still mentally flexible.
He just got back in town from extensive travel and wanted to meet up earlier this week, but I could not accommodate him. I agree to drinks this afternoon.
1 p.m.: Finally leave the house to pick up my (rather revealing) costume! I score some last-minute costume additions (part fashion-y, part slutty).
4:20 p.m.: I'm 20 minutes late but feeling good, with my blowout, lightly tanned skin, and casual-yet-chic all-black attire. Christian is looking great as well. I always forget how conventionally good-looking he is.
4:25 p.m.: He promptly informs me I will be paying for our drinks this afternoon as he has forgotten his wallet. Over 45 and still forgetting his wallet? I can't really fault him as he has often hosted me at his home in the Hamptons, invited me on trips, and paid for virtually every meal we have ever shared, but still, he did choose an expensive members-only club to meet at. I believe the person who invites and chooses the restaurant is responsible for taking care of the bill, especially when it's an expensive destination. It is cute that he orders the cheapest drink on the menu (beer) and asks my permission to order a second one. I'm not that financially destitute, darling (morally destitute, maybe).
6:30 p.m.: I pay the bill (is over $70 standard for four drinks?) and rush off to battle crosstown traffic. I'm going to my friend Sarah's apartment to get ready for tonight's festivities. Christian and I made plans to see each other again midweek. Talking to him is pleasant, but fucking him is far more pleasant. I look forward to it.

6:45 p.m.: In the never-ending crosstown Uber, I catch up on text messages, several of which are from Jeremy. He and I connected over a dating app this past summer. Due to busy travel schedules we never met, but we casually chatted and exchanged beach landscapes from whatever tropical destination we happened to be in. A few weeks ago, we bumped into each other at a party — Jeremy called it fate. He now sends me inspirational quotes and says that our astrological signs are highly compatible … I know, I know. He'll be at the party this evening.
7:30 p.m.: I arrive at Sarah's apartment — makeup, glitter, bodysuits, wigs, and lingerie, oh my!
8 p.m.: Sarah informs me she will be taking mushrooms this evening. Never one to make someone do drugs alone (how rude), I take some as well.
9 p.m.: We arrive at the party and I am not feeling the vibe of the shrooms or the party. Vodka will surely solve this, right?
10 p.m.: The shrooms effect is minimal, but when offered molly, I decline. I am such a responsible adult these days. I mentally high-five myself.
11:30 p.m.: Spot Jeremy in the crowd and decide to avoid him for the time being.
1 a.m.: After a multitude of texts from Jeremy, I feel I cannot avoid him any longer. When I approach him, he immediately introduces me to his friends (who "already know all about" me) and drones on about how magical our meeting was. Never one for public displays of affection, I break my own rule to silence him. We make out aggressively on the dance floor.
1:15 a.m.: Jeremy is insisting I try the "best molly in the world." I take a microscopic amount, as I would like to sleep at some point tonight. Jeremy is not impressed and insists I lick more off his finger.
2 a.m.: Rolling and making out all over the dance floor. Dear god, I hope everyone is as high as I am and will have no recollection of this.
6 a.m.: In bed alone … success!
DAY TWO

8 a.m.: Wake up and quickly check Instagram … as I suspected, my costume selfie is a hit. I can drift back to sleep in peace.
3:30 p.m.: Greek-yogurt parfait snack and fielding texts from Jeremy.
4 p.m.: I receive a text from Alex. A friend took it upon himself to play matchmaker and set me up with Alex last week; based on his age and pictures, I was dreading our first date a bit — but it ended up being really enjoyable. Alex is inviting me out again tomorrow, which was supposed to be a recovery day. This sounds like more fun.
7 p.m.: Start getting ready for the evening, another party.
8 p.m.: Start drinking wine with Sarah. We agree, no illicit substances for the evening.
9 p.m.: We make it to the party and it is quite crowded. A friend appears with a giant bottle of vodka. I liberally pour myself a drink.
9:30 p.m.: While the crowd is attractive, I am more interested in the food.
1 a.m.: I am very drunk and scouring the party for more food.
1:30 a.m.: Efforts to find more food are not fruitful. The Uber surge pricing is insultingly expensive and I am in Meatpacking. There is no way I'll find a cab here! What to do!?
1:45 a.m.: I am on the subway home. Turns out my wasted self is fiscally responsible.
2 a.m.: In bed alone … again.
DAY THREE
11 a.m.: I wake up and feel considerably worse than the morning before, but it is remarkably warm for this time of year and I must get outside.
12:15 p.m.: Run completed! I have finally done something healthy for myself this weekend.
1 p.m.: My period has arrived without warning — so much blood. Isn't being a female fabulous? (Actually, it is.)
1:15 p.m.: I am always incredibly horny on my period. I want sex, but will settle for masturbation. I always masturbate to the same thing: two "straight" men having gay sex. Usually, I will envision one of my romantic partners getting anally penetrated by either a male prostitute (I am turned on by the idea of them paying for sex) or one of their close guy friends (I am turned on by the idea of a secret romantic relationship between guy friends). Today I imagine Alex getting fucked by a prostitute.

5 p.m.: Alex lives uptown and I live downtown, so he is sending a car to pick me up and take me to our date, an event. A nice touch. Alex is older, in his 40s — older men are far more chivalrous than men my own age. Ideally, I like to date men in their late 30s to early 40s (but sometimes stray from this). Even if they have the means to do so, younger men tend to put less effort into pursuing you.
7 p.m.: I have arrived and am extremely underdressed in my jeans and a blazer. My father always told me it's better to be overdressed than underdressed, but I don't think that holds true in New York City. The less effort you appear to put in, the cooler people think you are.
8 p.m.: My attire and age are not winning me any points with Alex's friends. One, a woman, approximately 50, asks if I have a job. Asking someone what they "do" is a somewhat-crass question, but asking someone if they do anything is downright insulting. Luckily, I can give a self-important speech detailing my (slightly embellished) hard work. Alex's friends seem impressed and let out a collective sigh of relief that we did not meet on Seeking Arrangements.
11:15 p.m.: Alex hails me a cab. But wait … he's getting in the cab too. This is confusing. I quickly give the cabbie my address and hope Alex knows the cab will make two stops.
11:30 p.m.: When we arrive at my apartment, he pays and gets out with me. I appreciate the industrious spirit — but it's not happening for you tonight, buddy.
11:35 p.m.: Outside my apartment, I thank Alex for a lovely evening and make out with him in a forceful manner. A touch of grinding and biting, then send him on his way.
DAY FOUR

7:10 a.m.: I am a shell of my former self. Why must work start so early!?
7:40 a.m.: Out the door and off to the office. I am meticulous with my skin-care regimen (combined with Latisse, the prescription eyelash-and-brow growth serum), so I don't really have to wear makeup. It's the biggest time-saver!
2 p.m.: I receive a text from Tim. I met Tim at a dinner last week and we had a riveting conversation. I was rather excited when he texted me the following day, but so much has happened over the weekend — the idea of dating someone new sounds exhausting. I decline his invitation for drinks tonight and say I'll be traveling this week (white lie). We agree to hang out after I "return." This may not actualize, as things tend to lose steam in NYC if you put them off too long.
7:30 p.m.: In bed with a face mask, eating loot from Whole Foods while watching Westworld. Perfect evening!
DAY FIVE
Noon: I have dinner plans with Christian tonight, so I drag myself to the gym on my lunch break.
1 p.m.: Back at the office, with a text from Christian confirming dinner. Meeting at his place at eight to smoke some weed beforehand.
5:15 p.m.: Leave work early to get a blowout.
5:45 p.m.: The gentleman doing my hair is extremely attractive. When he offers me an additional hair treatment, I accept knowing it will involve a lengthy scalp massage.
7 p.m.: The hair mask took forever (the scalp massage was blissful), cost an additional $35, and left my hair slightly flat. Poor life choice.
7:15 p.m.: Just got home. I must shower, shave, and pick out an outfit. Sorry, Christian, there is no way I will be at yours by eight.
8:15 p.m.: Congratulating myself for making it to Christian's apartment only 15 minutes late! I do adore this apartment — it's quite spacious with a standout décor and art collection.
8:30 p.m.: Christian has the absolute best weed I have encountered. It gives off a very mild euphoric feeling especially enjoyable when eating or having sex. We take a few hits.
9 p.m.: Off to the restaurant. I am quite stoned and constantly giggling like a 12-year-old.
9:15 p.m.: Christian takes the lead and orders for the table. Our dinner will consist of fatty red meats, creamy sauces, and refined carbohydrates without a green vegetable in sight.
10:10 p.m.: Back at his place, smoking more weed and waiting for the conversation to take on a sexual undertone.
10:15 p.m.: Conversation takes a sexual undertone.
10:20 p.m.: I slowly peel my clothes off and lead Christian to the bedroom.
10:25 p.m.: Christian starts fingering me … should I tell him I'm on my period? Nah. If he notices, I'll just feign surprise and pretend it just started. I hope his expensive bedsheets make it out of this ordeal unscathed.
10:35 p.m.: I get on top and start riding him. His cock is so hard — I briefly wonder if he takes Viagra, but decide it doesn't really matter. To better concentrate on the sensation, I close my eyes. I come hard.
10:40 p.m.: Time to give missionary a go. He starts slow and gets faster and faster. When I tell him I am about to come, he stops and starts teasing me. He loves to make me beg for it. When I can't take it any longer he resumes fucking me until I come even harder than the last time.
11 p.m.: I have a rule that I do not have sleepovers on weekdays. Christian knows the drill, but it troubles me that he no longer begs me to stay the night. I wouldn't stay, but it's comforting to know he wants me to.
DAY SIX
Noon: I slip out of the office to visit my trusty dermatologist. Two weeks ago, I got a touch of filler injected into my tear troughs. My dermatologist is extremely conservative and used just the smallest amount. The change isn't particularly noticeable; it just looks as if I've had a really great night of sleep (even when I take molly and dance until 5 a.m.).
12:30 p.m.: My dermatologist pokes and prods until she looks me over with approval. Thankfully, my doctor specializes in cosmetic dermatology — no one is the wiser about my little enhancements (I also have a very slight nose job and porcelain veneers).
1 p.m.: Leave the dermatologist looking refreshed and with a prescription for Aczone (to keep my skin clear), Retin-A (to keep my skin youthful), and EpiCeram (to keep my skin hydrated). Ironically, I use fillers, tasteful plastic surgery, and an arsenal of prescription creams to create the illusion of natural beauty. The key is to continue to look like you, only better.
5 p.m.: Jeremy catches me at a weak moment and I agree to drinks tonight. I am a glutton for punishment.
8:20 p.m.: I am 20 minutes late for our date and still beat Jeremy to the restaurant. I hate him.
8:35 p.m.: Jeremy talks about himself while proclaiming he hates talking about himself.
9 p.m.: I don't think he has asked me a single question, but he does go into intense detail about his relationship with his mother at age 12.
9:30 p.m.: We talk about politics.
10 p.m.: We talk about his divorce.
10:30 p.m.: We talk about how he is "between jobs".
11 p.m.: We talk about the time he got arrested.
11:30 p.m.: I insist that we must get the check as I have a very early morning and generously offer to pay. He declines my offer.
11:35 p.m.: In the cab and deleting his number.
DAY SEVEN
7:10 a.m.: I wake up to a plethora of texts from Jeremy. Someone is getting ghosted today.
6 p.m.: I am preparing to hang out with Tim, which we decided would be a night in at his place. My domestic skills are limited to a microwave and boiling water; I'm genuinely looking forward to a home-cooked meal.
6:30 p.m.: I throw on workout clothes, sneakers, and a ponytail to communicate Tim's spot in the friend zone.
8 p.m.: Enjoying a healthy meal! Tim is on some insane health kick and doesn't eat anything with added sugar. I admire his tenacity.
9 p.m.: In Tim's bed watching a movie while he gives me a massage. My life would be infinitely easier if I thought I could love him (or even date him), but I refuse to settle until I am over 30.
10 p.m.: Tim begs me to stay the night, but I fear that would send the wrong message. Also, it is a weeknight. My policy is only broken under extreme circumstances (extreme quantities of alcohol and/or extremely good-looking men). The qualifications are not met here.
Get Sex Diaries delivered every week.
Want to submit a sex diary? Email sexdiaries@nymag.com and tell us a little about yourself.