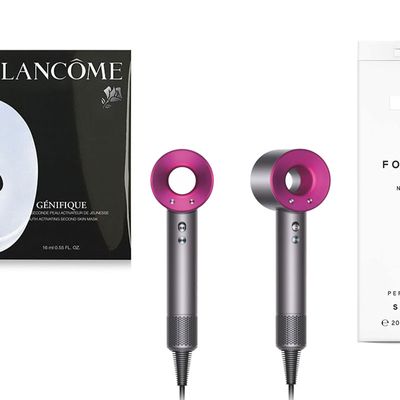 The Cut tested a lot of beauty products this year. No highlighter went unblended, no skin-care routine went unmaximized, and we tried out so many Korean face cleansers that we now recognize the Korean characters for wash. But in this bounty of beauty, a few hair-care, makeup, and skin-care products stood out from the rest. Here are the best beauty products of 2016, including a game-changing hair dryer, a cleanser for sensitive skin, and a wave spray so good that you might never need another one.
Dyson might be famous for making things that suck, but it's in the business of making life suck less. This year, the vacuum company leaped into the beauty market with the launch of its Supersonic hair dryer, which Linda Wells calls "the best hair dryer."

The Supersonic was the product of years of research and engineering, and boy, does it show. The machine is light and agile and can clamp to attachments like a diffuser or nozzle via heavy-duty magnets. It heats up in a flash, and a small blade hidden inside the blow dryer chops stray hairs so they don't become tangled and slow the motor.
Best of all, it's blissfully quiet. Components of the motor operate at a decibel level outside of a human's hearing capability, so although it's not silent, it's hushed enough that you can carry a conversation over the noise. Or in my case, continue to watch TV without interruption. —Ashley Weatherford
Some people have lucky underwear or a lucky plane outfit. I have a lucky highlighter. Magical things happen when I wear this highlighter: My UberPools wind up not being pools at all. The cashier at Fairway opens up a new register, right in front of me. Heavy rains begin the minute I cross the threshold into my apartment — a good thing, because this highlighter is limited edition and I don't have much of it left to spare. It makes you look bathed in good light, all day long. I guess I'm going to have to get a beauty fridge like Linda Evangelista to preserve it. —Kathleen Hou
This is my second-favorite lucky highlighter because the cold, hard truth is that I will run out of the Pat McGrath one eventually. If RMS's hero product, the Living Luminizer, acts like a headlight for your face, the Magic Luminizer is more like a high beam. It's a more concentrated version of the product that dots the cheekbones of every J.Crew model — subtle enough to make you look a little extra during the day, but not so extra that your boss will mention it during your weekly meeting. —Kathleen Hou

It's hard to develop a shampoo that stands out. Most are defined by their downsides, stripping hair of color, moisture, or bounce. Worse yet, the shampoos that deliver the cleanest scalp are drying, and the shampoos that are the most moisturizing barely clean at all. But hairstylist and Iles Formula founder Wendy Iles has created the perfect balance in her Iles shampoo.
It's sulfate-free but still lathers, thanks to a mushroom ingredient that spectacularly foams when introduced to water. Silk proteins protect strands from its more drying elements (it must clean, after all), and a soft, subtle white flower scent stays in your hair long after you rinse. There's not a better shampoo on the market right now, I promise. —Ashley Weatherford
Multipurpose balms are nothing new, but many, unfortunately, are filled with pore-clogging crap (think mineral oil and other petro-chemicals). Lanolips multipurpose balm, made from the wool byproduct lanolin, cures everything without any of the unsavory ingredients that plague other balms of its kind. Got chapped lips? Dot your lips with this colorless, odorless goo. Dry nose? Dab just a tiny bit. Have a baby with a gnarly diaper rash? You know what to do. There are also tinted balms from the brand, which are pretty and sheer and taste delicious. —Ashley Weatherford
Last week, the new Bachelorette cast photos were released, and in an unexpected twist, only about a third of women had what I've long considered to be the signature hairstyle of lovelorn reality-TV contestants everywhere: barrel curls. Consider this to be a death knell, a final signifier that the era of coiled-sausage ringlets is coming to an end. (Per usual, this was predicted by the prescient Guido Palau.)
As barrel curls disappear, they're being replaced by a less-contrived "your hair but better" style, and you'll need this volume powder to achieve it. Developed by Natalie Portman and Lea Seydoux's hairstylist David Mallett, it gives your hair lift without bounce — or the need for a blow dryer. It adds texture without dirty grit, and dispenses product in a gentle puff that doesn't leave behind white residue. Use it to make your hair look a little more "done," without being overdone. —Kathleen Hou
Pai's Gentle Hydrating Cleanser takes an unusual approach: It requires you to apply the creamy emulsion to your face when it's dry, then wet and wash the formula off with a textured muslin cloth. The experience is both luxurious and utilitarian. The warm cloth helps to free trapped dirt and junk from pores, while applying the cleanser to a dry face helps to break up makeup more effectively.
I love that my skin feels soft yet clean after each use, but that's not the only factor that makes Pai pretty great. The entire Pai family of products is tailored for sensitive skin, but not one item — be it the zit-busting deep-cleanse mask or skin-nourishing rosehip oil — feels wimpy or watered-down (as some sensitive brands tend to). —Ashley Weatherford
I think the beauty editors of New York City brought these once-discontinued masks back through sheer force of will. Every time I saw the poor Lancôme PR person, I would tell her that these were my favorite masks five years ago and beg her to start producing them again — and she would reassure me that I wasn't the only editor begging for their return. This year, Lancôme heeded our pleas. This face mask is the one to use when you've been treating your skin terribly. Every sheet cotains half the contents of an entire bottle of Lancôme's moisturizing Genifique serum, infusing a waterfall of moisture onto your face so that your skin looks dewier, awake, and taut. —Kathleen Hou
Blotting papers are an ugly affair, but Too Cool for School somehow made them fun. These little rice papers are enclosed in a plastic pouch that's equipped with both a mirror and a sticky poof, which you use to seamlessly grab new ones. The papers soak up oil and shine, yes, but I can't get over the nimble and adorable dino-covered packaging. The design is pure genius and makes you wonder: Why didn't someone think of this ages ago? —Ashley Weatherford
If my job didn't require trying every wave spray on the market, I'd probably never sample a new one again. The Ouai Wave Spray, from the Kardashian-family hairstylist Jen Atkin, completes me.

It's not crunchy, not smelly, not dry, and it actually works, even without a curling iron or blow dryer. You won't spray this into your hair and wake up looking like Gisele. But it does a great job at coaxing out the natural wave texture, so that you can get fresh, natural, bedhead waves.

My trick is to spray this onto damp or dry hair, twist it into two Princess Leia buns, let it marinate for about 30 minutes, and release to find air-dried, glossy waves that can pulled be apart or brushed through to look more distressed. —Kathleen Hou
If you buy something through our links, New York may earn an affiliate commission.