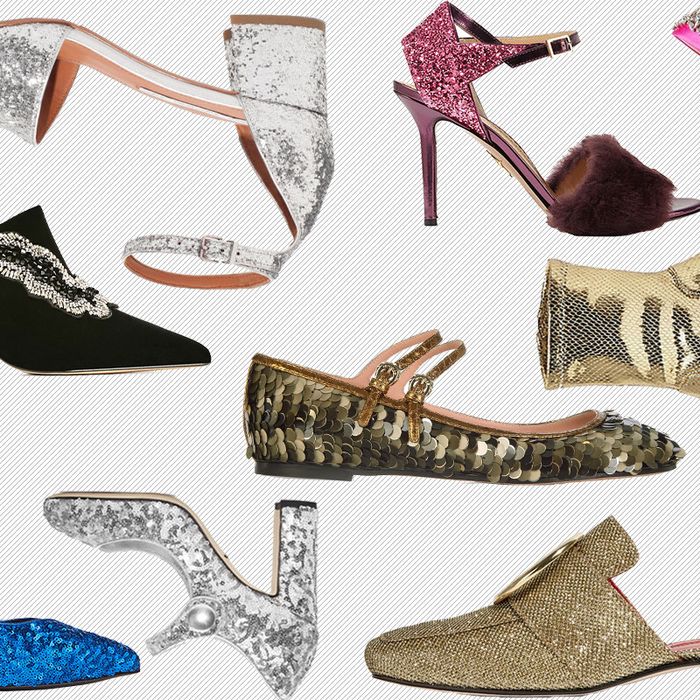 So you've finally scored a dress on discount this year, and now the only part left to figure out is what's going on your feet. Shoes might normally play second fiddle to an amazing dress, but it's New Year's — anything short of copious amounts of glitter and sequin is slumming it. If you're strapped for cash (because of all those pesky gifts), the good news is some of the most dazzling pairs don't require much; you can always scour the season's sales for shoe contenders marked up to 60 percent off. Scroll below to shop the shiniest and most sparkly of them all.

The mule has made its comeback in a big way this year. Embellished with a sparkly beaded appliqué, these Zara heels are reminiscent of those ever-popular dressy Chanel mules at a much lesser investment.

For those watching the ball drop in the coldest of destinations, you can still go the fancy route without compromising on warmth. Even after the party's over you can use these to add an element of "ooh shiny" to a basic sweater and jeans.

A classic silver-sequin sandal will never go out of style for occasions like this, and at a decent height, it's a heel your feet can handle.

Barbie pink, an over-the-top crystal-studded heel, and featuring a height not for amateurs, this isn't exactly a shoe for minimalists. But it's the holidays: If not now, when?

When you'll be on your feet the whole night, no one can argue that a platform heel is the best heel. To make these feel extra festive, pull an MJ à la "Billie Jean" and just wear them with glittering socks.
These skew the sweet and delicate side, but the huge sequin detail packs a big shiny punch. You can pair these with a loose-ruffle dress for a New Year's–meets–Coachella kind of vibe.

For the more demure and a little less eccentric, there's always the option of black glitter. Still every bit as festive as, say, a metallic gold or silver, it'll also have more replay value for special occasions other than New Year's Eve.

The heeled mary jane is a style Dolce & Gabbana does well, especially if you tend to favor a maximalist approach. At less than $300, it also happens to be on massive discount.

While towering heels maybe overrated for a holiday party, comfort never is. Next to a pair of limited-edition Gucci loafers (if you're balling like that, good for you), these are the next best thing to walking in a pair of fuzzy slippers. Except these don't look like you've completely given up.

Just the right amount of glitter and fur, they're a statement all on their own, so you can go easy on the rest. At half off, it's also easy on your wallet.

You'll feel straight out of Studio 54 in Saint Laurent's ocean-blue sequin pumps, and on a day like New Year's Eve, that's sort of the point, right?

If you buy something through our links, New York may earn an affiliate commission.