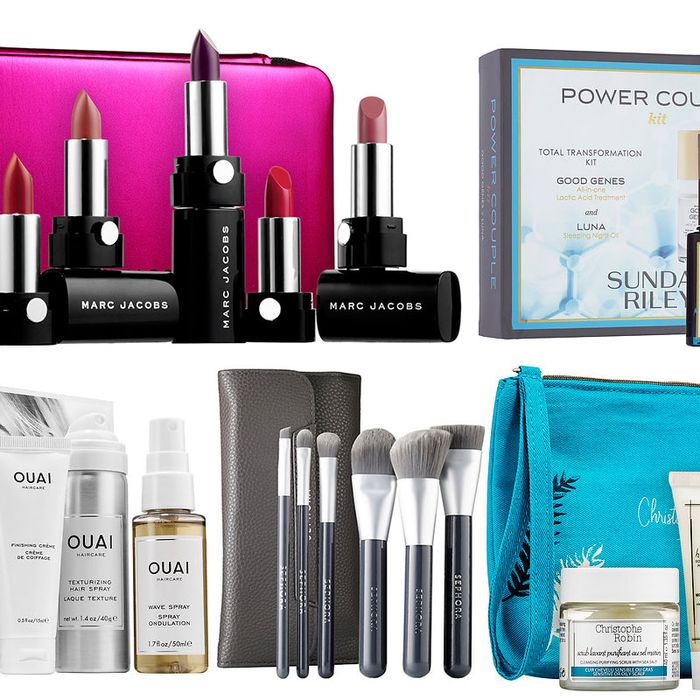 'Tis the season for beauty deals, and this year is even better than 2015. The Cut combed through the hundreds of beauty deals on Sephora for those that offer the best price and value regardless of whether you're gifting to a friend … or to yourself. From a brush kit that could get you started on your Instagram beauty-video career to a travel blow dryer Huma Abedin would love, here are the best gift sets you can buy right now from Sephora.
For Your Friend Who Has [Whispers] a Problem
Look, friends tell each other the truth. And if you've noticed that your friend has a tiny, inconvenient flaky-scalp situation due to being human and it being winter, the right thing to do is to get her this beautiful French shampoo set, and not shove her a bottle of Selson Blue. Created by legendary French colorist Christophe Robin who colors Catherine Deneuve's hair, it contains bottles of his purifying shampoo, conditioner, and his hero product, the sea-salt scrub. The scrub and its sea-salt granules transform with water to become a mild lather that works to relieve itchy scalps and rebalance oil. It leaves your hair feeling deeply clean without feeling stripped, and very, very shiny. —Kathleen Hou
For Your Friend Who Doesn't Know You're Poor
For an affordable gift that doesn't feel affordable, consider a few fragrances from Clean. The brand known for its linear, uncomplicated scents is offering an adorable collection of three of its fragrances — warm cotton, sueded oud, and blonde rose. As with any Clean fragrance, each scent can be used alone or paired with another Clean fragrance for a more customized scent. Warm cotton with blonde rose smells like fresh laundry at a floral shop, for example, while sueded oud with blonde rose evokes thoughts of sex and spice. Buy a few sets for cheap, last-minute gifts that look anything but. —Ashley Weatherford
For Your Friend Who Has the EWG Saved As a Bookmark
If you or your friend are interested in knowing more about green beauty but aren't sure where to begin, this gift set from Drunk Elephant is a good start. The marula-oil-based brand's ethos is easy to understand: Every ingredient is clean, compatible, and clinically effective. Everything in the line is even fragrance-free. Acids are a staple in many solid beauty routines and there are three of them — count them, in this one kit. The brand has even earned a reluctant thumbs up from cosmetics cop Paula's Choice. —Kathleen Hou
For Your Friend Who Travels Like Huma Abedin
There are many things to admire about Huma Abedin, but from a beauty perspective, it's admirable that she travels with her own blow dryer and gives herself the glossy, bouncy blowout you saw everyday on the campaign trail. She is her own, better version of Drybar. For those of us with Abedin-like beauty ambitions, there's GHD's flight blowdryer, a compact and light (much less hefty than Abedin's rumored five-pound blowdryer) travel-size beauty tool. It fits into carry-ons, taking up minimal space, won't burn or fry your hair, or give you a hand cramp. Best of all, it even comes with universal voltage so it's usable in every country, whether you're traveling with Hillary or just on vacation. —Kathleen Hou
For Your Friend Who Likes a Little Excess
The only thing better than one of Marc Jacobs's buttery, densely pigmented lip colors is five of Marc Jacobs's buttery, densely pigmented lip colors. That's what comes in the brand's limited-edition gift set, which is housed in a vibrant, tasseled case that somehow doesn't look ridiculously tacky. All are best-sellers, including a rose-and-brown nude, a brick-and-cherry red, and a deep plum. The lipsticks are tiny renditions of the original versions, which only means that you'll have more room to stash several in your bag at once. —Ashley Weatherford
For Your Friend Who Has a Ton of Nudes
A few years ago, Nudestix understood what most other makeup companies didn't — that applying makeup ought to be simple, and maybe more importantly, that it ought to be fun. That's why they launched an entire brand comprised mostly of sticks — eyeshadow sticks, lipstick sticks, concealer sticks, you name it. Their magnetic eyeshadow set is the perfect amalgam of simplicity and fun. A swipe or two of the stick delivers smooth, creamy coverage to lids and the shimmery lineup of brown and golden shades is universally flattering. Gift it to the person who doesn't have time to master a smoky eye, but appreciates a clean wash of color nonetheless. —Ashley Weatherford
For Your Friend Who Is Also Your Mom (Awww)
Year after year, there's also one item that remains consistent on my mom's Christmas wish list — a Philosophy fragrance. Amazing Grace swept her off her feet years ago. The soft, floral scent carries the casual allure that could appeal to just about anyone, which explains why Sephora struggles to keep it on store shelves. Around the holidays Philosophy always couples the eau de toilette with fun skin-care options, and this year proves no different. The Amazing Grace gift set is equipped with a full-size shower gel (that also doubles as a shampoo, though I wouldn't recommend using it to that end) and a light, whipped body moisturizer infused with the scent. It's less than $60, but I promise you your mom will think that it's priceless. —Ashley Weatherford
For Your Friend Who Is Always Keeping Up With the Kardashians
It's not just hype: Celebrity hair stylist Jen Atkin (who Kardashian fans will recognize as the family hairstylist) has a genuinely good hair line. Three of her best hair products are in this kit, including the Wave Spray which helps to coax bends and curls out of straight hair without crunch, their texturizing hair spray which gives you French-girl waves, and the Finishing Crème, which smooths ends. The entire line also smells delightfully like Kai mixed with Child perfume. —Kathleen Hou
For Your Friend Who Is a Little Nutty
It's easy to get a little nuts around the holidays, but smelling like a nut is delightful. Since I first discovered it several years ago, L'Occitane's Almond Shower Oil has taken up permanent status in my bathroom. The scent smells like a warm, milky, baking almond cake (but not too sweet) that I haven't been able to find anywhere else. Friends who have taken showers at my apartment have all become Almond Shower Oil converts, not only because of the ridiculously good smell but because of the baby-soft skin they get when they step out of the shower. This gift set also comes with a body cream, so you can continue to smell like a milky almond puff all day. —Kathleen Hou
For Your Friend Who Has Hair
If your friend has hair — straight, curly, textured, wavy, long, short — he or she will need Living Proof's "good hair day" set. MIT scientists helped develop the brand's shampoo, conditioner, and dry shampoo, discovering their patented Healthy Hair Molecule (OFPMA), which helps to repel dirt and grease (read: it allows you to wash your hair less but still look good). My favorite is their dry shampoo, the first dry shampoo I've tried which actually makes your hair feel clean, without adding grit to the hair. —Kathleen Hou
For Your Friend Who's Really Into Instagram Makeup Videos
Remember when you couldn't buy one decent makeup-artist brush for less than $70? And now thanks to very efficient and smart beauty-company production managers, you can buy a whole set of very good makeup brushes for all different parts of your face for the price of one luxury brush. Although most Instagram makeup videos feature dozens of brushes, this Sephora brush set will cover you for the basics. Although it's made of synthetic fur, the brushes are so soft they won't cut your face, yet not so flimsy that they won't pick up pigment. They're also infused with charcoal so they're anti-bacterial if you feel lazy (or human) and don't want to clean your brushes all the time.
For Your Friend Who Isn't Afraid of Some Goo
There are few items that deliver smooth, practically glowing skin instantly, and Ren's Glycol Lactic Renewal mask is one of them. The beloved exfoliating mask retails for $55 in its full-size form, but this tube is half as small and disproportionately more affordable, which means the $15 kit is a clever way to grab hold of the orange goo for significantly less. What's more, the mask is saddled alongside Ren's flash 1-Minute facial, which serves a giant dose of complexion-brightening vitamin C with each use. Gift it to someone to flaunt your gift-giving prowess, or, just keep it for yourself.
For Your Friend Who Judges People on Their Pore Size
If you've never noticed the size of someone's pores, consider yourself blessed. Stop reading here. But if you've ever stressed out about your own pore size or own a magnifying mirror, then you are probably a skin-care obsessee. Welcome to the club. You're most likely already familiar with Sunday Riley's very popular, smelly-yet-effective exfoliating Good Genes treatment, and this set comes at a good value. For the price of one Good Genes, you get as a bonus the brand's new retinol night oil. —Kathleen Hou