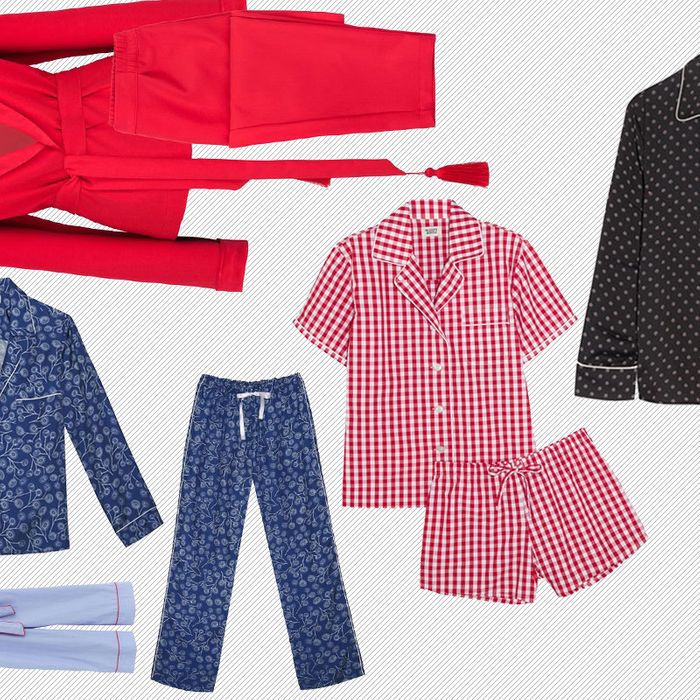 You don't have to be big on holiday cheer to enjoy a set of well-made pajamas — sometimes slipping into a crisp pair is just the thing needed to set you up for a good night's sleep. And if you're a fan of multipurpose clothing, take advantage of the pajama-dressing trend and incorporate some into your daytime wardrobe. The stylish pajamas below are pieces you can wear on your couch over the holiday weekend and at your desk chair if you're unlucky enough to be working next week.
Some people really hate wearing pants to bed. For the pajama-bottom-averse, Everlane has a crisp tunic that still sticks to the old-school pajama aesthetic.
Eberjey has just about the best traditional pajama sets for a price that's belied by their expensive looks. If this deep eggplant shade doesn't speak to you, the brand makes this set in almost a dozen other colorways.
Technically, these are pajamas, but add a blazer and mules and no one would suspect you just rolled out of bed.
Novice daytime PJ wearers, this set is for you: The billowy silhouette looks flattering on any body type, and it's easy to jazz these up with a pair of classic smoking loafers and delicate jewelry.
So you lucked out this year and were able to avoid getting stuck in the snow and cold for the holidays — skip the big T-shirt and boxer shorts for a pretty gingham shorts set that looks like you put in more effort this year.

A little more slim-cut than the rest on this list, this pair has a tailored effect that looks dressier than other pajamas, at an unexpectedly budget-friendly price point.

Chances are you already have a monochromatic pair of PJs, so why not grab a set as bright and cheery as these?

Pajama label Sleeper prides itself on creating the "world's first walking sleepwear," offering both stand-alone styling pieces meant for daytime use and pajama sets you can wear for a stylish night's rest. Whether it's truly the first of a kind is debatable, but the quality is certainly not. The brand only uses natural fibers, and it offers its sets in an extensive range of sizes.
From the satin and silk sheen-y effect to the baggy fit, these feel like a throwback to the '90s. Resist the urge to break out your best "Creep" impression.
Break out these 100 percent silk PJs from new designer Alessandra Mackenzie for special occasions, or when you just want to feel an extra dose of luxury in between the sheets. Sure, it's an eccentric pattern, but the silk gives them an elevated look so they can easily pass as everyday wardrobe pieces.

Who knew Equipment made more than great silk shirts? The top on this chic set would also look good with a nice pair of jeans and sandals.