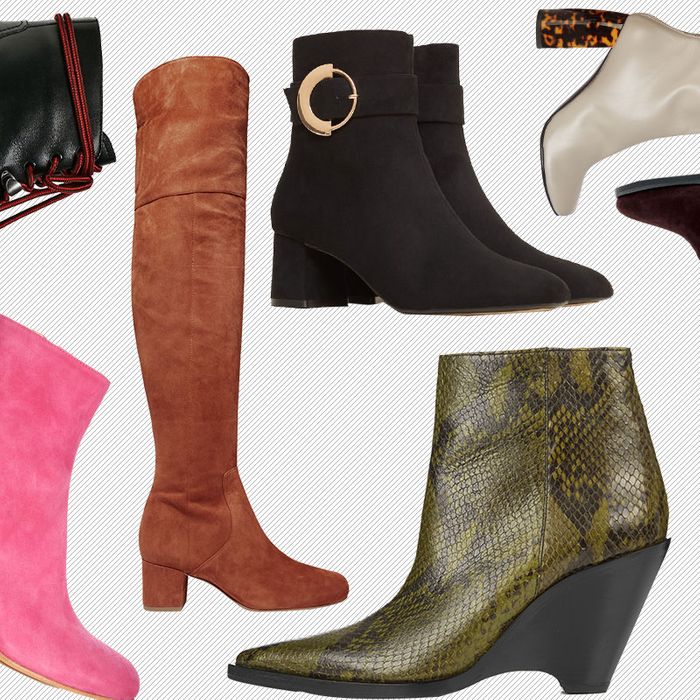 With the holiday season wrapping up, the only question left on the agenda is what to do with all of those gift cards and cash. So far, your winter doomsday arsenal is looking pretty solid with the addition of a new fluffy coat, so you know your body's nice and toasty. But what about your feet? No one wants cold toes. You'll need a pair of boots to get you through the frigid weather in style. Good thing you can take advantage of the ongoing sales and get a cool pair now on deep discount. From Topshop to Acne, scroll below for the best boots on sale now, for every budget.
A pair of boots that cost less than a quick trip to Trader Joe's? Yup, they do exist. Wear them now and expect floral boots to be a trend cropping up in abundance next season. You'll feel smug when everyone starts jumping on the bandwagon.

While the crazy sale season is a fun way to experiment with more whimsical styles you wouldn't otherwise spend full price on, you can never go wrong with a simple black boot. The big gold buckle adds a bit of flash without being overpowering.

Over-the-knee boots are notoriously expensive, especially if they happen to be suede or leather (hey, all that extra material doesn't come cheap), but Sam Edelman's rich tan boots are suede and cheap. Luckily, there's still just about every size left, from 5 to 11, so everyone is guaranteed to find the right fit — just don't expect stock to last much longer.

Fancy-heeled boots are nice, but when you have to wade through slush and ice on your commute you need a boot that can take the brunt of Mother Nature. The track sole makes for better traction in icier conditions, and it's a more chic alternative to heavy-duty winter boots.

If you don't feel like experimenting with color, try out an unusual pattern like a brocade velvet. It's fun and dresses up a pair of jeans.
Cowboy boots tend to tread the overly casual route, but their revived popularity among the fashion crowd, thanks to the Vetements craze, has ushered in dressier iterations. These Western-inspired boots from Acne Studios feature a stacked wedge heel and a sharp pointed toe for a sleek rocker feel.

Yes, you'll stick out wherever you go, but these boots are also sure to get you a bunch of compliments. Hot-pink suede boots aren't exactly easy to come by, so don't expect to find these again next year.
Even when it feels like you're trapped in a life-sized snow globe, you can't wear pants alone. For times when you'd rather try a skirt or dress, these are just as warm slipped over a pair of thick tights.
The most efficient way to carry your cropped trousers and denim into colder temps? Try a longer shaft boot that sits right underneath the hem. To make the styling feel more deliberate, go for boots that display an interesting detail on the heel.
Marco de Vincenzo's quirky frilled and bow-tie footwear was a big hit during Milan Fashion Week, and now you can finally score a street-style favorite at a major discount.
If you buy something through our links, New York may earn an affiliate commission.