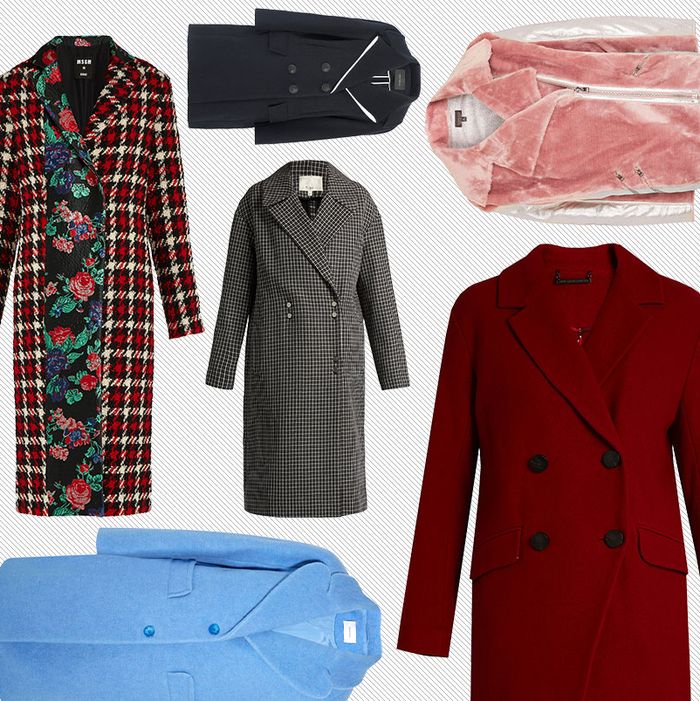 Of all the things you need to buy in order to get through winter, a coat will eat up the most of your budget. Finding something that's warm, stylish, and affordable at the beginning of fall requires some smart shopping. And, really, most people are going to hold out until everything goes on sale. Well, that time is now, and the discounts on coats are good. Whether you want to spend less than $100 or you're looking to get something that originally cost well over $1,000 for far less, you'll find plenty of amazing options. Scroll ahead to see our favorite picks, and remember: Sizing is limited, so if you see something you want, grab it now or regret it forever.
A silver-and-pink coat isn't exactly a classic piece that you'll wear a decade from now, but when it costs less than $100, you can justify it. Plus, it's a nice way to break up all of the black coats in your closet.
If you're going to invest in a more traditional, non-black wool coat, try this blue Carven style. It's tailored but has playful oversize lapels to keep the silhouette fresh.
This Cédric Charlier looks like your standard navy peacoat, but the flash of white is an interesting design detail that you won't see on other coats. If you're going to splurge on something cool but classic, this is the way to go.
Want to wear color without buying something that winds up being too trendy? Try a deep, rich red that'll mix well with everything from denim to gray trousers to your favorite black work dress.
That old black wool coat in your closet has had its fair share of wear, and you want an upgrade. Try a belted wrap style instead of your standard three-button overcoat — it has a slouchier, runway-esque feel.
Yes, this is a weird-looking coat, and it's not for everyone. But if you're the type who wants something that stands out from the crowd, Jacquemus's designs are eye-catching in the best way possible.
For the perpetually cold person who literally needs a sleeping bag to get herself out of the house.
This MSGM was a favorite of ours for its attention-seeking details back in September, and now you can get it for 40 percent. See? Waiting for the sales does pay off!
& Other Stories calls this the "perfect pink coat," and while that kind of hyperbole is a matter of personal taste, it's a solid buy at under $200, especially if you're still a die-hard pink fan.
A long menswear-inspired style is the kind of piece that'll make your jeans and sneakers feel less schlubby, but it also looks professional enough for the workweek.
As far as wardrobe staples go, a camel coat is one of the best items to purchase, especially at 70 percent off.
If you buy something through our links, New York may earn an affiliate commission.