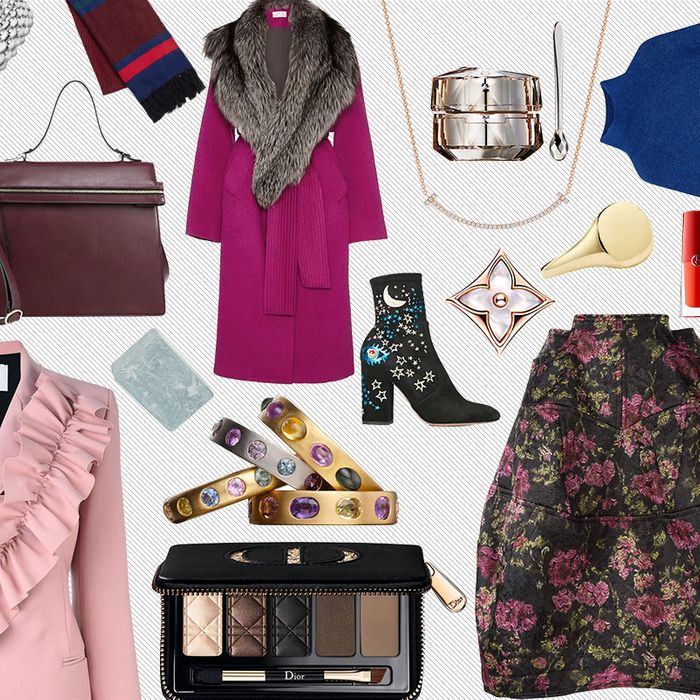 Gifting season can go two ways: It can either be super easy (hey, that's what cash and gift cards are for!) or be the stuff of nightmares (is there a greater litmus test of how well you know your nearest and dearest? Unlikely). Gift cards are fine in a pinch, but it's nice to show you actually took the time to think about what makes your loved ones tick. This year, we're presenting our hyperspecific gift guide — a detailed compendium of the best and most stylish gifts for every personality, in the hopes that you'll be able to home in on your own friends' and loved ones' idiosyncratic wish lists. We've covered what to buy for your fancy friend, the perfect gifts for a cold-weather fanatic, and treats to impress the unabashed maximalist. Scroll below to shop through our highly personal picks.
For
the
Woman
Who
Considers
Winter
White
a
Lifestyle
All
Year
Long
Ashley Weatherford, Associate Beauty Editor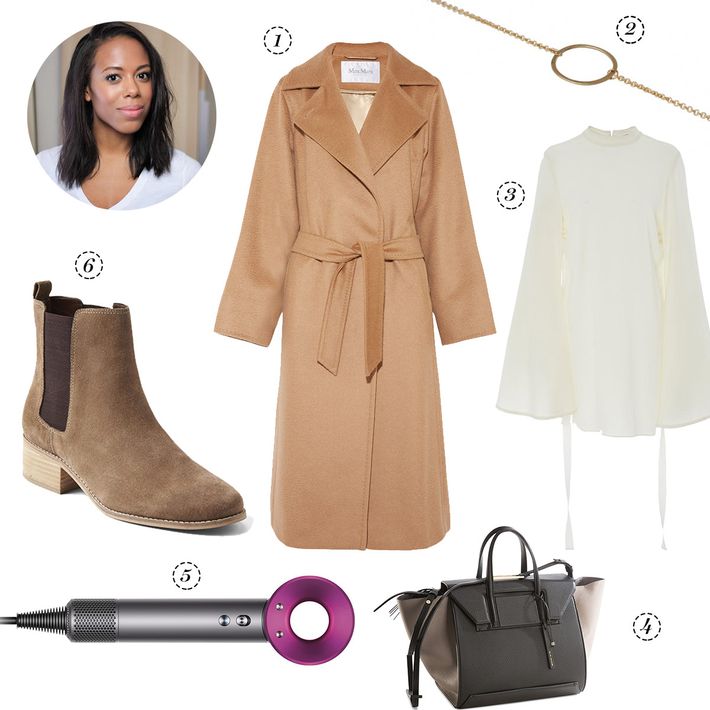 Our associate beauty editor Ashley Weatherford is an easy person to shop for: She loves anything nude and wants practical options to wear everyday while she's running to appointments. For her, we'd get the classic Max Mara jacket that she always drools over and a deep tote bag from Elie Tahari. Plus, the most coveted beauty gift of the season: the ultra-light-weight Dyson hair dryer, which won't get in the way of that flowy Ellery top she can wear all year long.
1. Max Mara belted camel hair coat, $2,690 at Net-a-Porter; 2. Carla Caruso mini oval bracelet, $165 at Clay Pot; 3. Ellery "Purify" flare-sleeve top, $1,130 at Moda Operandi; 4. Elie Tahari Winslow tote, $898 at Elie Tahari; 5. Dyson Supersonic Hair Dryer, $399 at Sephora; 6. Gap Chelsea boots, $98 at Gap
For
the
Woman
Who
Is
a
Master
at
Editing
Her
Closet
Rebecca Ramsey, Style Director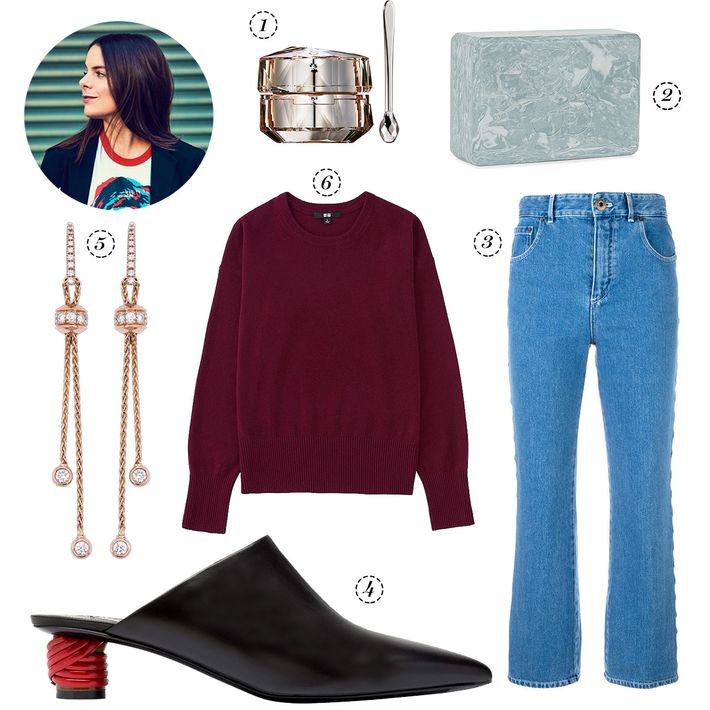 When it comes buying clothes, style director Rebecca Ramsey is very selective and doesn't get sucked up by sale goggles. She has a knack for finding fresh pieces that don't feel overly trendy, like these Balenciaga mules and delicately scalloped Chloé jeans. Also high on her list: yoga pieces for her budding practice, Martha Stewart's favorite eye cream, and a beautiful pair of earrings that will last a lifetime.
1. Cle de Peau Beaute Eye Contour Cream, $255 at Cle de Peau; 2. Marble Yoga Brick, $16 at Sweaty Betty; 3. Chloé scalloped jeans, $608 at Farfetch; 4. Bistrot mules; $795 at Nordstrom; 5. Possession earrings, $6,500 at Piaget; 6. Women's cashmere crew-neck sweater in wine, $80 at Uniqlo

For
the
Woman
Who
Lives
by
'More
Is
More'
Veronique Hyland, Senior Fashion News Editor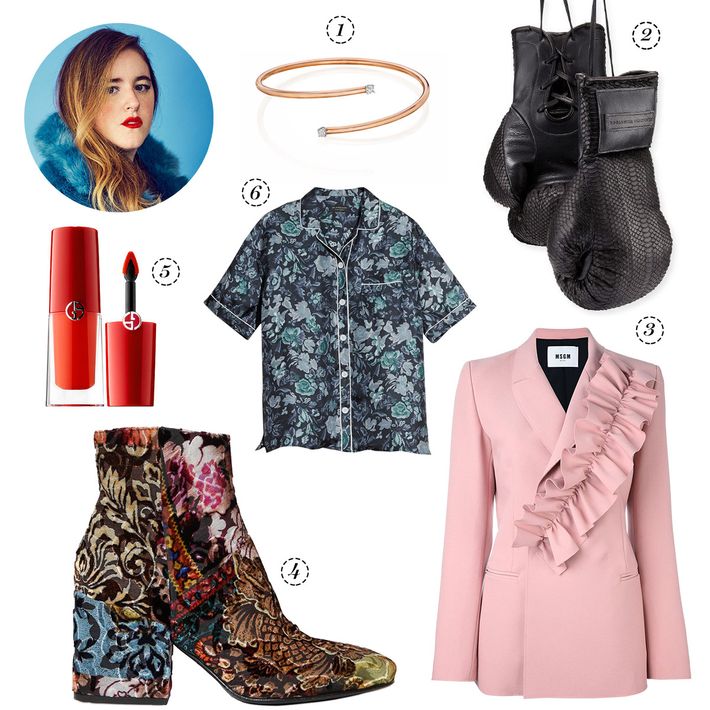 Our senior fashion news editor fell in love with Paris Geller's blazer in the Gilmore Girls revival; she loved the cool shade of pink and non-prissy ruffle. MSGM's similar pink blazer captures that essence, ruffle included — without comprise. Another item on her list is an easy pajama shirt inspired by her love for the beach-dad aesthetic she picked up while on holiday in Sydney. It's a lot of floral for one shirt, but when you're a maximalist, who cares? She can pair it with a bold red lip, a simple diamond cuff from Forevermark, and pair of granny patchwork boots; just make sure to keep the trousers simple. Out of the office, she can work up a sweat in a pair of sleek whip-snake boxing gloves
1. Flex Forte Bypass Bracelet, $2,275–$3,575 at Forevermark; 2. Elisabeth Weinstock Manila Boxing Gloves, $1,350 at Ron Robinson; 3. MSGM stretch crêpe jacket with ruffle, $640 at Luisa Via Roma; 4. Strategia 70mm brocade velvet ankle boots, $393 at Luisa Via Roma; 5. Armani Lip Magnet liquid lipstick, $38 at Neiman Marcus; 6. Short-sleeved floral print pajama-style shirt, $895 at Burberry

For
the
Woman
Who
Never
Says
No
to
a
Trend
Indya Brown, Fashion Assistant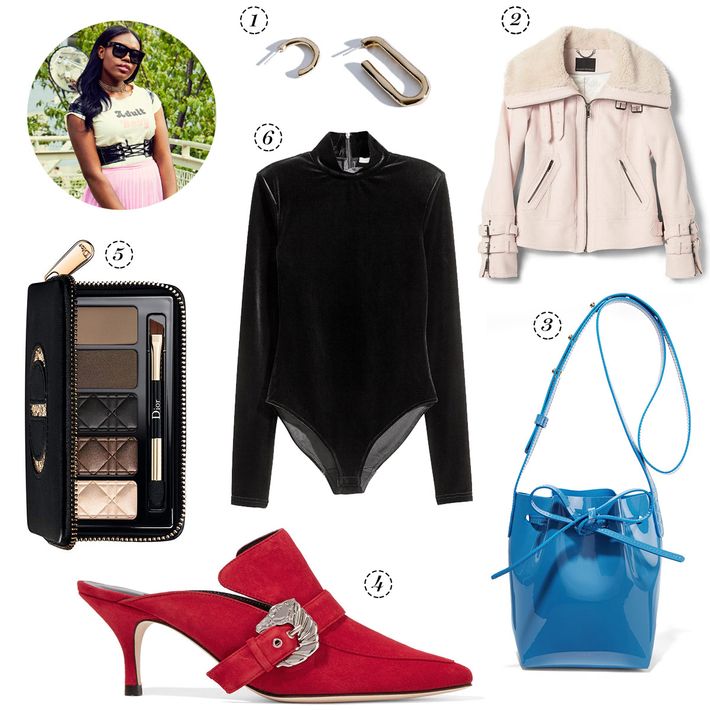 While some shy away from the Über-trendy, fashion assistant Indya always like to embrace a trend, even if it's only around for a millisecond. Since velvet and patent are some of the season's most popular textures, Mansur Gavriel's mini bucket and H&M's velvet bodysuit play up these trends and still have life into the next season. She never leaves the house without a smoky eye, and Dior's eye-shadow palette has every shade the smoky-eye obsessed could ever need. Next on her list is a warm shearling coat, a pair of unusual granny heels from her new favorite shoe brand, Dorateymur, and simple mismatched gold earrings.
1. Deconstruct hoops, $150 at Pamela Love; 2. Faux-shearling trim coat, $268 at Banana Republic; 3. Mansur Gavriel mini patent-leather bucket bag in blue, $345 at Net-a-Porter; 4. Dorateymur Cabriolet suede mules, $455 at Net-a-Porter; 5. Dior Total Glow Nude Eye Palette, $62 at Sephora; 6. Velour bodysuit, $35 at H&M
For
the
Woman
Who
Believes
in
Luxurious
Basics
Stella Bugbee, Editorial Director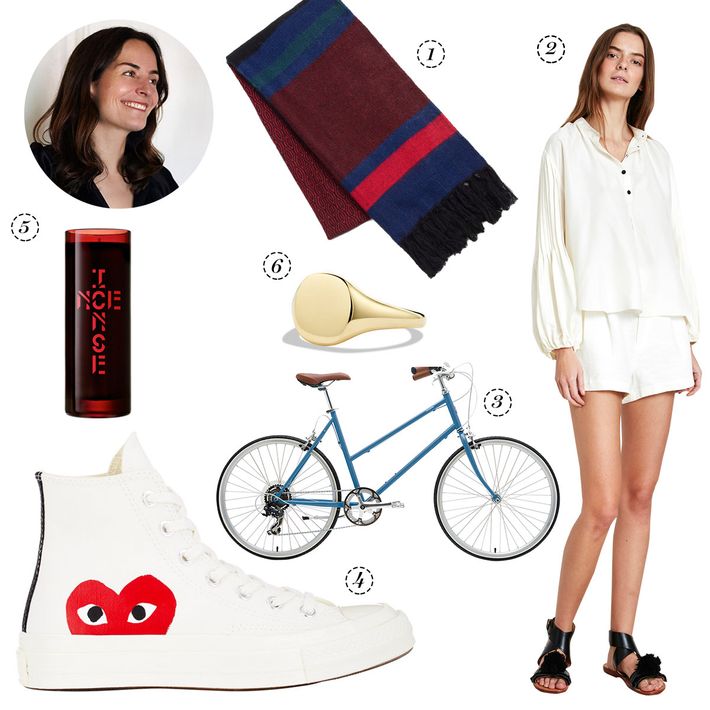 Editorial Director Stella Bugbee knows exactly what works for her wardrobe and pays stringent attention to every last design detail. She'll love this incense-inspired Byredo holiday candle for her apartment and pin-tucked blouse from Apiece Apart, as well as an ultra-warm, colorful A Peace Treaty scarf. Her ultimate dream? A gold David Yurman pinky ring and a new bike for the summer.
1. A Peace Treaty krishna navy scarf, $425 at A Peace Treaty; 2. Apiece Apart Bravo pintuck arm blouse, $340 at Apiece Apart; 3. Bisou Bike, $695 at Tokyo Bike; 4. Commes des Garçons women's Chuck Taylor 1970s high-top Sneakers, $125 at Barneys New York; 5. Byredo incense candle, $140 at Spring; 6. DY Signature mini pinky ring in 18K Gold, $1,100 at David Yurman
For
the
Woman
Who
Wants
to
Upgrade
Her
Jewelry
Box
Lindsay Peoples, Fashion Market Editor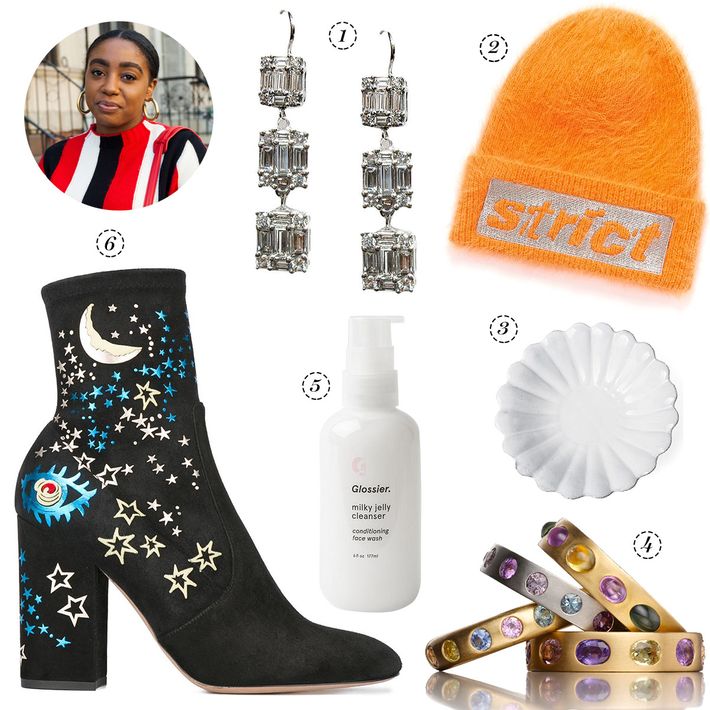 As fashion market editor, Lindsay sees a lot, so she always tells her family exactly what to get for her. For Christmas, she wants that fun Alexander Wang beanie that practically every model has, the whimsical star boots from Valentino, and lots of bling from jewelers like Reinstein Ross and Mindi Mond. Then, because she's getting married soon and wants to start doing a real skin-care routine: a classic face cleanser from Glossier, which will clean but not strip her skin.
1. Mindi Mond five-carat white-gold earrings, $13,200 at 1stdibs; 2. Alexander Wang knit cap, $175 at Saks Fifth Avenue; 3. Astier de Villatte Daisy salad bowl, $104 at Catbird; 4. Reinstein/Ross 20K-peach-gold and 18K-white-gold rings, price upon request at Reinstein/Ross; 5. Glossier Milky Jelly cleanser, $18 at Glossier; 6. Valentino astro boots, $1,287 at Farfetch
For
the
Woman
Who
Can't
Wait
to
Ditch
Her
Maternity
Clothes
Izzy Grinspan, Senior Editor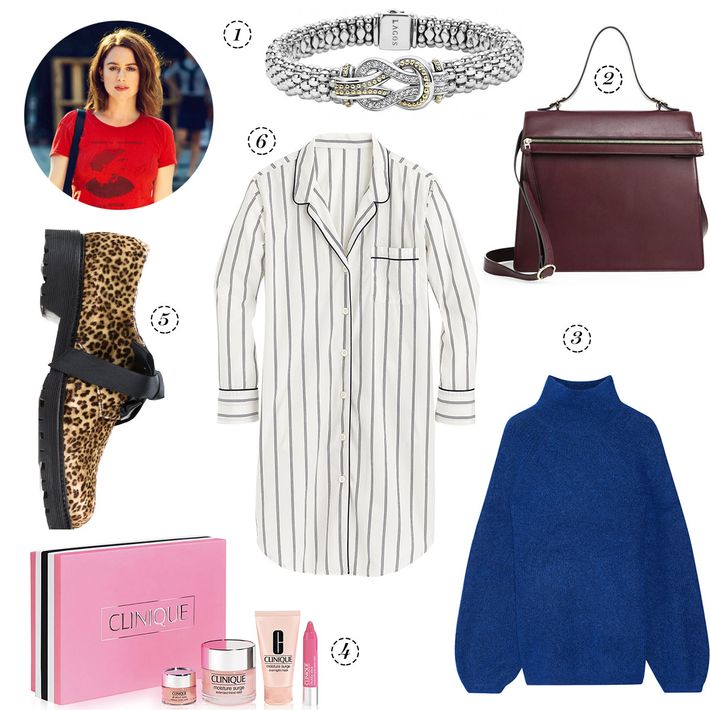 With her second baby due in February, senior editor Izzy Grinspan can't wait to ditch the maternity clothes. She wants comfy yet presentable pajamas, like this sleep shirt from J.Crew, to wear while she's at home with the newborn. Then it's all about sensible, polished pieces once she's back to work in the form of stylish Saint Laurent brogues, a sleek Victoria Beckham bag, and a slouchy, bright sweater from By Malene Birger. Plus, it never hurts to have a signature bracelet, like this Lagos style. The Clinique gift set of powerhouse moisturizers is also no-fuss and includes a soft-pink tinted lip shine that matches her natural lip shade perfectly.
1. Lagos knot caviar bracelet, $1,350 at Lagos; 2. Victoria Beckham Topaz leather tote, $2,614 at Saks Fifth Avenue; 3. By Malene Birger Balero knitted sweater, $415 at Net-a-Porter; 4. Clinique Moisture That Matters gift set, $50 at Macy's; 5. Saint Laurent leopard-print lace-up shoes, $477 at Farfetch; 6. J.Crew striped nightshirt, $68 at J.Crew
For
That
Weird
Cold-Weather-Loving
Woman
Diana Tsui, Senior Fashion Market Editor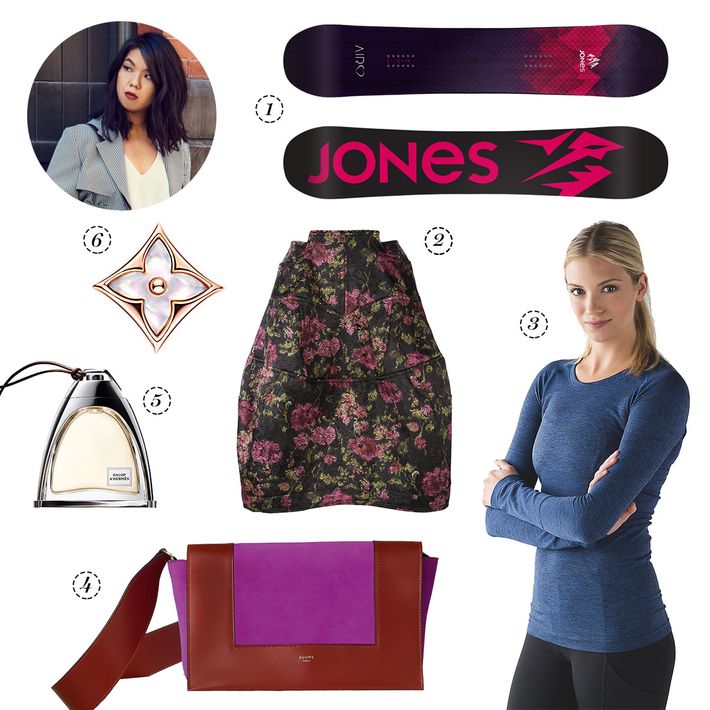 Senior market editor Diana Tsui has a few quirks: She hates summer, loves masculine scents, and can't get enough new ear piercings. This strange combo means she's dying for this Jones snowboard, especially since she's heading to Revelstoke in January. Off the slopes, she'll wear this Comme des Garçons skirt (even when it's freezing!), especially with a fancy Louis Vuitton mix-and-match earring and Céline bag. And Hermès's latest fragrance, which combines leather and roses, will be her new go-to perfume.
1. Jones Snowboards Airheart snowboard, $549 at Jones Snowboards; 2. Commes des Garçons floral skirt, $583 at Farfetch; 3. Lululemon long-sleeved crew, $78 at Lululemon; 4. Céline medium-frame shoulder bag, $2,550 at select Céline locations; 5. Hermès Gallop d'Hermès, $210 at Bergdorf Goodman; 6. Louis Vuitton Color Blossom white-gold-and-mother-of-pearl ear stud, $1,300 at Louis Vuitton
For
the
Woman
Who
Wants
Sophisticated
Clothes
With
Personality
Kathleen Hou, Senior Beauty Editor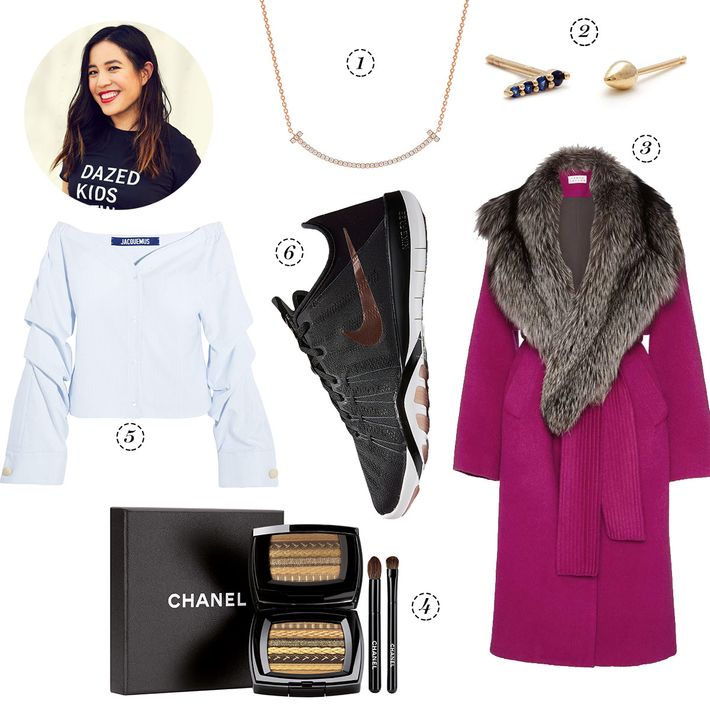 At some point, you come to the realization that you probably need some grown-ass-woman clothes in your wardrobe, like senior beauty editor Kathleen Hou learned this year. Those clothes don't have to be boring, though! She'll love this bright Tanya Taylor wrap coat and this cool Jacquemus top. Add to that a sleek Chanel eye-shadow palette and subtle, personal jewelry by Anna Sheffield and Tiffany and you have the beginning of an adult wardrobe.
1. Tiffany & Co. Tiffany T smile pendant, $1,900 at Tiffany & Co.; 2. Anna Sheffield pointe rivet yellow-gold-and-blue-sapphire stud earrings, $675 at Anna Sheffield; 3. Tanya Taylor wool candice coat, $1,695 at Moda Operandi; 4. Chanel Ombres des Lamee, $105 at Chanel; 5. Jacquemus off-the-shoulder poplin top, $385 at Net-a-Porter; 6. Nike Free TR 6, $90 at Nike