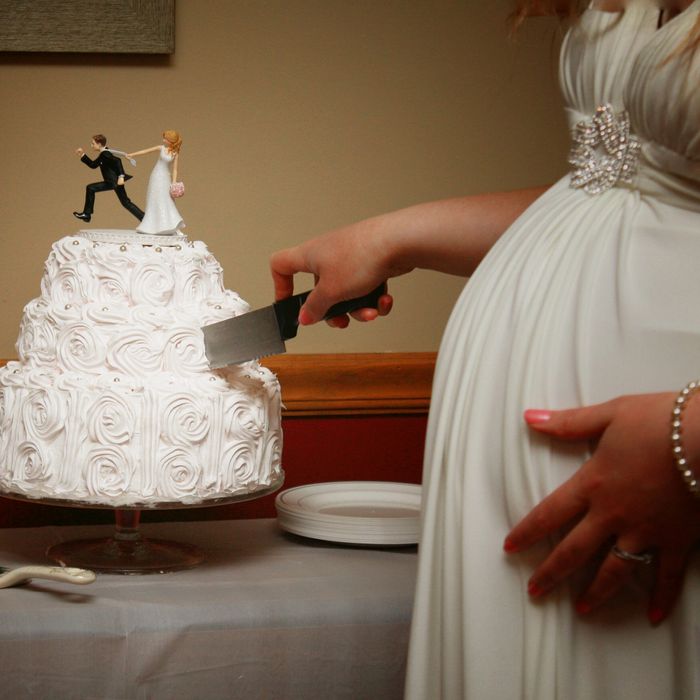 One of the Big Demographic Trends in the U.S. is that marriage is on the wane. In 1960, 72 percent of Americans over 18 were married; by 2010, it was just 51 percent.
But not all marriages are on a downward trend. Perhaps the most urgent variety of all, the shotgun wedding — where the bride is pregnant — appears to be holding strong, at least in the North Carolina studied by Duke University sociologist Christina M. Gibson-Davis and her colleagues.
In a new paper, Twain-ingly titled "Midpregnancy Marriage and Divorce: Why the Death of Shotgun Marriage Has Been Greatly Exaggerated," she and her colleagues matched data on 800,000 first births in North Carolina with marriage and divorce records. They found that the "midpregnancy-married births" have stayed consistently at 10 percent of the total over the last 25 years.
Age told a lot of the story. In 2012, midpregnancy married births accounted for just 5 percent of all pregnancies for white women with a bachelor's degree or over the age of 25, while they were about a quarter of all births for both white and black mothers under the age of 25.
While the authors admit that North Carolina is not generalizable to the entire U.S., they do make two strong conclusions from their research:
• First, since the overall portion of women getting married before conception has fallen, the proportion of shotgun babies has increased, especially for younger and less-educated moms.
• Second, midpregnancy marriages point to the different relational realities that people across demographic groups live in: "Because disadvantaged mothers have become much more likely than their economically advantaged counterparts to have a nonmarital conception," the authors write, "they have much higher shares of married births that are midpregnancy-married births."
It cuts the other way, too: Other research indicates that marriage is thriving among the wealthy, and only among them.