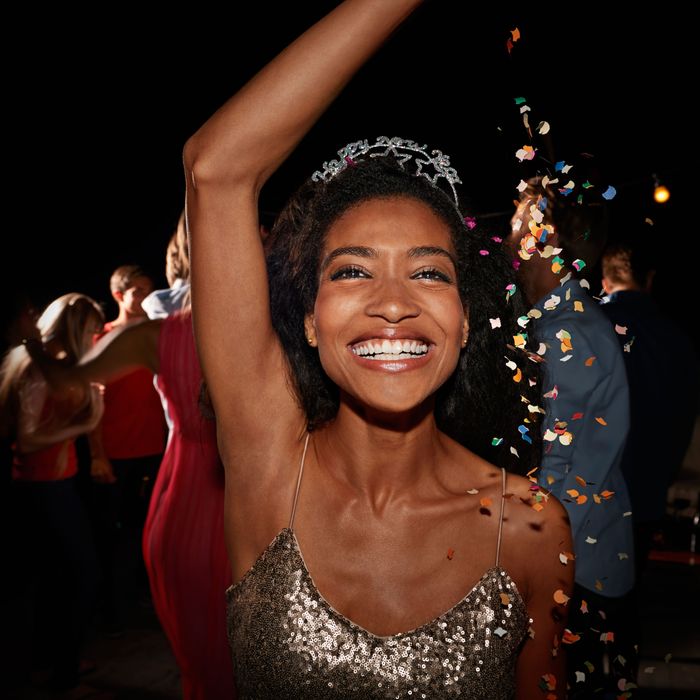 Photo: Uwe Krejci/Getty Images
Dirtbag Fashion is a column dedicated to the art of doing very little and assuming you look good anyway.
New Year's Eve is a fool's holiday. You spend too much money. Stay out too late. Have to wear clothes that don't fit and also itch. Kissing. Champagne, which gives everyone a very bad headache. Countdowns, which, for good reason, put me on edge. Then you wake up the next day and it's January. Just plain old, freezing-cold, what-next January and the giant abyss of an entire year is staring at you with a raised eyebrow. "Oh, so you're hung-over already? Guess what: It's gonna be a long year." And the inauguration hasn't even happened yet!! Good god. Let's all go back to bed.
But the tyranny of New Year's Eve is hard to avoid because all of your stupid friends keep asking you what your plans are, which, even though they are very nice friends, you still do not have an answer to. Come December 31, you know damn well you'll do as you always do and resort to attending the soiree that everyone else is at, drinking the Champagne you brought unrefrigerated in your backpack, and counting down nervously to midnight, because, once again, countdowns put you on edge. The most undesirable part of it all, though, is that you can't just wear what you always wear because, for some reason, someone decided that New Year's Eve — which occurs in the dead of winter — is a "fancy" holiday.
Not sure how to dress yourself for an end-of-year soiree? Here are some DIY style "hacks" so that the only thing you have to worry about on the dreaded eve is remembering to refrigerate your backpack Champagne. Easy.
WEAR WHAT YOU WORE LAST YEAR
Here's a good place to start: Do you still own the thing you wore last year? Me? I wore jeans and a sweatshirt. Wear it again. No one will remember. And if they do, you shouldn't be beholden to the scrupulous and unattainable standards of the lesser people around you.
PURCHASE A BAG OF GLITTER AND POUR IT OVER YOUR HEAD
Perhaps as a way to appear festive and joyful, it is often recommended that one wear glittery or shimmery clothing on the night of New Year's Eve. Gold dresses with sequins. Pleated lamé palazzo pants with a tuxedo jacket dipped in silver. Glitter. There is a very specific kind of threat that comes to all those who decide to leave the house on New Year's Eve in all black or, worse, in sneakers. Go to your local Michaels art-supply store and pour glitter all over your head. Presto chango. Now you're ready.
SWEATPANTS
Many people opt to stay at home for New Year's Eve. These people are objectively correct, specifically in cities where the weather is unforgiving and snow is an always-looming possibility. This is when you get to wear sweatpants. Put on a sweatshirt, too. Or a sweatsuit. Or wear nothing and drape yourself in a velveteen blanket. It's your life.
SAY YOU GOT HALLOWEEN AND NEW YEAR'S CONFUSED
This is an honest mistake, so wear your Rocky costume, which is conveniently also an all-sweatpants ensemble.
BE A HATER
Annually, there is at least one hater in your circle of friends on New Year's Eve. It is, admittedly, most always you. However, when it comes to dressing up, your hating seems to draw a line for the sake of your own dignity, forcing you to actually shove your post-holidays body into a skirt or a tuxedo. Take your hating to the next level and loudly proclaim at every party that not only is New Year's Eve dumb, but you refused to dress up to prove a point. It is a guaranteed crowd-pleaser.
TELL EVERYONE YOUR CLOTHES DON'T FIT
Nothing makes people want to change the topic of conversation more than when you start to talk about your winter weight gain. Begin by itemizing very slowly and very deliberately every single kind of cookie you had at your pre-Christmas potluck, explaining that you must have put on 10, 20 pounds. Before you even make it to cranberry-pistachio biscotti, your choice of outfit for the evening will be the last thing anyone wants to discuss.
SPILL SOMETHING ON YOUR SHIRT
Good fashion often happens by accident.