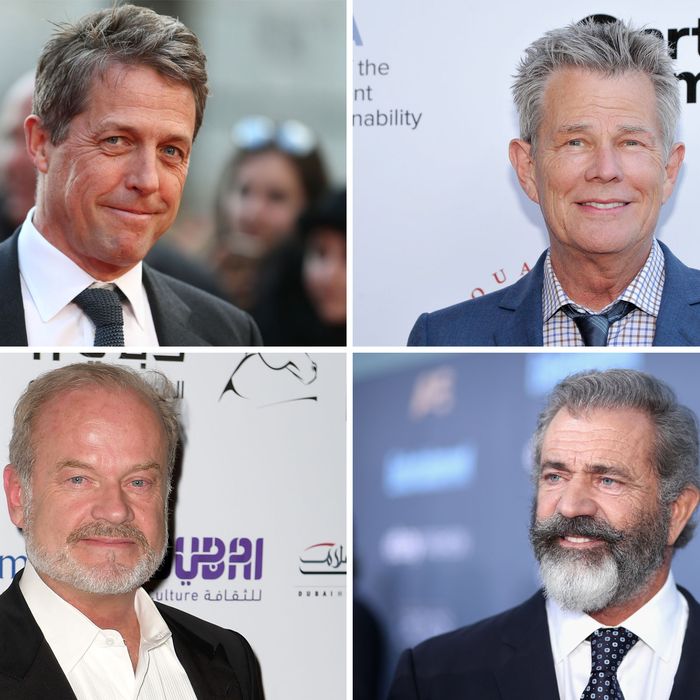 Hugh Grant, David Foster, Kelsey Grammer, and Mel Gibson.
Photo: Getty Images
When the dark, late afternoon hits and you're losing the will to go on, a fun thing to do is read up on the personal life of a middle-aged male celebrity. Conveniently enough, you will find all the information you need in the "personal life" section of his Wikipedia page. It may not be one hundred percent accurate, but it will be entertaining, and in many cases, it will lead to new online discoveries. When I was perusing celebrity composer David Foster's "personal life" section yesterday afternoon, I stumbled upon this old, important photo of his stepdaughter Bella Hadid. But I'm getting ahead of myself.
Here's what's great about the "personal life" sections of middle-aged male celebrities: They typically reference more than one ex-wife. Actors and entertainers in their 60s have often had multiple marriages, and their complex family trees engender rich and dramatic "personal life" sections. Foster, for example, "has been married four times and has five biological daughters and six grandchildren." He also has five stepchildren including Brody Jenner and the Hadids. His lengthy "personal life" section contains detailed accounts of his many relationships as well as references to Mitt Romney, Clay Aiken, and a mysterious car accident. There's also this: "His first child, Allison Jones Foster (b. 1970) is from a previous relationship when David was 20. He gave her up for adoption and reconnected with her when she was 30." David Foster has led a full life, and I recommend you read all about it on Wikipedia.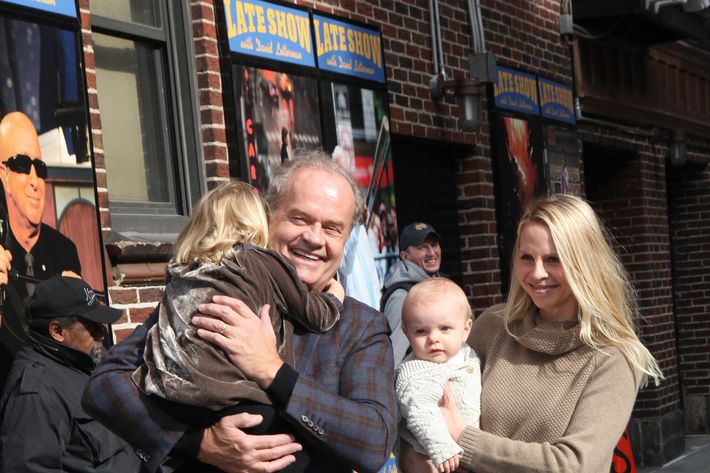 Once you work your way through Foster's, there are plenty of other "personal life" sections to study, while you try desperately to avoid the oncoming depression that sets in every day now around 3:45 p.m. Kelsey Grammer's is one I find myself returning to again and again. Each time, I feel like I find something new, possibly because Wikipedia is a dynamic, often inaccurate resource, and possibly because Grammer keeps having children. "As of 2016," Wikipedia states, Grammer has been married four times and has six children and one baby (Auden James Ellis, born November 14, 2016).
Grammer's "personal life" section is 1,464 words long and contains five different subsections, one of which is titled "Sex tape lawsuit." It's an embarrassment of riches, a text that could keep you busy until it's time to go home.
If you only have a few minutes to distract yourself, however, there are several shorter "personal life" sections that will do fine. Larry David's is only a paragraph long, but it contains these two sentences, right in a row: "David and his wife became contributing bloggers at The Huffington Post in May 2005. On June 5, 2007, the couple announced their intention to separate amicably." Lorne Michaels's gets straight to the point: "He has been married three times, first to SNL writer Rosie Shuster (1967; div. 1980), then to model Susan Forristal (1984; div. 1987), and currently to his former assistant Alice Barry (1991 to present)."
Some "personal life" sections offer more than just gossip. Harrison Ford's is great, if you want to learn all there is to know about hobby aviation. Mel Gibson's, meanwhile, illustrates how easy it is for flawed male entertainers to redeem themselves in Hollywood. Gibson's "personal life" section has a full eight subsections, one of which is titled "Prankster." Did you know that he is a prankster?
"Gibson has a reputation for practical jokes, puns, Stooge-inspired physical comedy, and doing outrageous things to shock people.[citation needed] As a director he sometimes breaks the tension on set by having his actors perform serious scenes wearing a red clown nose.[141] … During the filming of Hamlet, Gibson would relieve pressure on the set by mooning the cast and crew, directly following a serious scene.[143]"
Mel Gibson allegedly moons people, on top of everything else. And he was just nominated for a Golden Globe for Best Director! I bet we'd let Mel Gibson be president.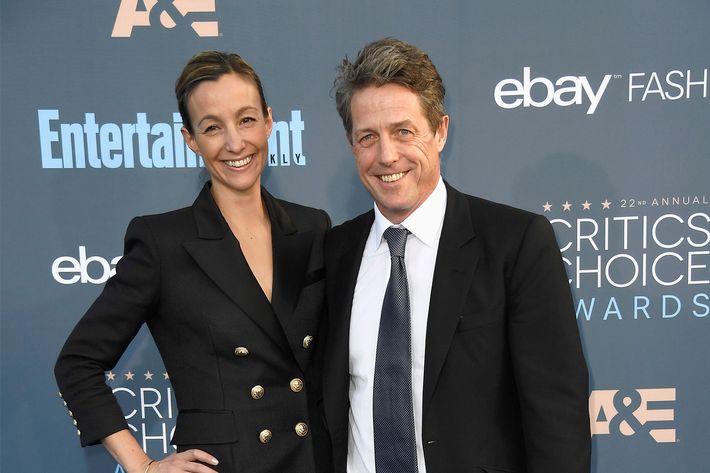 As is obvious by now, pretty much any middle-aged male celebrity's "personal life" section is entertaining and illuminating. It's hard to pick a favorite, especially since the personal lives of these talented auteurs so often change. There is one "personal life" section that is a must-read, however. It belongs to Hugh Grant. Here is part of it:
"In September 2011, Grant had a daughter, Tabitha, with Tinglan Hong, a receptionist at a Chinese restaurant in London.[137][138][139] His daughter's Chinese name is Xiao Xi, meaning "happy surprise".[140] Grant and Hong had a "fleeting affair", according to his publicist.[138] … In September, 2012 Grant had a second child, John Mungo Grant, with Swedish television producer Anna Eberstein. He subsequently reunited with Hong, with whom he had his third child, Felix Grant, in 2013.[141][142] Grant and Eberstein then had a second child, Grant's fourth, in December 2015.[143]"
Have a great afternoon.