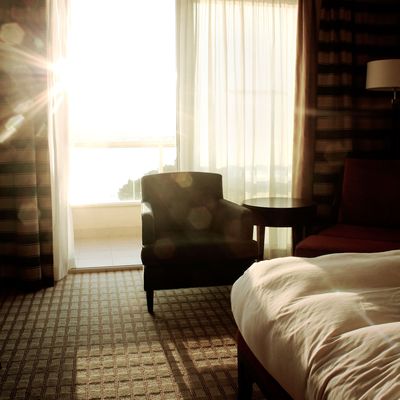 New York's Sex Diaries series asks anonymous city dwellers to record a week in their sex lives — with comic, tragic, often sexy, and always revealing results. This week, a 45-year-old in a relationship-saving arrangement with her bisexual husband: married, straight, Long Island.
DAY ONE
6 a.m.: Wake up next to my husband. We've been married three and a half years. I've always had a high sex drive, but the older I get, the more sex I want.

 My view of sex is sort of strange: I've never really equated it with love. I know sex is better when there is a connection, when you really like the person, but sometimes you just need a release. An open marriage really works for me.
8 a.m.: Work is nuts today. I'm the director of programming for a retirement community. With the holidays coming up, the residents are needier than usual. Plus: I'm horny! I'm hoping my dom will sext me soon — he's in tech and just turned 50. We've been seeing each other a few months, but have been too busy for the last three weeks to play. I've missed him.
10:30 a.m.: No sext from my dom, so I check my dating sites — one vanilla site and one kink site. Score: messages on both. On the kinky site, it's a guy from Iowa in town for a week with a friend. He wants to know if I want to hook up with them. No, not my style — I tell him good luck and to get back to me if he's ever in town alone.

The message on the vanilla site is from a guy about 40 miles away. He's 47 and former military — good-looking and built, just my type. He wants to know if we can meet for lunch sometime, and says he likes my curves and would like to see them in person. I tell him I'm available for lunch any day this week. It's amazing how many guys love curves — I'm a size 16–18. Never loved my body until I got on dating sites.
11 a.m.: Got a text from my dom. He's asking for a pic of my underwear. I comply.
6 p.m.: Home with the daughter, who's 14. My hubby, who's working late tonight, is a great stepdad, loving and caring for my daughter better than her bio dad ever could. He loves the one-on-one time he gets with her when I have a date.
DAY TWO
5:30 a.m.: Get a text from the pilot, a 63-year-old guy I've been playing with for about six months. He flies for a living and will be in town on Saturday. Yay! We make plans for an afternoon delight. I text hubby the time and location and make sure it's okay with him. It is, so I confirm with the pilot. Saw him just last week and can't wait to see him again — he's romantic and likes to take me to dinner and show me off as his young trophy girlfriend.
6 a.m.: Shower and shave all the right places for my dom. He likes things — everywhere — smooth. I dress in a sexy bra and panties in red, his favorite color.
10 a.m.: Check my dating sites and see I have a message from the military guy. He wants to do lunch Thursday. I put it on my calendar and try to decide what to wear …. appropriate for work and enticing enough to make him think about me the rest of the day. That's hard!
2:30 p.m.: Text from my dom: "Five hours until you're tied up and at my mercy. Send pic." He means he wants a photo of "his" pussy. So I take one and send it. Before him, I never would have done that sort of thing; I considered it something a guy shouldn't ask of me. But I can't help doing anything and everything my dom asks. I'm totally under his control.
7:30 p.m.: I arrive at his place. He makes me strip and lie face-down on his big four-poster bed. He ties me up, flogs me, canes me, and uses every toy in his arsenal. I love every minute of it. I go in and out of subspace, at his will. We cuddle and sleep afterward. After-care is something he's very good at — lots of kissing, discussion about what we did and how much we liked it. He spanks me one last time before sending me home.
DAY THREE
5:30 a.m.: I've got a kinky-sex hangover — my body hurts in all the right places and I didn't get enough sleep. I'm glowing, but it's going to be a long day. I need lots of water and some yoga. The yoga will have to wait until after work.
11:30 a.m.: My dom texts to say I was a good girl last night. It makes me swoon!
7:30 p.m.: Yoga class is easy tonight, thank God — lots of downward dog and child's pose. I go home to leftovers for dinner. Hubby and my daughter are already ready for bed.
8:30 p.m.: My dom texts me good night, plus some flogger emoji. I send him squirting and kissing emoji and head to bed. I'm beat, literally.
9 p.m.: In bed with hubby. Before we got married, I knew hubby's sex drive wasn't as strong as mine. But I learned after we got married that he likes guys as well as girls. I was devastated. We went through counseling and really worked on our sexual relationship for about a year. We determined that it just wasn't going to work — but neither of us wanted to end our marriage.

An opportunity came up to play with someone I'd been seeing when hubby and I met. I really wanted to play with him, but didn't know how to approach hubby. Finally, lying in bed one night, I just blurted it out: "I want to play with someone else. I love you very much, but need sex." I told him that if I got to play outside our marriage, he should be able to, too. He said he'd be interested, so we decided on the rules and went from there. We always know where and who we're with, don't play with others in our bed, don't have others around our daughter, and don't fall in love with others.
DAY FOUR
6 a.m.: I slept so well, we missed the alarm clock. Hubby is mad, but he doesn't stay that way. We rush around and get off to work and school late. I'll make something nice for dinner to make it up to him. It always works.
10 a.m.: Get a text from Hayden. He's the only one I call by name, which might be because I like him the most. He owns his own tech company and lives nearby, in an upscale, old-money neighborhood. Out of all the others, he's the best-looking, with the best cock. He wants to meet tonight. I'm tired, but I can't say no.
Noon: I meet the military guy for lunch. I decided, after trying on many outfits, to wear a slim-fitting sweater dress with a wide black belt. He said he liked my curves, so I'm giving him something to look at. Talking to him is like talking to a wall, though — I'm asking all the questions and getting nowhere on the chemistry. Oh well.
5:30 p.m.: I get home just in time to pull a homemade lasagna out of the freezer and throw it in the oven for when my hubby gets home. It works — he's not mad about sleeping through the alarm anymore.
8:30 p.m.: Hayden and I meet at his place and kiss for what seems like hours. We move to the bedroom and take each other's clothes off. He says, "Bend over the edge of the bed." It makes me melt. We have sex for two hours, I orgasm a ton, and he comes twice. We kiss good night. He's a great kisser.
DAY FIVE
Noon: What a week! Work is crazy and my daughter has a special lunch at school. I go and get to flirt with her librarian. He's 25 and looks like McDreamy. I head back to work, watching the clock until it's the weekend.
2 p.m.: Hubby calls and says he has a date for tonight. I'm glad — I have more dates than he does and feel guilty about it sometimes. We've been playing with others a little over two years. It works for us because we are secure in how much we love each other. And how much we like each other. We have the same views on politics, family life, how to raise my daughter, movies, food, and most everything else. Why throw away a great marriage and relationship just because the sex is lousy?
6:30 p.m.: After grocery shopping with the daughter, we head home for some mommy/daughter time. She's the light of my life, but she's autistic and requires a lot of my energy. Not the head-banging, hair-pulling, acting-out kind of kid, though. She's social and lovely; she loves people, music, and umbrellas. At home, she's great at keeping herself entertained and doing things to help around the house. Her biological dad left us and we divorced when she was 2. I was a single mom for more than nine years and didn't date or have sex with anyone but my vibrator for seven of those years. I'm making up for lost time!
DAY SIX
7 a.m.: I wake up early to spend more time with my daughter. We share breakfast on the sofa while hubby sleeps late. She wants to go swimming, so we head to the gym and I do laps while she plays in the pool. Then we get in the whirlpool — it's a nice way to relax with her.
2 p.m.: I meet the pilot at his hotel and we play for four hours. God, he's hot! And 63! He's pretty vanilla, but likes a toy in his ass. I don't mind obliging. After we shower and dress, we walk the streets of the city, holding hands and people-watching. We have dinner at one of our favorite restaurants, talking and laughing. We have a great time together. Maybe I like him best.
DAY SEVEN
7 a.m.: We wake up slowly, in each other's arms, and make love. It's sweet and gentle. This is the main reason I don't often spend the night — it's too easy to have feelings for someone when you have to look at them the morning after.
8 a.m.: The pilot and I shower and dress and go downstairs for breakfast. After we order, he takes my hand and tells me he loves me. He explains he likes being single after a long and rocky marriage (he's been divorced two years), but that he also likes having a relationship where the sex is good and so is the friendship — and there are no expectations of marriage. He doesn't want to change my situation or his. But he is a romantic at heart and likes a connection to the woman he's having sex with. That's why he decided to tell me he loves me. I totally understand that. So I look him in the eye and tell him I feel the same way. Because I do, even if it does break one of the rules.
Want to submit a sex diary? Email sexdiaries@nymag.com and tell us a little about yourself.