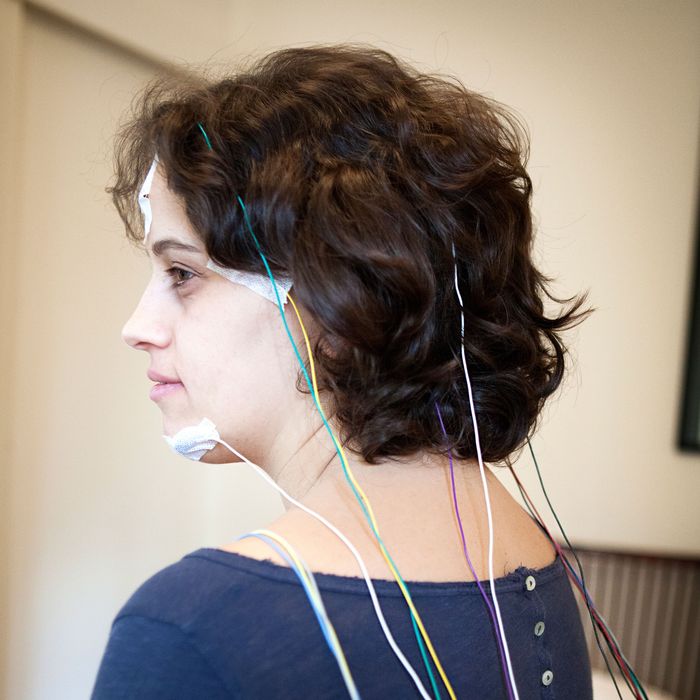 Photo: AMELIE-BENOIST / BSIP/Getty Images
For more than a decade now — in a search that began shortly after Viagra hit the market in 1998 — pharmaceutical companies have been hunting for a female answer to the little blue pill, with little success. Addyi, the much-hyped "female Viagra" approved by the FDA last year, is now widely considered a flop. Its journey to market had been a contentious one: Proponents called it a victory for women, while critics argued that it was a cheap ploy by pharma to profit off a non-medical problem. The side effects, including dizziness, nausea, fatigue, low blood pressure, and fainting, didn't do much to boost the drug's reputation. Most important, though, is the fact that it doesn't seem to be that effective.
It didn't take long for the hype to deflate, and researchers have now returned to the drawing board. But a few alternative methods currently on the table for treating lack of sexual desire in women — including talk therapy and pharmaceutically enhancing dopamine in the brain — may have potential. And one especially promising method involves going straight to the source of the problem.
Neuroscientist Nicole Prause is researching the effectiveness of direct brain stimulation, which she describes as "like electroconvulsive therapy, but much more targeted and not nearly so dangerous," to enhance the brain's processing of sexual cues and increase sex drive in both women and men.
Prause is currently exploring two different methods of direct brain stimulation. The first, Transcranial Magnetic Stimulation (TMS), is a stronger, more focused current, which is thought to have a permanent effect on the sex drive. The second, Direct Current Stimulation (DCS), is a more diffuse stimulation meant to work for 30 minutes at a time. ("This one would look more like Viagra," Prause said, "in the sense that you take it when needed.")
TMS was initially approved as a therapy for treatment-resistant depression, and it's proven effective in that context; 60 percent of patients who have used it have gone into remission within three years. Most antidepressants work by lowering overall emotional response, both positive and negative. But TMS directly affects patients' ability to process positive stimuli, increasing the response in areas of the brain that respond to pleasure and reward — the same areas that are underactive in people with low sex drive.
In Prause's initial research on TMS, published last month in the journal PLOS One, she and her colleagues tested the technique on 20 people, using vibrators on their genitals and looking at their brain responses to arousal. She says the tests showed that the TMS increased reward response to the sexual stimuli, which was proof enough to move on to the next step: a clinical trial where they'll put people through several rounds of TMS and test its long-term effectiveness.
"The important thing to remember about TMS is that it's thought to be normalizing," Prause says — in other words, it can bring people up to the baseline, but won't take them any further. "If you actually have a normal sex drive and I come in and zap you 30 times, I can't make you [into someone with a hyperactive sex drive]."
It could take years to get TMS approved for use as a treatment for low sex drive, but since the device itself is already FDA approved, doctors could technically start prescribing it for this off-label use today. The research into DCS isn't nearly as far along, but early tests demonstrated that subjects who had the treatment showed increased brain activity while viewing sexual pictures, compared to volunteers who'd had a placebo before seeing the images. "That's still a far cry off from having actual sexual response," Prause says, but it's something.
Prause and her colleagues now have a prototype of a DCS headset. Her vision for how the device will work is that users will strap on the headsets, each of which includes two sensors, one on the forehead and one under the chin — "I do not imagine that these are going to be sexy enough to flirt with," Prause says — and stimulate their brains for 20 minutes, which should make them more receptive to sexual cues. This is different from making users aroused; the device won't do that on its own. "But it's going to make it so that if you see something sexy, your brain will be in the mode that it can process that as sexual."
Prause says that initial market interviews show there might be more interest in DCS than TMS — the majority of survey respondents said they'd prefer something that's immediately effective when they just can't get in the mood, rather than something that offered more long-term benefits but required a time commitment in order to reap them.
"My initial read was that people would want TMS, because why would you want to have to do something every time?" Prause says. "But they're actually saying, 'I've got kids, I've got shit to do, I can't come in to the clinic every damn day to deal with my sex drive. It's important, but not that important.'" The next step for DCS is finding an ethics board that will allow her team to test the device; in the meantime, they're scheduled to film a segment on the prototype for the Today show on December 20.
* * *

In a video for the PBS/Nova series Secret Life of Scientists and Engineers, Prause recalled the time when, as a medical student, she sat in on a pharmaceutical meeting discussing the need for a female answer to Viagra. One thing in particular stuck with her about that meeting: She was the only woman in the room.
This, she believes, is likely a key reason why Addyi isn't the answer so many believed it to be: Throughout the pharmaceutical industry's search for a female-specific treatment, there haven't been enough female voices in the conversation.
Prause herself is proof of how that's changing. And as she moves forward with her work, other therapies are slowly gaining ground, too: Studies on a mindfulness approach to talk therapy have shown some positive results, but none of the research that's been done so far has included a control group, meaning it's impossible to judge whether it's actually more helpful than generally talking out problems in patients' lives. Meanwhile, a nasal spray that increases dopamine uptake in the brain has been proven very effective in increasing positive response to sexual stimuli, but, like many other things that increase dopamine in the brain (such as cocaine), it's highly addictive, a problem researchers are currently working to modify.
At this point, it's impossible to tell whether any of this research will ultimately lead to an effective treatment for lack of sexual arousal in women — or whether pharmaceutical companies will ever find the holy grail of a true "female Viagra." But at least this time around, there are more women at the helm.