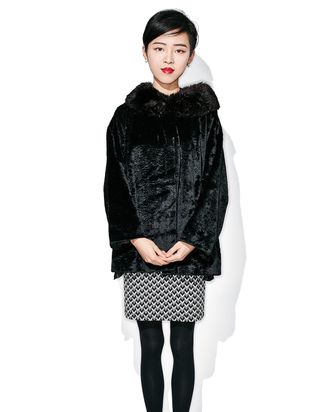 "I want to educate Chinese people about Western vegan food."
Photo: Bobby Doherty/New York Magazine
Xinyi Gong, Student
Where do you go to school?
I'm a junior at NYU and am double-majoring in nutrition and public health. I was really fat and unhealthy as a child — I ate a diet of only meat and rice, and drank six bottles of milk a day, and actually used a baby bottle up until about the second grade. Now I'm lactose intolerant and a vegan.
Wow.
Yeah, and now I want to educate Chinese people about Western vegan food. This summer, I'm actually hoping to have a toast pop-up in Shanghai.
A toast pop-up!
Yeah, we'll serve five or six different kinds of healthy bread that we'll toast and top with things like beet hummus and guacamole. I want to buy bread from this German bakery in Shanghai that provides bread for the German consulate. The idea is that we'll serve really beautiful toast.
How often do you eat toast?
Almost every day. It's the perfect food.
Lightning Round
Age: 20.
Neighborhood: Stuyvesant Town.
Coat: "I'm not sure it's real fur or not — I got it at a flea market for $50. If it is real, it's extremely not vegan."
New Year's plans: "I'm going to a vegan potluck."
Favorite TV show: Fresh Off the Boat.
Favorite street in New York: "Lower First Avenue."
Favorite type of bread: "Buckwheat-cherry bread from High Street on Hudson."
*This article appears in the December 26, 2016, issue of New York Magazine.