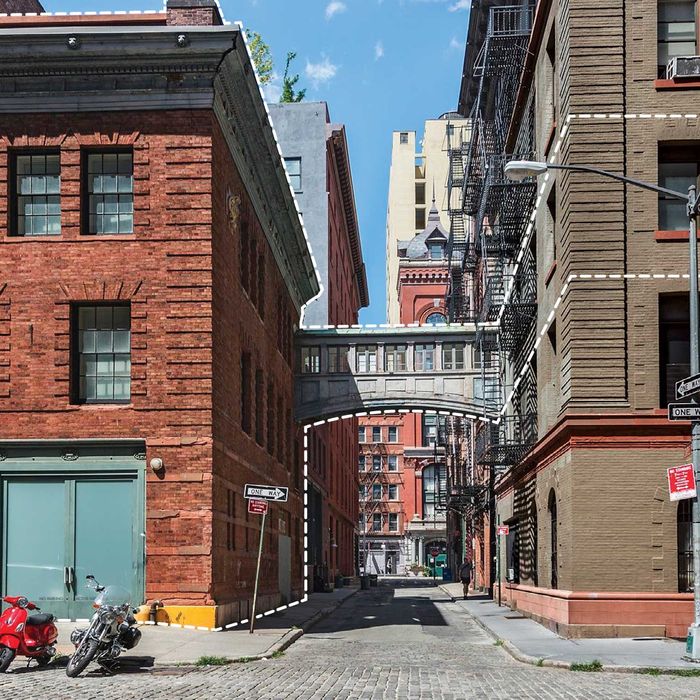 It's the architecturally bizarre way the megawealthy are creating country estates in the middle of big cities.
Photo: Nicole Detone/Rich Caplan Studios
It used to be that a limestone between Fifth and Madison was the ultimate sign of wealth and privilege. No longer. The Andrew Carnegie–style dwellings of the past have been replaced in status by having several limestone townhouses in a row. A handful of such architectural concoctions have made headlines recently for their sheer grandiosity (Sarah Jessica Parker's twin townhouses span 50 feet) and somewhat bizarre, cobbled-together appearance (Russian oligarch Roman Abramovich's two Queen Annes and one Federal brick townhouse). For these celebrities and mega­rich people, Greenwich won't do. "They want to be in the city," says appraiser Jonathan Miller. But in order to get as much space as they would in the suburbs, these billionaires need to get creative — whether by connecting a loft to a carriage house to a loft next door or, as is the trend in London, by digging several floors down to create what are essentially basement penthouses.
First came the carriage house. (Pictured above, left)
In 1985, the owner, a fashion designer, bought this townhouse, once an annex for the hospital next door.
Then the skybridge. (Center)
First used to ferry patients between the buildings, it already connected the two structures.
And the loft. (Right)
A few months later, he bought the second-floor loft in the hospital turned condo.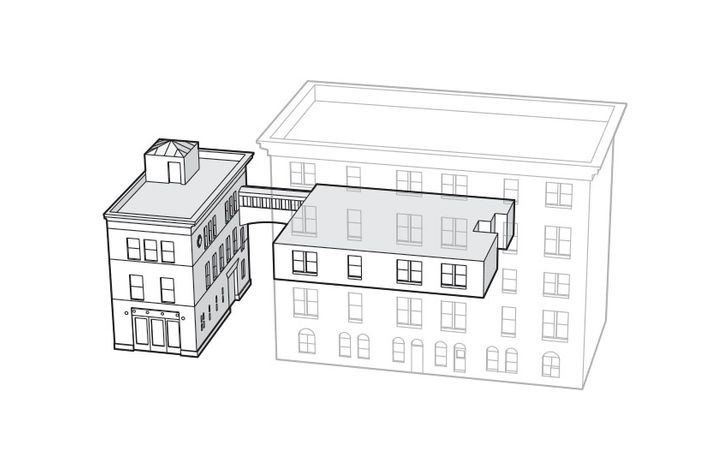 An Anatomy of a Megahouse
Don't call it a mansion (even if we do).
What to call it?
First of all, these aren't mansions. Peter Mahler of Mahler Private Staffing emphasizes: "These are called 'houses.' They're never called mansions."
How wide is wide enough?
Combined or stand-alone, houses favored by buyers are over 30 feet wide, says Paula Del Nunzio of Brown Harris Stevens. (She sold the Duke-Semans mansion twice.) "The width will create scale," she says, and allow for flourishes like a sweeping staircase. Anything thinner "is just a townhouse," says Douglas Elliman's Richard Steinberg.
Where should it be?
Nothing beats Upper East Side side streets between Fifth and Madison. "Roman Abramovich is never going to buy a house on Riverside Drive," says Jed Garfield, president of townhouse specialist Leslie J. Garfield & Co.
What's the façade?
Limestone is the preferred façade, according to Garfield — though no one knows exactly why. "Something about limestone seems to represent the best of what you can find."
Is there an elevator?
There has to be an elevator. "If you don't have an elevator, you don't have a mansion," says Garfield.
Living Large From New York to London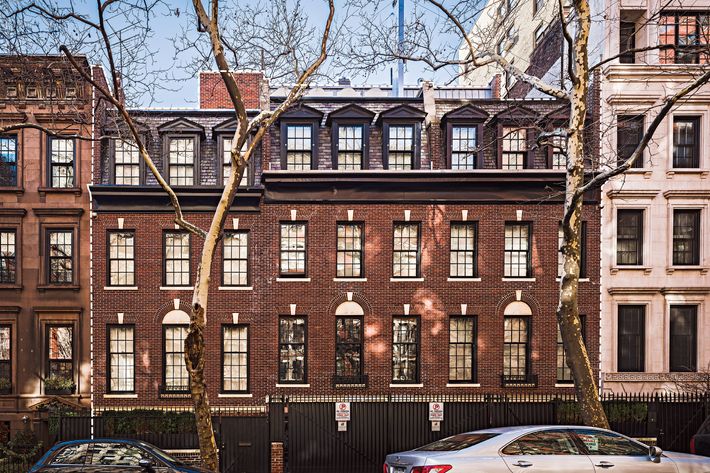 Madonna's Villa | 152–156 E. 81st St.
The singer purchased this fused threesome in 2009. It supposedly has a massive dance studio and gym and comes with two garages for paparazzi-free ins-and-outs.
The Loft Plus Carriage House | 9 Jay St. and 67 Hudson St.
At the moment, the three-story is used as an atelier, while the loft is the residence for the current owner. It's on sale for $50 million.
Sean Parker's McFrankenmansion | 36–40 W. 10th St.
Three brownstones, cobbled together over six years, the last two within six months. A neighbor of Parker's told the New York Post: "When you live in a suburb, no matter how impressive your house is, you are still surrounded by a lot of mediocre people. Here, it is easier to surround yourself by like-minded people."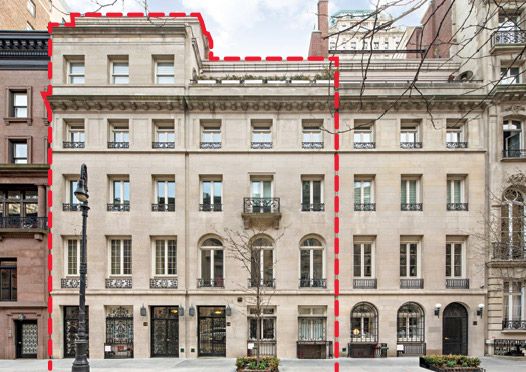 The 44-Footer | 14–16 E. 62nd St.
These limestones were once part of a trio on sale for combining last year. The offering's down to these two, with the owners asking $75 million for a total frontage of a whopping 44 feet.
The Factory Conversion | 85–89 Jane St.
Architect Steven Harris's plan for remaking these two brick buildings — which were an ice-cream factory and a Steinway piano showroom in former lives — is now wending its way through the city's approval process. Together, they sold for $32 million back in 2012 (to billionaire Jon Stryker, according to Curbed).
Sarah Jessica Parker's Latest | 273–275 W. 11th St.
These two brick townhouses are already connected, with 13,900 square feet of space, and have been in use for years as a guesthouse and conference center. The asking price was $44 million, but Parker got a deal at $34.5 million.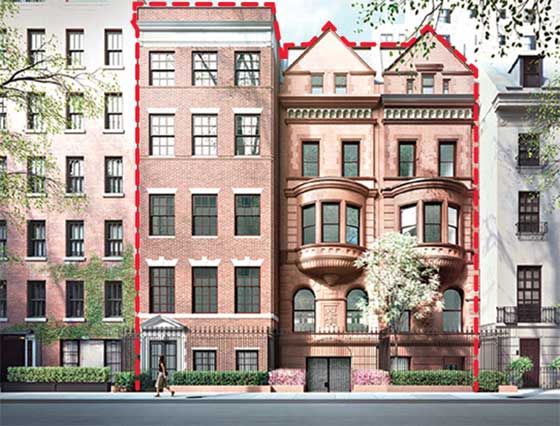 Michael Feinstein's Twin Townhouses | 141–143 E. 63rd St.
The musician's two townhouses were once on the market for $17.9 million. But his brokers, Tom Postilio and Mickey Conlon, say he ended up loving it so much after a renovation he decided to keep it instead.
Roman Abramovich's Triplets | 11–15 E. 75th St.
After many months of scrutiny, his triplets finally cleared Landmarks approval. The different façades will remain as is, and plans show the center house will serve as the main entrance. But pretty much everything else behind it will be redone to create a seamless megastructure backed by a glass wall facing a garden.
The Block-Long Former Bank | 8 Grosvenor Sq.
This 18,000-square-foot Mayfair mansion once housed U.S. Army personnel during World War II and later saw life as a bank. It was put up for sale last year for £70 million. Once fully combined, the structure will span nearly an entire London block (about 190 feet), combining three homes into one; plans for renovations include a subterranean pool, gym, and theater.
Johnny Depp's Penthouse Combo | 849 S. Broadway
The actor assembled five multi-floor penthouses in the turquoise-hued Eastern Columbia Building in downtown Los Angeles over the course of a few years. Depp never physically combined them, preferring to go from one apartment to the next, and two of them have sold. The trio, now on the market for $9.93 million, comes with a terrace and a pool.
The Waterside Duo | 622 Ponte Villas N., Apts. 162 and 163
This mansion, asking $7.9 million, is composed of two townhouses connected by a bridge and overlooks the Patapsco River.
The Architectural Challenges of a Multi-house Surgery
According to architect Wayne Turett, whose firm has handled both combinations and extensive townhouse renovations.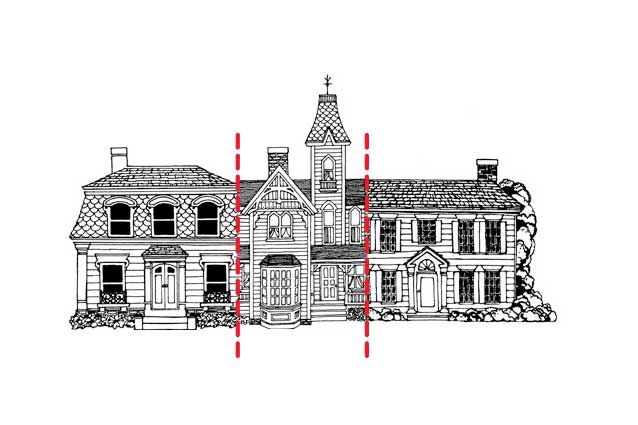 The Different Floor Levels
"Even if the townhouses look alike and they're next to each other, they don't always have the same floor levels. So we'll have to find a way to eliminate the party wall between them. It's really taking apart both houses and rebuilding them as one. If the client wants these big open spaces, we have to dismantle the interior of these buildings and then rebuild them together as a 40-foot-wide building. And we have to find ways to span that and be supported not in the middle but on the sides."
The Lighting
"Townhouses only get light from the front and back. In a lot of our projects, we do open up the back wall, but it doesn't always open up a lot of light. Sometimes you're facing north. But there's no doubt that putting more glass in the back brings more light into the middle of the space. That's one way we do it."
The Landmarks Commission
"What if the two façades are very different? And what if Landmarks doesn't allow us to change them? If our hands are tied by Landmarks, then we don't really have much of a choice. The big thing now is that Landmarks has been scrutinizing the rear elevations of buildings. Like, if you want to make an addition on the back of a building, and if there are no additions like that within a block, they might say no."
Heating and Cooling
"One HVAC system is more efficient and offers more comfort control in a combined townhouse than the two units that were there at the time of combining."
In London, They Go Big by Digging Down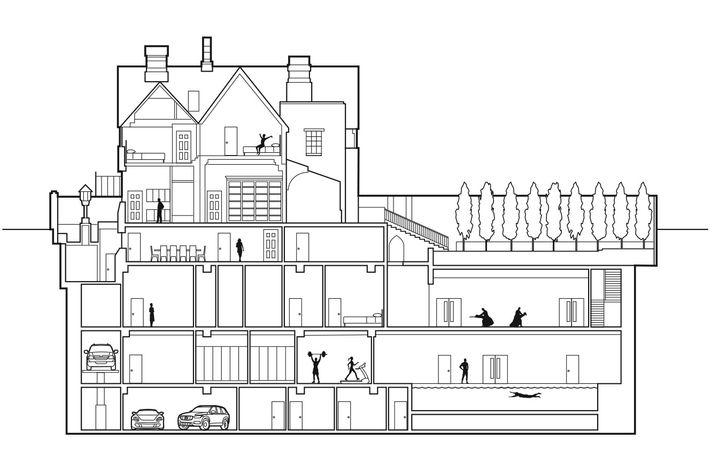 Owing to the city's draconian planning laws, building upward in residential neighborhoods is difficult. So mansion owners have been expanding downward, outfitting their megabasements with movie rooms, gun ranges, parking garages, and pools. It's gotten so that an entire cottage industry has arisen from all this basement-carving; over a dozen firms within London specialize in it. Posh arm-flexing birthed these "iceberg homes," so named because what you see from the street barely hints at the real-estate mass below. It helps that much of London is built on clay, which is particularly receptive to dredging. "Basically [we're] digging huge holes, like a corkscrew, and screwing down," explains Alex Michelin, co-founder of design-build firm Finchatton. "But it's incredibly expensive because you can't get lorries down on the street because they were built so long ago." And then there are the run-ins with rivers, waterways, and aquifers. In part because of complaints over the disruption and noise all this construction has been causing — according to the Financial Times, there were 887 applications for basement work in London in 2015, 25 percent more than the year before — and some reports of construction going awry and houses caving in, new laws are popping up discouraging the practice. In the neighborhoods of Kensington and Chelsea, for instance, local councils have enacted laws that limit so-called basement extensions to one story. (It's gotten so that a high court in Kentish Town is about to hear a case on whether even one-story basements, which don't need to go through extensive planning approvals, can proceed without closer scrutiny.) Would-be renovators in Kensington also have to pay around £8,000 per project for a team to monitor progress and deal with complaints.
Why There Aren't Too Many Iceberg Homes in New York
Because the city sits on schist — a very hard rock that's difficult to drill through. In D.C., however, reports recently surfaced of a house hitting the market with 5,500 square feet underground, ready to be remade into a multilevel subterranean playground, though it's unclear if the basement was ever built.
On Architectural Cohesion
"From my point of view, it's important for the DNA of a building to be easily read by the pedestrian on the outside. Reading a building is important, and if you can't read it, it's deceiving. It doesn't feel good." —Wayne Turett, architect
How a Frankenmansion Comes Together As Real Estate
Having bazillions of dollars helps.
Patience: Many of the recent deals are stand-alone houses acquired over months, even years.
Outright buyouts: "You try to find the owners of the adjacent house on either side, and you go to them and offer them a ridiculous amount," says broker Richard Steinberg.
LLCs: A sneakier buyout, in which the would-­be buyer hides her identity. Some might choose to go stealth by buying each house under a different LLC so as to minimize a seller's leverage — the holdout owner of a brownstone between two already bought properties may not know that she's all that's standing between a billionaire family and their dream house — but it's not foolproof because, as Douglas Elliman's Sabrina Saltiel puts it, "there are no secrets in real estate."
Now, Who Will Take Care of It?
These days, building staffers clock in daily rather than being available 24/7. "People want their independent lives," says Peter Mahler of Mahler Private Staffing. How many employees are hired depends on the scale; for houses of at least 10,000 square feet, a handful would be on the payroll, including:
Caretaker
This person would be well versed in a house's "systems," i.e., electronics, lighting, heating, and cooling, and also make sure vases are replenished with flowers, terraces swept, lightbulbs replaced, and front sidewalks cleared. Salary: $75,000 to $90,000.
Housekeeper
Up to two needed to ensure seven days of coverage for cleaning, washing, and ironing the laundry; answering phones; welcoming guests at the door; and errand-running. Salary: $65,000 to $85,000.
Chef
Works five days a week cooking two meals a day (usually lunch and dinner) and makes sure the pantry, fridge, and wine cellar are fully stocked. Candidates who've had stints at upscale restaurants but also substantial in-home experience are preferred. Salary: $90,000 to $160,000.
Assistant
Helps run the family's social calendar and, if there are children, keeps track of playdates, after-school classes, and tutoring sessions. (Often, nannies morph into this position once the kids start school.) Very similar to a personal assistant. Salary: $75,000 to $125,000.
House Manager
Oversees this and other properties, supervising the staff and tracking the budget for the care and keeping of the mansion. Salary: $120,000 to $250,000.
Chauffeur
A driver who may also be trained as security. Salary: $65 to $100/hour, depending on experience.
Guard
Keeps close watch and monitors the cameras. Salary: $30 to $45/hour.
*This article appears in the November 28, 2016, issue of New York Magazine.