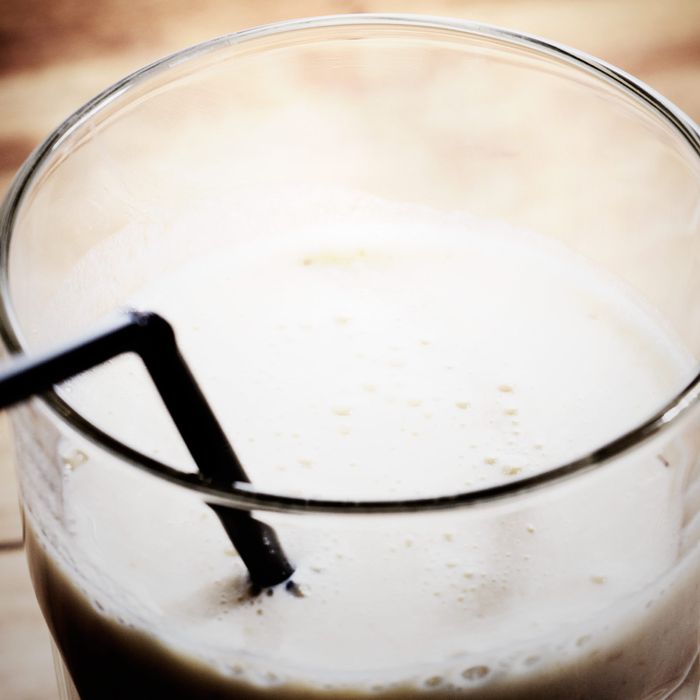 Get Sex Diaries delivered every week.
New York's Sex Diaries series asks anonymous city dwellers to record a week in their sex lives — with comic, tragic, often sexy, and always revealing results. This week, a 28-year-old health technologist managing online dating and recent political sadness: single, East Williamsburg.
DAY ONE
5:45 p.m I am attending my first Sex and Love Addicts Anonymous meeting. This group of loose, lovelorn women appealed to me near the end of a toxic long-term relationship (which coincided with three last-minute encounters with men from dating apps and my inability to break up with anyone). I'm going in with an open mind.
6:45 p.m. I opened my mind and it was beaten with boredom. The only thing on my mind during the meeting was how over relationships I am and how fully I've come to embrace eroticism in these extreme times. I said I wouldn't sleep with anyone tonight, but political strife calls for acting on impulses.
10 p.m. I swipe my phone, scouring for a mate. This is my first time on Tinder and I'm eight swipes in, until …
10:02 p.m. It's a match! A beautiful, seemingly self-aware Eurasian and I find common ground in our hopes for tonight.
10:30 p.m. This glossy, glowing human is a tall chef lounging in board shorts and watching some TV series on the rise of Australian politics. "So, wanna get naked?" he asks not long after "Hi, how are you?" We do, in fact, disrobe. Then he pulls me up onto his kitchen countertop, which I imagine has provided the surface for many great meals.
11:45 p.m. At this point, we've had sex twice in the kitchen and in three different positions on the couch. Now he's going to order some food and go to bed — and I am going to leave his somewhat dilapidated abode.
11:55 p.m. On the ride home, the vacancy of the visit hits me. There was no reference to the world around us and how we are settling into a new global order that is a resounding affront to human rights. It's not like I pontificate politics amid heaving petting and panting — I just want the comfort of knowing the man I'm contorting my pelvic muscles for cares about our country and the world it inhabits.
DAY TWO
10 a.m. This big research grant I applied for just got rejected — after so many interviews and applications and preparations. The rejections says I lack "self-skepticism," a term you won't find in any reputable dictionary.
9:30 p.m. Today I was morose, but nights always bring relief when I decompress with my roommate Toby. We get stoned "like billy goats," which isn't a common idiom but something Toby says. The backstory is that billy goats climb on stones. It's one of those things that only really hits you when you're stoned and in the mood to have a loose mind.
11:45 p.m. Completely high on some hybrid strains, I go to the gym to sweat out the rejection-fueled rage. I listen to songs that make me feel good about myself, like "Nobody But Me" (Human Beinz), "Telegram Sam" (Gang of Four), and "Bad As Me" (Tom Waits), while scoping out everyone else. I put myself in a competition with the most attractive person in spandex.
After 11 miles on the elliptical, I feel tight and take some selfies in the locker room that I will never share with anyone because, selfies.
DAY THREE
12 p.m. My Airbnb guest Vishesh rolls two spliffs before he leaves to work his shift at the hospital for a billion hours. Toby joins us for a billy, and we review the news rolling in from all sides of the globe.
12:30 p.m. I hang my Hillary Clinton shirt on the wall so she will preside over my living room, at least.
10 p.m. I'm feeling too despondent to target anyone on Tinder. Instead, I keep speculating on what I could have done differently to secure that grant.
11:30 p.m. Toby comes home with a six-pack. We get drunk and high, then rent Sausage Party — and wow, that movie really has an amazing take on sex and society. We stop drinking once both of us are sprawled out on the sectional. Then Toby grabs the middle of my leg and tells me to plant a kiss on his cheek, a request that quickly escalates to lips and napes and pecks and other places. I'm surprised to find myself thoroughly enjoying this — it's our first time hooking up.
What makes this scandalous is that he has a girlfriend in some Southern red state, where he'll be moving back to in three days.
DAY FOUR
9:45 a.m. I wake up naked and alone in his bedroom and go downstairs to the living room to investigate. Toby eventually exits my bedroom, declaring a hangover. We get high, discuss nothing of last night, and all feels okay inside this East Williamsburg apartment.
10:30 a.m. I am 20 percent hungover. Mind-altering substances aren't the emotional escape routes they were before the world managed to mangle itself into a warped satire. The only time my mind stops racing with the rapidly encroaching state of worldwide disarray is during great sex.
6:30 p.m. After putting in an appropriate amount of work, I download Bumble. I swipe plenty of men who don't match with me — then am matched with Tiras, the most comely human I've ever seen on a screen. We talk about music videos, missiles, portmanteaus, artistic compromise, and vigilantism. We agree to meet somewhere late tonight.
10 p.m. I prepare myself for this date with peak excitement and preening. When I ask Toby about my outfit, he says I look great and to remember not to have sex on the first date. I responded that yeah, if it seems like boyfriend potential, then no. But otherwise, why not?
DAY FIVE
12:30 a.m. Tiras and I meet in an empty bar room painted red and black, with action figures on the ceiling, a pool table, and two listless bartenders. He is just as smooth-skinned and dazzling as his photographs. Shorter than I imagined, but that doesn't put me off. His meandering, mid-shoulder-length blond mane and soothing smile really compromise my ability to play it cool. I think I end up sounding like I'm trying to compete with him, and it's possible I say things about Kanye West that maybe people who like Kanye West's music wouldn't appreciate. Having trouble getting a pulse on the night.
3 a.m. He leads the way to a club a few doors down, where a fog machine conceals the few other figures in the room. We get really close and start making out, our teeth bumping in eagerness.
4 a.m. Into his bed we go. He slides my "A Little Nukie Never Hurt Anybody" shirt off with one hand while his other unclasps my bra. Tiras is a person who understands the value of a long caress and well-punctuated series of kisses. Then I tell him maybe this is going too fast; he says we can slow down. We spoon, falling asleep after not much time at all.
8:30 a.m. Tiras touches my torso, so I stretch out to make sure he can reach all of my figure. I like myself so much more when I'm naked alongside a guy with limbs that complement mine.
The sex is perfect, I get kisses and cuddles, and he has a real alarm clock that wakes him with NPR.
10:30 a.m. He takes a conference call from Berlin after his phone rings four times (meeting slipped his mind). From the bed, I watch him pace in his patterned boxer briefs while preparing two cups of frothy coffee and say to the people on the other line, "I get the concept you're going for. It's just not original."
11:30 a.m. I leave his apartment wondering what I could have done to be cooler.
4 p.m. Spending the better part of my free time today reading poetry, highlighting my favorite passages on passion and disappointment, and writing my own self-indulgent drivel.
11 p.m. Saw Hamilton from a box seat with my sister and now I can't shake this feeling that our democracy is the Titanic and Hamilton is the band that won't quit this sinking ship. When I walk outside and get on the train, the world seems to scream, "Show me you care about what happens to me!" I feel hopeless, which makes me feel horny.
11:45 p.m. Toby and I put up some of his artwork around the apartment before he leaves forever. I recap my Tiras date and Toby says Tiras looks like the kind of guy who'd only date super-cool chicks, but like superficially super-cool chicks. He meant it as a compliment, but it still makes me feel like I hit my cool peak at 27 — like now that I'm 28 I'll never have great sex again.
DAY SIX
10:30 a.m. It's been 24 hours since I woke up last and now I want to be a visitor in Tiras's bed again, to level up our intimacy.
9 p.m. Work today was good. But this isn't my work diary; this is my sex diary.
9:05 p.m. Toby and I are unwinding with weed and chocolate milkshakes for our last night together. I appreciate that we got naked together "just to see what would happen," which is the most charming way to interpret getting naked with someone.
11 p.m. Our final hours together are spent talking about a wide array of topics; one of which is lambasting men who say certain ski resorts are too easy. Those types are poorly endowed, says Toby. We also talk about cheating, deciding that it doesn't really exist if the partner doesn't know about it.
DAY SEVEN
1:10 a.m. Got a pile of unfortunate pieces of information coming at me from all sides: The news is a farce, my family is sick, my company is at risk, and I'm sitting alone in the dark avoiding my problems and unexpectedly torn up over Toby's departure.
There's no one to talk to in my living room, and I'm remembering why it was so hard to be single. It's moments like this, isolated in some hopeless disappointment, when the only rescue comes in the form of raunch. Bad news makes me pine for pleasure.
3 a.m. High-level depression will not deflate my libido! My strategy to fulfill my sexual self when everything else sucks is compartmentalization. Everyone serves a set of purposes, and a well-balanced carnal-cardiovascular regimen is essential in maintaining mental and physical health in times of disarray.
11:30 p.m. This concludes my first day and night isolated from any male companionship. Even just this short time leaves me convinced there's no one left for me, that my sex life has died along with any capacity for romantic or platonic excitement. It sounds absurd; I know. But porn and vibrators alone are not going to get me through the Great Again Resistance.
Get Sex Diaries delivered every week.
Want to submit a sex diary? Email sexdiaries@nymag.com and tell us a little about yourself.