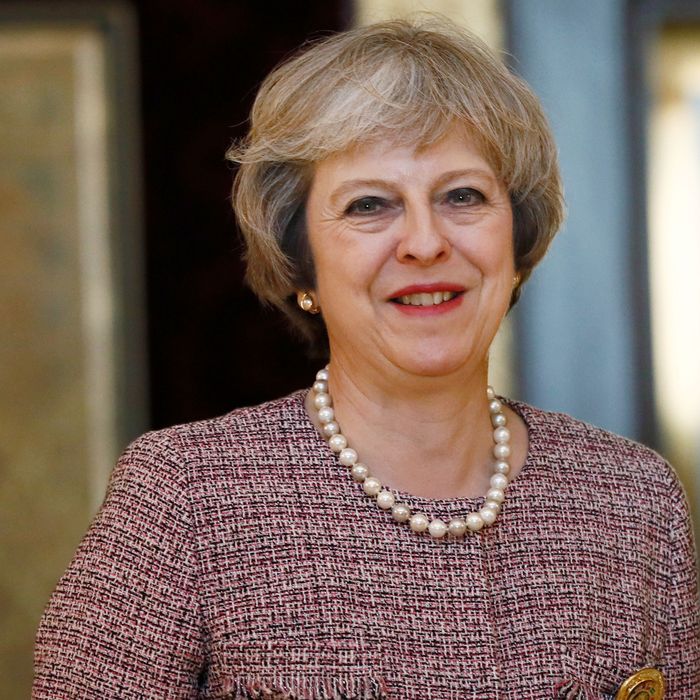 Theresa May.
Photo: Pool/Getty Images
Theresa May is no rumpled Jeremy Corbyn, but her wardrobe doesn't typically attract much attention one way or another, other than a flap about her penchant for leopard-print kitten heels. That changed when the British prime minister wore a chocolate-hued pair of Amanda Wakeley leather pants while posing for a portrait in the Sunday Times. The pants are reported to cost £995, or $1,262, at the current exchange rate. And they're causing a Marco Rubio's-boots-level ripple effect, even earning the honorarium of Trousergate, because it's not a real controversy until you append a -gate to it.

One politico told the BBC that the slick trousers had been "noticed and discussed" among the Tory crowd. (For those unfamiliar, that's the British version of throwing shade.) However, another MP pointed out that May's predecessor David Cameron's pricey suits never came in for the same kind of scrutiny. We in the U.S. certainly can't relate to that kind of sexist disparity.

If there's a winner anywhere in this mess, it's Amanda Wakeley. According to the Sun, the trousers have already sold out — helped along, no doubt, by the fervent word of mouth.