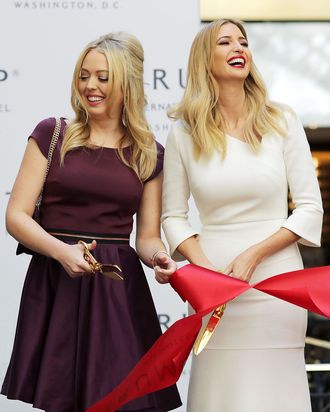 Tiffany and Ivanka Trump.
Photo: Chip Somodevilla/Getty Images
Vanity Fair's Sarah Ellison has a juicy new piece about the relationship between Trump princesslings Ivanka and Tiffany, and insofar as it is possible to feel bad for a millionaire heiress, the article will make you feel really bad for poor Tiffany Trump, whose entire life has been an unending cavalcade of minor rich-girl injustices.
Tiffany — the so-called "forgotten" Trump child — reportedly idolizes her older half-sister, Ivanka, who possesses all of the important Trump qualities, such as "a brand and a personality and consistency in her Instagram," according to one of Tiffany's friends. Writes Ellison:

Not only does Ivanka give her younger sister "politics advice, boy advice, and sisterly advice," the friend told me, but she also gives advice on things like "this is the color that looks best on camera" or, when wearing a dress, "make sure when you sit down you cross your legs." Basically, "all the things she picked up from being famous." Recently, Tiffany, who is known as Tiff to friends, took her Secret Service detail with her to Bloomingdale's to pick up a lipstick Ivanka had recommended.
While Ivanka has always had her dad's ear, we learn that Tiffany — who was raised in California with mother Marla Maples — wasn't conferred the same privileges as the rest of the Trump children. When they were younger, Ivanka had to intervene on Tiffany's behalf to get her access to a parental credit card. "I went to our father and suggested he think about surprising Tiffany with a credit card for Christmas, with a small monthly allowance on it," Ivanka writes in her book, The Trump Card. (Tiffany does not have a book.)

"Sure enough, he did just that," Ivanka continues. "Tiffany was thrilled and relieved. And so appreciative."
Other heartrending tidbits:
• Even once she got her dad's card in hand, Tiffany had to be very frugal. "Donald Trump provided Tiffany with a budget of $500 a month—no more, according to a friend," Ellison writes. "When she split restaurant bills, she calculated down to the penny how much she owed." Only $500? A pity.

• Tiffany is a hard worker. "According to friends, Tiffany is unfailingly kind. She is studious. She once arrived late for a 'Rich Kids' photo shoot for Du Jour magazine because she was finishing a paper for a summer course."
• Tiffany has faced rejection: "Newly arrived in Philadelphia, Tiffany was cut in the first round of rush to the all-female Tabard Society at Penn, according to two Tabard members," Ellison writes. "According to one, the society was fearful that the presence of a Trump might scare off the kind of presentable and connected young women that Tabard has typically attracted."
"In this way, we are all Tiffany Trump, reliant on Ivanka to get her father to do the right thing," writes Ellison. Yes, we are all Tiffany Trump, minus the bank account, and the demagogue father, and the pop single, and the — eh, close enough.