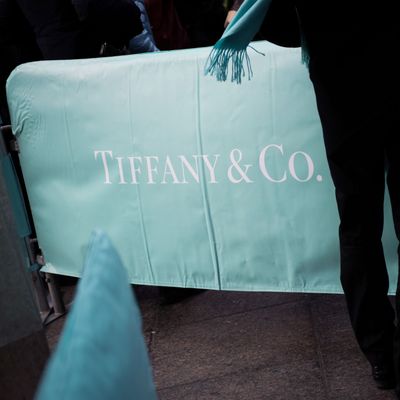 A Tiffany-branded barricade.
Photo: Mark Kauzlarich/Bloomberg via Getty Images
The area around Trump Tower on Fifth Avenue has been increasingly crowded since the election, which has posed a problem to the retailers nearby. Tiffany & Co., whose flagship store is located next door to Trump Tower, has come up with a solution to combat its decrease in drop-in customers: NYPD barricades, covered in monogrammed, Tiffany-blue cloth, that create a pathway so customers can more directly access the store and its holiday windows.

The covers for the barricades were reportedly originally for the holiday window unveiling in November, which was canceled due to security concerns. A Tiffany representative told WWD that "Tiffany is in frequent communication with the New York Police Department and U.S. Secret Service regarding safety and security along the perimeter of our Fifth Avenue flagship."

The store is also doing more to drum up business, per WWD:

To draw further attention that it's business as usual inside the store, bellhops are stationed along the pathway, each wearing a standard-issue Tiffany-blue scarf, as well as uniform knit hats, neck warmers and gloves. In Thursday's below-freezing weather, many grasped disposable hand-warming sachets.

In conclusion, the dystopian future is here.