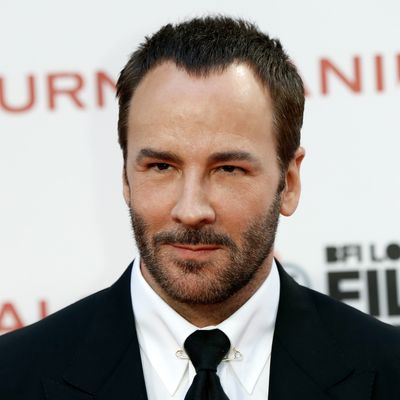 Tom Ford.
Photo: John Phillips/Getty Images for BFI
In a new GQ profile of Tom Ford by Taffy Brodesser-Akner, the designer and director discusses everything from men in shorts to the omnipresence of death. He also gives a glimpse into his parenting philosophy — Ford has a 4-year-old son, Jack, with husband Richard Buckley — or, more specifically, how it applies to sartorial matters.
For starters, Jack can choose what he wears every day, which can sometimes lead to disagreements. Because Jack, like any good fashion baby, is currently going through a phase where he only wants to wear black:

He's just gotten out of a phase in which the only color he would wear was camel—"Camel, camel, camel, camel," Ford grouses, "all he wanted was camel"—a monochrome 2-year-old. Now all he wants to wear is black. "Jack," his father tells him, "black doesn't really look good on little children. You need to wear some color." Grudgingly, the toddler says, "Okay, gray." Ford throws up his hands and retrieves some gray.

And don't even get Ford started on Jack's light-up dinosaur shoes:
A sore subject in the Ford household: Jack has some light-up dinosaur shoes, and sometimes he tries to wear them to school, and when Ford catches him doing this, he has to step in. "What does Dada say about the dinosaur shoes?" "They're tacky." "And when are we allowed to wear them?" "On weekends." And so the Velcro Stan Smiths go back on Jack's feet while he looks achingly at his light-ups, counting the days until they can have their brief, private, unphotographed moment in the sun.