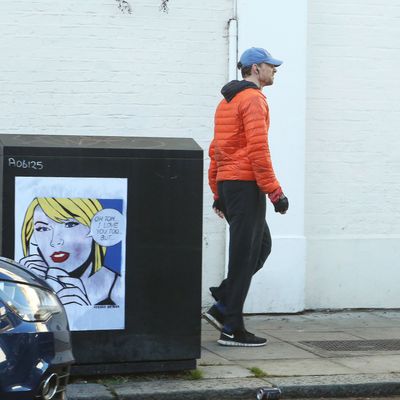 Tom and Taylor, together again.
Photo: NOBLE/DRAPER/Bauergriffin.com
On Sunday, Tom Hiddleston was photographed while walking in front of a piece of Roy Lichtenstein–esque street art by Fussy Human that illustrated Hiddleston's ex, Taylor Swift, breaking up with him.

When Tom saw the news splashed all over the internet, he sighed deeply. "Oh brother," he said to no one in particular, shutting his laptop and reaching for his diary instead. He opened to the page where he had drawn himself as James Bond — taking special care to make the "007" the exact right font — and looked at it for a few minutes. He was feeling better already.
Taylor, on the other hand, let the faintest smile escape her lips before turning to her trusted companions. "Selena. Meredith. Make sure nobody sees the other posters."