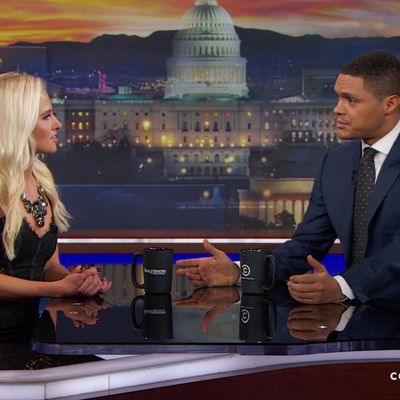 Tomi Lahren and Trevor Noah went head-to-head.
You might have heard of 24-year-old conservative pundit Tomi Lahren thanks to Beyoncé — the singer asked Lahren's permission to use a clip from her show, Final Thoughts With Tomi, for her Formation world tour. The clip was a 30-second rant about how Beyoncé was seeking to incite a "battle of the races" with her Super Bowl performance. Lahren declined.
The Daily Show's Trevor Noah has brought Lahren up on air before, calling her the "least-woke, most awake person" he's ever seen. But on Wednesday night she appeared on his show as a guest for the first time, where she defended Donald Trump's feminism and told Noah that conservative women don't get enough credit for being "kick-ass."
When Noah asked how Donald Trump's 2005 comments about groping women made Lahren feel, she replied that they were "indefensible," but "at the end of the day does that impact my taxes, does that impact immigration, national security? It doesn't. So I can get past it."
Noah: It may impact the way women are perceived and treated in a country where already you're dealing with a lot of issues.

Lahren: You mean like Saudi Arabia, which Hillary Clinton took money from?

Noah: You don't need to go far when you're in a country where every single day women are being beaten and raped. You're not going far when you have issues in your own country.

Lahren: I'm not defending what he said. I'm saying that words, to me, are far less egregious than actions. And when I talk about actions, some of the positive actions of Donald Trump that the liberals fail to recognize, the fact that on his construction projects, female project managers … Kellyanne Conway, you want to talk about glass ceilings? First successful campaign manager, female. Why are the liberals not talking about that? This is a kick-ass woman, but no one wants to give her credit because she's a conservative.
Noah replied that maybe no one wants to give Conway "credit" for "kicking ass" for someone like Trump, but Lahren dismissed this notion out of hand.