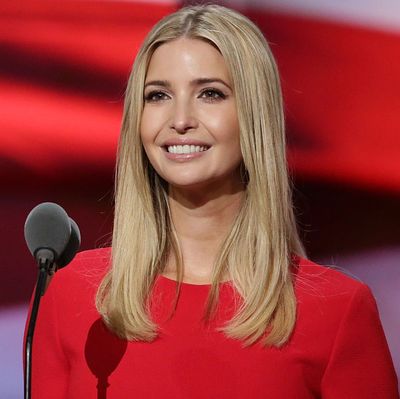 Donald is relying on Ivanka for the whole "women's issues" thing.
Photo: Chip Somodevilla/Getty Images
Thanks to her dad's victory, Ivanka Trump is now one of the most powerful women in the world. And although it remains to be seen what role she'll play in the Trump administration — she's said she wants to keep fighting for women's issues, albeit not in a formal position — it seems her father is still relying on her for all things female.
On Saturday, the New York Times published a story about Ivanka's prospects, and it led with an interesting detail:
When Nancy Pelosi, the minority leader of the House of Representatives, called Donald J. Trump shortly after the Nov. 8 election, they talked about domestic policy and infrastructure. But when Ms. Pelosi raised the specific subject of women's issues, the president-elect did something unexpected: He handed the phone over to another person in the room — his 35-year-old daughter, Ivanka.
That's right: When faced with a specific question about women, Donald Trump handed the phone to his daughter. He used the same strategy throughout his campaign, counting on Ivanka's polished presence to draw support from female voters. Her speech at the Republican National Convention was one of the only times the Trump campaign specifically addressed policies designed to benefit women, such as paid leave and affordable child care.
The Times notes that people such as Sheryl Sandberg of Lean In fame and Anne-Marie Slaughter, who's also advocated for women's equality in the workplace, have reached out to Ivanka hoping to start a "dialogue" about women's issues in the Trump administration. "She is really serious about the 'care agenda' and can be a strong inside force," Slaughter said. (She also pointed out, "I don't know anyone else.")
Activists involved with the "Dear Ivanka" Instagram account site list similar reasons for appealing to daughter in lieu of father: "[She's] always had a very good head on her shoulders, she's always been a really kind person," said socialite Arden Wohl, who's known Ivanka for years. But the way things are going, Ivanka might have more in common with her father than the Sandbergs and Slaughters of the world would like to believe.