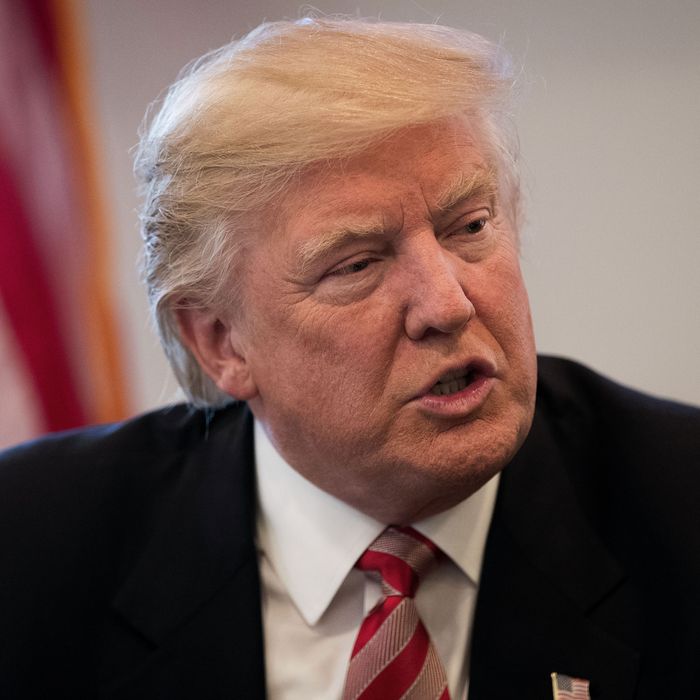 Donald Trump.
Photo: Drew Angerer/Getty Images
Donald Trump's transition team on Wednesday asked the State Department to hand over information about programs and positions focused on promoting gender equality, the Washington Post reports. This has prompted fears that the new administration may do away with programs focused on women's equality spearheaded by former secretary of State Hillary Clinton.
The transition team sent a one-page memo asking for details that outline "existing programs and activities to promote gender equality, such as ending gender-based violence, promoting women's participation in economic and political spheres, entrepreneurship, etc," according to the New York Times. The memo also asked for information about State Department staffing related to those programs, as well as a summary of how much funding those programs received in 2016, to be sent over by 5 p.m. that day.
Hillary Clinton created a number of "high-profile development projects" with strong international gender-equality components, and also created the position of ambassador-at-large for global women's issues, the Times reports. Officials worry what Trump's request means for such initiatives — and also fear the request means the Trump team will undermine programs focused on lesbian, gay, bisexual, and transgender issues, even though the memo never mentioned them.
The request comes just one week after the transition team sent out a questionnaire to collect information on Energy Department climate-change officials, the Post noted. The Energy Department reportedly refused to provide names, and the transition team later said the questionnaire was not sanctioned by its leadership. While the Wednesday memo to the State Department didn't specifically ask for names of officials working on gender issues, each office was asked to "note positions whose primary functions are to promote such issues."
The Post reports that the Trump transition team did, in fact, authorize the gender-focused request, and sources confirmed that the State Department fulfilled it. An official told the Post, "It's not clear to us what the intent is behind this request. The Trump team could be looking to advance gender issues and make it a priority – or you could look at it as a witch hunt."