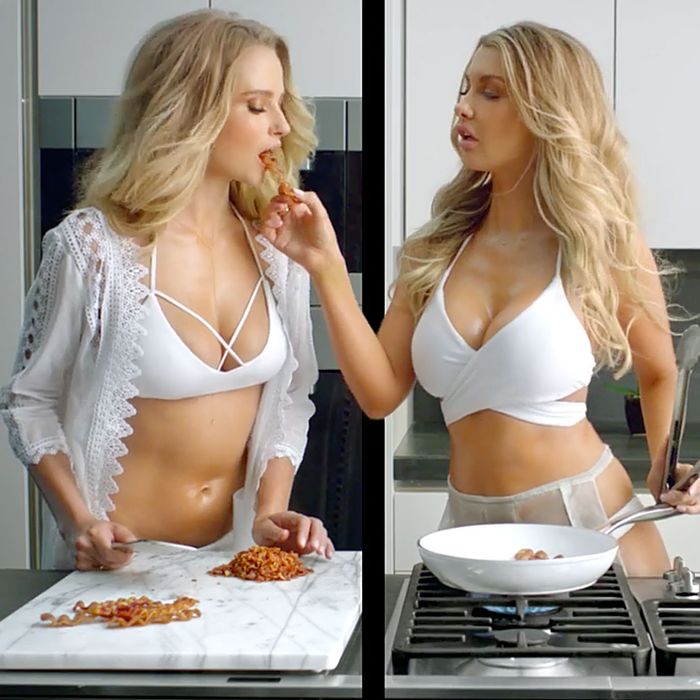 A recent ad for Hardee's "bacon three-way."
Photo: Courtesy of Hardee's
On Thursday, Donald Trump announced that his pick for Labor secretary is Andy Puzder, a fast-food executive who heads the company that owns Hardee's and Carl's Jr. The choice is a slap in the face of working-class voters who were Trump's primary base of support, but it's also a fun opportunity to revisit Carl's Jr. and Hardee's ads of the past.
There's the one starring Top Chef's Padma Lakshmi, in which she eats a hamburger in a low-cut dress on some stairs. And there's the 2009 ad starring Kim Kardashian that featured salad dressing dripping down her chin and — for some reason — a bubble bath. And of course, there's the 2012 ad starring Kate Upton in which she strips down while scarfing a burger in the back of a vintage car. More recently, Hardee's ran this ad for its "bacon three-way" burger:
Entrepreneur asked Puzder about the ads in a feature that ran last year with the headline "The CEO of Carl's Jr. Doesn't Care If You're Offended by the Chain's Sexy Ads." And he answers, more or less, that he doesn't care if viewers are offended by the chain's ads.
"I like our ads," he said. "I like beautiful women eating burgers in bikinis. I think it's very American. I used to hear, brands take on the personality of the CEO. And I rarely thought that was true, but I think this one, in this case, it kind of did take on my personality."
A market research firm found that viewers were particularly turned off by Hardee's and Carl's Jr. ads; more than half found the ads to be annoying and offensive. But Puzder said he'd be concerned if viewers didn't complain: "If you don't complain, I go to the head of marketing and say, 'What's wrong with our ads?'" he told the magazine.
As Labor secretary, Puzder will be in charge of enforcing anti-discrimination laws among any company that interacts with the federal government. As ThinkProgress points out, he'll also oversee the Women's Bureau — a federal agency that enforces paid maternity leave, protects mothers as they navigate the workforce, and works to eliminate the wage gap. But when it comes to women's equality, Puzder's nomination makes about as much sense as Ben Carson's.