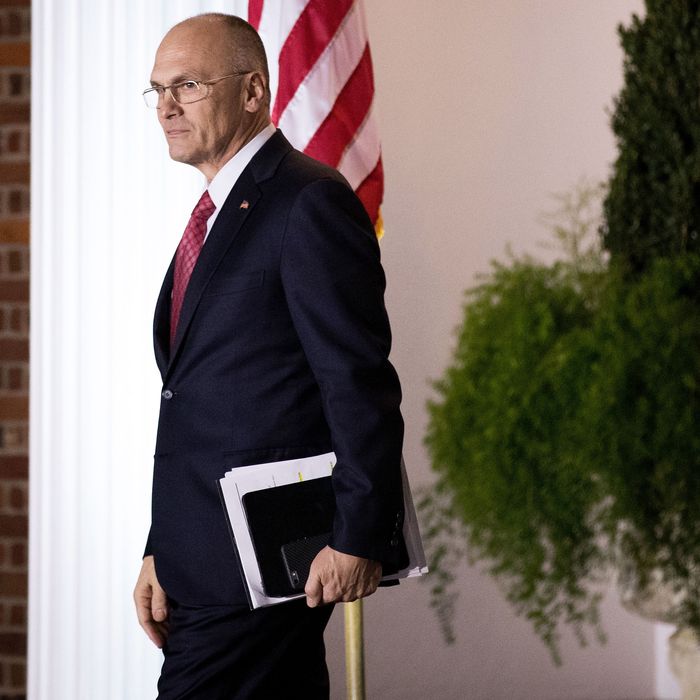 Andrew Puzder leaves a meeting with President-elect Donald Trump at Trump International Golf Club.
Photo: Drew Angerer/Getty Images
The Riverfront Times, a local St. Louis newspaper, dug into its archives Thursday to uncover a story about Andy Puzder, Donald Trump's pick for Labor secretary. According to the Times, Puzder was accused of abusing his wife during their divorce proceedings in 1989.
In her divorce filing, Lisa Henning — whom Puzder married in 1973 — listed three incidents of abuse. The first, she said, occurred in the late 1970s when she and Puzder got into a shouting match that "turned into a plate-throwing fight that caused neighbors to call police." In his deposition Puzder discussed the incident, saying, "We both threw plates and, I might add, not at each other."
The second was in 1985, when Henning said Puzder punched her while they were driving home together. Puzder said he recalled "no such incident" but did remember hitting a curb, which he said, "had to do with the liquid refreshment we had with our dinner more than anything else."
Then, in 1986, Henning said Puzder "attacked me, choked me, threw me to the floor, hit me in the head, pushed his knee into my chest, twisted my ar​m and dr​agged me​ ​on the floor, threw me against a wall, tried to stop my call to 911 and kicked me in the back." Afterward, the couple signed a mutual consent order that prohibited Puzder from entering the second and third floors of the couple's house and Henning from going into the basement.
Henning and Puzder finalized their divorce in 1987, and they were awarded joint custody of their two children. When a Riverfront Times reporter questioned Puzder in 1989, he said, "There was no physical abuse at any point in time. If ever something was filed to gain personal benefit, this is it. If you're trying to smear me by raising the fact that my ex-wife made some charges against me, you're making a big mistake. It would not be good journalistic practice to publish this."
Update: The Cut received the following statement from a communications firm representing Lisa Fierstein (formerly Lisa Henning):
"Andy is one of the finest men I have ever known. Many years ago I impulsively filed for divorce and was counseled to file allegations that I regretted and subsequently withdrew over thirty years ago. Andy is a wonderful father, a great person, and was a good husband."