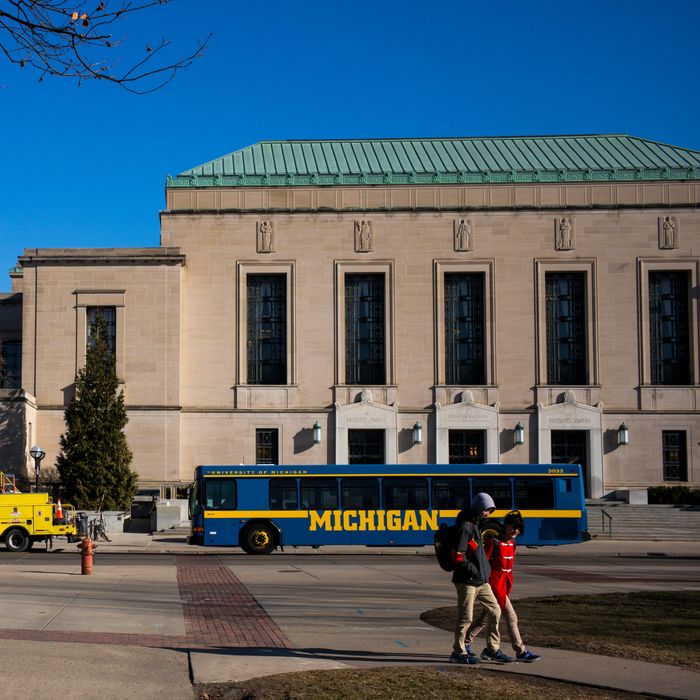 University of Michigan.
Photo: Robert Nickelsberg/Getty Images
Update [Dec. 27, 2017, 6:04 p.m.]: Following its initial story, the Washington Post reported that Michigan police say there's no evidence to back up the student's story. The investigation will be turned over to the Washtenaw County prosecutor's office, which will decide whether she will face charges for filing a false report. If convicted, the student — whose identity has not been released — could face up to four years in prison or a fine of up to $2,000.
A man threatened to set a University of Michigan student on fire with a lighter if she didn't remove her hijab on Friday evening. She complied and was physically unharmed, and police are calling the incident a "hate crime."
The crime took place just outside of campus in Ann Arbor on Friday, between 5:30 and 7 p.m., police told the Washington Post. The suspect was described by witnesses as a white man of average height and athletic build, with an "unkempt appearance." He reportedly appeared to be drunk. "We do consider this a hate crime," Diane Brown, a public information officer of the university's division of public safety and security, told the Post.
The incident is merely one in a surge of hate crimes against minorities that have occurred since Donald Trump won the presidential election, following a campaign marked by misogyny and racism. There had been over 200 reported incidents of harassment and intimidation from Tuesday night through Friday of last week alone, according to a report by the Southern Poverty Law Center. Anti-black and anti-immigrant incidents were "far and away the most reported" following the election, with "anti-Muslim being the third most common."
In a statement released on Saturday, the University of Michigan's safety officers said they are concerned and disturbed by the alleged crime, according to the Post. "Officers are conducting additional patrols in that area and the Ann Arbor police are actively investigating," the statement said.