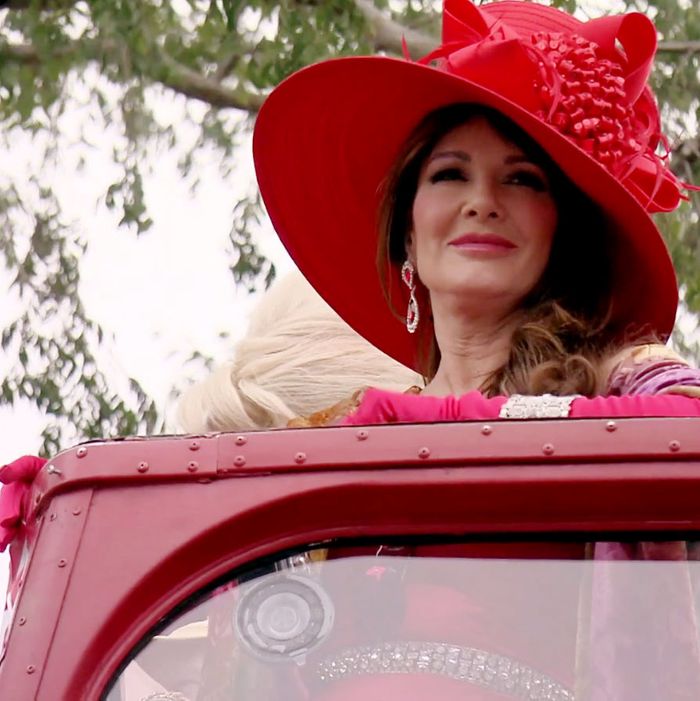 Lisa Vanderpump.
Photo: Courtesy of Bravo
Lisa's annual Pride party is a feature of every season of Vanderpump Rules, but this year's celebration was mired in tragedy as the massacre at Orlando's Pulse nightclub occurred mere hours before the Los Angeles Pride Parade was scheduled to begin. Tonight's episode, "Pride," aired six months to the day after the mass shooting that claimed 49 lives, and involved the cast reflecting on the tragedy rather than singularly focusing on their own inconsequential problems. At least, for the most part.

The episode opens with Lisa discussing Pride outfits and logistics with the SUR staff. Shortly afterward, Jax and Tom Sandoval talk Ariana's cocktail book idea while they're bartending. Jax, pot-stirrer that he is, says it's hard to see Ariana working on that topic, and that Tom should get involved somehow. (Spoiler: This doesn't go well.) Scheana drops by to start talking shit about Lala's allegedly married boyfriend — again. Who else is exhausted by this plotline? Tom defends her by explaining that Lala has a Range Rover because the company gives away a certain amount of free Range Rovers per year. Oh, sweet, sweet Tom. Shhhhh now.
What follows is one of the most transparently artificial scenes in Vanderpump Rules history. Stassi and her friends, blonde twins named Ashley and Lauren, drop in for a meal at SUR; the purpose of this meeting is so that Ashley and Lauren can invite Stassi out to the Hamptons for the summer, a setup for the forthcoming show Summer House. Katie and Scheana, on cue, come to the table so that Stassi can invite them to her birthday trip in Montauk, hinting at crossover episodes to come. The only thing faker than the wooden dialogue is, well, everyone present — but I, for one, am looking forward to the Marvel Universalization of Bravo.

Anyways, back to Tom Sandoval. Ariana's filming some sort of promotional segment for her cocktail book and Tom can't stop getting in the way, explaining technique to Ariana, and generally trying to hog attention. See, Tom thinks that cocktails are his passion and that he should be the one making the cocktail book. In all fairness, why is Ariana writing a cocktail book? Isn't mixology over yet? Can't we all just pour a glass or 12 of Ramona Singer–branded Pinot Grigio and call it a day?
Still, test audiences must've indicated that they were bored with Tom and Ariana's pleasant relationship because their fighting escalates during lunch with Lala. What starts with them inviting Lala to Ariana's birthday trip to a Nascar race ends with Ariana awkwardly telling Tom "don't fucking roll your eyes, you little fucking bitch" and calling him a "Bitter Betty."
The morning of the Pride festivities finds everyone in a somber and shaken mood as details of the Pulse attack in Orlando are still coming in. They're left questioning whether it's still safe enough to carry on with their plans, especially after police officers stopped a man armed with weapons and explosives heading to West Hollywood. Katie, Tom Schwartz, Stassi, and Tom Sandoval all meet up to try to process the incident and cry, while Lala has separately decided that she's out for the day.

Eventually, Tom Sandoval, Ariana, Brittany, and Jax all make it to work — and Ariana and Tom put aside their cocktail-book differences. Lala goes over to James's and they immediately get into a fight because Lala has somehow "changed the mood" by mentioning that Jax will also be at Ariana's birthday party. "Today is not the day," Lala begins, in what was expected to be a talking-to about perspective in the face of a national tragedy. Instead, she shares that she's in a bad mood because she just went through a breakup. Self-awareness continues to not be the strong suit for these two.

After Lisa rides in her double-decker bus through the parade, she heads over to SUR for the festivities. She gathers the crowd to thank them for coming, saying, "I applaud your courage for still coming here … but this is what we do. We stand even stronger, and we unite and we stand defiantly in the face of a heinous act like that." And then the party goes on.

Read past Vanderpump Rules recaps here.