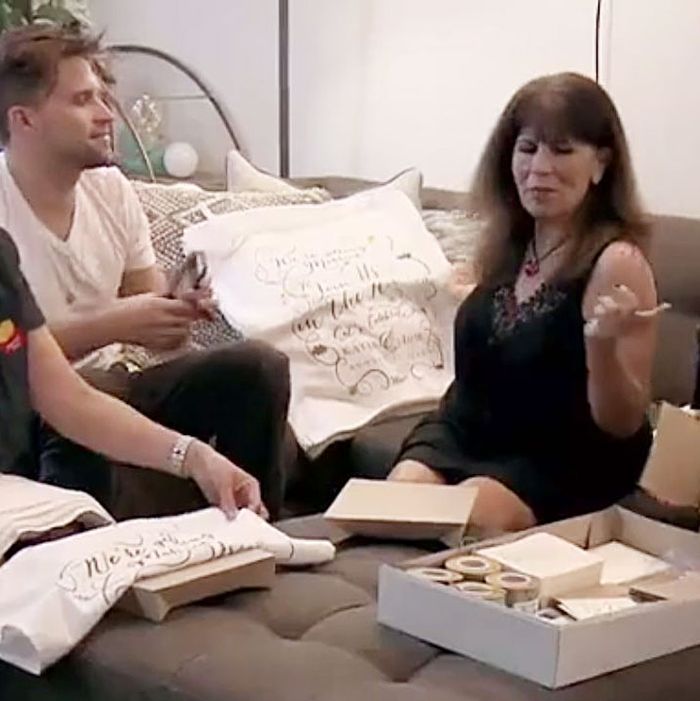 Katie, Tom, Teri, Sandra, and the dreaded tea towels.
Photo: Courtesy of Bravo
We've met several of the Vanderpump Rules cast members' mothers before, though, weirdly, I can't recall anyone's mom telling them to stop bringing shame upon the family by humiliating themselves weekly on reality television. This particular episode features three different moms, one grandma (who is technically also a mom), and one 11-year-old brother.
We start out at Katie and Tom Schwartz's place, where Katie's mom, Teri, and grandma, Sandra — who love Tom because, you know, he is just the nicest young man — are helping to stuff wedding invitations. And by stuff, I mean they are meticulously folding full-size tea towels screenprinted with the wedding details because Katie insisted on buying $18 towels for her wedding invitations. Can we talk about this for second? I'm a masochist who reads both Vogue weddings and the New York Times' Vows column religiously, and even I find these tea towels outrageous. Katie just spent $18 a pop on something that's going to be used exclusively to clean up spilled vodka-sodas.
Stassi and Kristen come over and immediately start talking shit about Lala and her Range Rover and her possible married boyfriend, this time with Katie's mom and grandma around to join in. Ahhhhhhhhh. I've said this before, but I am so, so tired of this plot line. There's something slightly deranged, even more so than usual, about the way they've been obsessing over this detail about Lala since the start of the season. It's actually exactly how I feel about Katie's tea towels, come to think of it.
Over at Shay and Scheana's house, Scheana is explaining the fight from the pool party to her husband. But before that, they make the bed together (yeah, I don't know either) and in another moment featuring controversial home décor, Shay says, of throw pillows, "They just sit there all day, then you take them off. Then you have to put them back on." Shay is a man of few words, but those words are wise.
Cutting over to a man who should be of much fewer words, James is DJing somewhere and Ariana, Tom Sandoval, Ariana's brother, and Lala have all gone to watch. Lala expresses some uncertainty at going to Ariana's birthday party in Sonoma if Jax is going to be there, but says she'll ultimately do it. A brief moment of Lala and James one-on-one time reminds you how terrible they are together: Lala is saying she's been sober while clutching a glass of Champagne, while James reveals that he's taken up drinking cough syrup in lieu of drinking. Also, DJing is still James's "passion," in case anyone was worried that had changed from the last time we saw James. Later in the episode, he goes off to ask Lisa for his old job back and she rightfully tells him to bug off.
There's a short scene of Kristen and Jax taking a boxing class together — but that's unimportant because what comes next is Lisa calling Katie's tea towels "unique," and I'm just glad we're all talking about the tea towels some more. Lisa also warns Katie that Stassi seems to be the root of all the drama that surrounds them. Katie bristles at that, but, in a way, Lisa is everyone on the show's mother; that interaction was very much like when your mom tells you something you know is true but you don't want to hear it.
Uh, and in things that I'm surprised I didn't see coming: Jax got a plastic-surgery procedure similar to a breast reduction. That is all.
Moving on to the next mom featured on the episode, Stassi's mom, Dayna, visits her with Stassi's 11-year-old brother, Nikolai. Her mom complains that she's too hot because she's menopausing and Stassi doesn't have central AC, while Stassi just wants to talk about the Scheana fight. She very organically asks for Nikolai's advice and he very organically tells her that her problem is getting in other people's business, and while that moment was more obviously staged than other parts of the show, he's not exactly wrong.
Mom No. 3 shows up when Scheana and her mom, Erika, get their nails done together. Turns out Scheana's mom was at the pool party and overheard Stassi run down to the basement and start screaming and crying about how much she hates Scheana. She advises Scheana to "fix it" and continue to be nice to those women, if only so she stays one of Katie's bridesmaids. Scheana, it's not worth it. Think of the tea-towel invitations.
On Ariana's actual birthday, James and Lala go to Ariana and Tom's place to wish her a happy birthday. They're all — minus James — leaving for the Sonoma trip the day after, and Lala's still stressing about whether or not Jax has said anything about her being part of this mini-vacation. By the time the next morning rolls around, Lala is nowhere to be found at the airport. It sounds like both Ariana and Stassi's birthday trips will be starting on the wrong note — which is the only thing we could possibly expect.
Read past Vanderpump Rules recaps here.