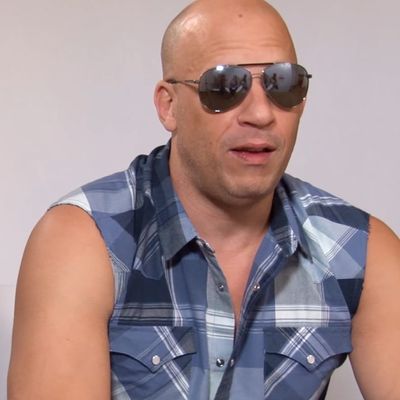 Photo: Courtesy of YouTube/Carol Moreira
Today in Bad Hollywood Men, we present a supremely uncomfortable interview between noted candy ass Vin Diesel and Brazilian YouTuber Carol Moreira. Over the course of the 11-minute interview to promote his new movie xXx: Return of Xander Cage, the actor — who does not remove his sunglasses — interrupts Moreira multiple times to hit on her and comment on her appearance.
"God, you're so beautiful," the star declared. "My God, she's so beautiful, man. Am I right or wrong? Look at her. How am I supposed to do this interview? Look at this woman. She's so beautiful. Talk to me, baby!"
Moreira tried to keep things on track, but Diesel was not deterred, suggesting they stop the interview and "get outta here," professing his love and repeatedly bringing the conversation back to her looks. "I love her. Man she's so fucking sexy, I can't do this interview, look at her," he said, before getting on his knees and crawling toward her.
In an introduction to the video, Moreira said she did not like the situation, which left her feeling uncomfortable. "I was not sure what to do. I just laughed because it was a very delicate situation," she said. "I did not like it. At the time I did not know how to react, but you will see that I was uncomfortable; it was not nice that he interrupted my work."
According to the "personal life" section of his Wikipedia page, Diesel has three children with his girlfriend, Mexican model Paloma Jiménez.
We remain, as ever, team The Rock.