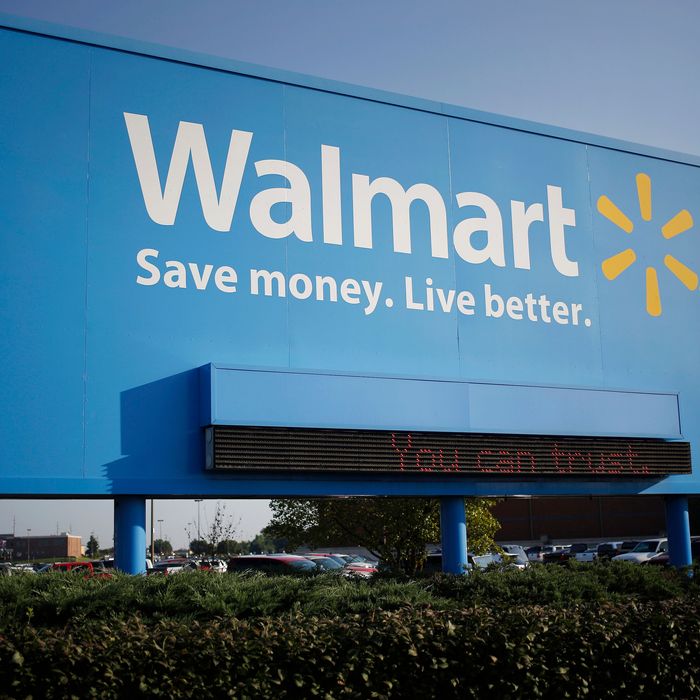 Walmart will compensate same-sex couples denied benefits.
Photo: Luke Sharett/Bloomberg via Getty Images
More than 1,000 Walmart employees could be eligible for compensation after the company settled a lawsuit alleging it discriminated against LGBTQ employees when it denied same-sex couples health-insurance benefits. According to the New York Times, the case is groundbreaking because it represents an evolution of legal precedent. Plaintiffs have historically had to sue for discrimination on the grounds they didn't "conform to gender stereotypes" (i.e. weren't masculine or feminine enough), but in this case the court ruled that Walmart had discriminated against the plaintiff because she was married to a woman.
Jacqueline Cote, who began working at Walmart in 1999, met Diana Smithson — another Walmart employee — in 2004. In 2008 Smithson left the company to care full-time for Cote's mother, but when Cote tried to enroll Smithson in Walmart's spousal insurance plan, she was blocked. Walmart didn't extend benefits to same-sex couples until January 2014, and by that time Smithson had been diagnosed with ovarian cancer and had run up $150,000 in medical bills.
Under the terms of the settlement, Walmart will reimburse employees for the out-of-pocket cost of their spouse's health care from January 1, 2011, to December 31, 2013. It will also pay 250 percent of costs for employees who submit spousal health-care expenses for $60,000 or more.
Walmart also committed to giving same-sex couples the same benefits it offers way heterosexual couples — something the company had previously stated it had "no legal obligation to do."
An important factor in Cote's victory is the Equal Employment Opportunity Commission's finding in recent years that discrimination on the basis of sexual orientation is "inherently" sex discrimination. And sex discrimination, of course, is outlawed in the Civil Rights Act of 1964. The Times notes that the commission could reverse its decision under President Trump, but for now, according to the EEOC's general counsel, "the trend lines are very positive."