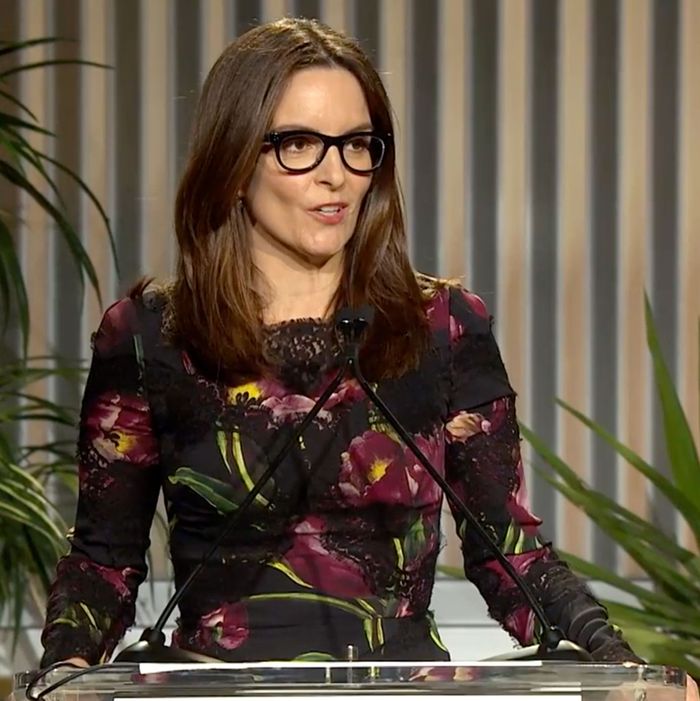 Tina Fey
Photo: Courtesy of The Hollywood Reporter
"What an amazing year it's been for women," said award honoree Tina Fey at The Hollywood Reporter's 2016 Women in Entertainment breakfast, laughing maniacally before sinking her head onto her podium in despair. "What a year for women."
But despite the bleak political climate, Fey's speech mostly took on an optimistic cast, focusing instead on the ways that women in positions of power can lift each other up instead of tearing each other down. While Fey isn't immune to the singular horrors of being a woman in Hollywood (for example, she recently learned about a facial treatment that involves being stabbed and electrocuted at the same time, which she joked that she is still considering), Fey has the unique position of having attained a measure of creative freedom and authority in an industry that is notoriously hostile to female advancement.

Reflecting on her career trajectory — as well as her inclusion on THR's Power 100 list and her receipt of the Sherry Lansing Leadership award — Fey spoke thoughtfully about what the word power means to her. Power, says Fey, "means knowing you will be heard. Not necessarily obeyed, but heard." Power is "having proven yourself enough that people say yes to you when maybe they don't want to." And perhaps most importantly, power is having the freedom to say no to something you don't want to do: "whether it's the butter scene in Last Tango in Paris or telling Roger Ailes to put his hamburger meat back in the freezer."

Fey seems to suggest that our best tool for preventing patriarchal abuses of power is to have more women at the top fighting for each other. At its best, power is generous instead of selfish, a force that can be spread among others. "Feeling like you can say no without negative repercussions is an important kind of power that we can help give each other," said Fey. "I have that power, and I promise to help other women have it too."

You can watch Fey's remarks on power from 19.28 onward.