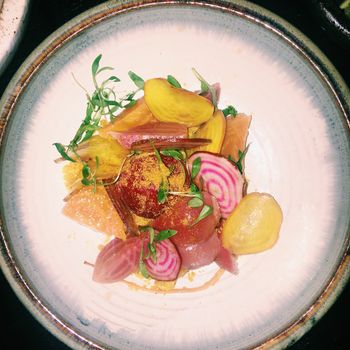 Dinner at the vegan restaurant Erven.
Photo: Emily Sundberg
Weekend With is an ongoing Instagram series that features people we like photographing places we'd like to be. Follow @thecut on Instagram to join in, and tag your photos with #weekendwith when you travel somewhere new.
Emily Sundberg is the Instagram editor here at the Cut. Both independently and for work, she takes a lot of photos for Instagram. In her free time, she looks for tacos and people she can take portraits of, and L.A. provided plenty of both.
"As someone who has lived in New York for five years, I had no idea what to expect of my first visit to L.A. I booked the trip spontaneously at the beginning of the month, and this past weekend stayed with a friend in Santa Monica, and after spending a little over 72 hours there, I completely understand why someone from New York would want to live there (especially when my feet were in the Pacific as friends texted me photos of snow back home in New York.)"