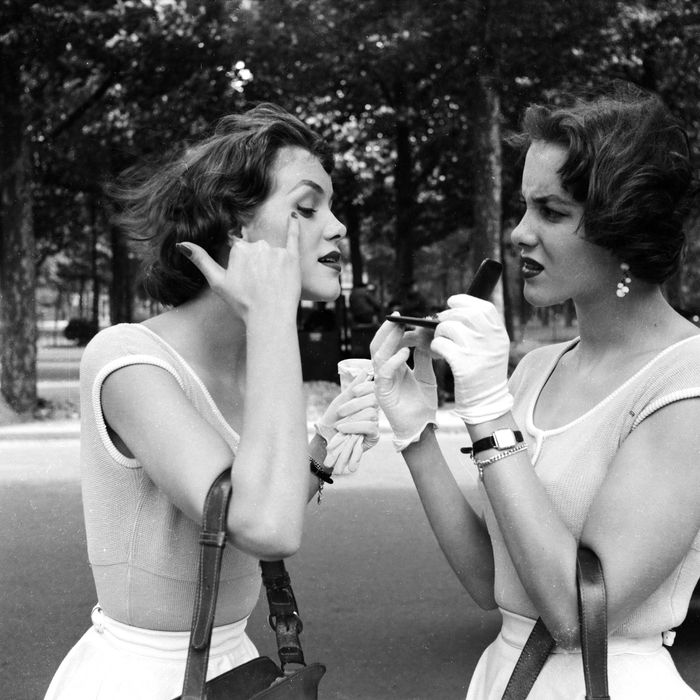 Photo: Terence Le Goubin/Getty Images
Are you seriously going to tell me you don't use an eye cream? Neither do I.
I am a disgrace to beauty editors the world over in so many ways, but especially in this one. Once every decade or so, I'll open one of those tiny pots and dab dab dab. But mostly, I smear my regular face cream in the general eye vicinity and tell myself it's just fine.
Apparently, according to a new study, this isn't going to cut it. The skin under the eyes is quite different from the rest of your face, and as you age (and age and age), it reveals life's trials most cruelly. That's because of a whole confluence of disheartening factors. The skin here is thin, with the lowest elasticity, firmness, and oil production, the worst barrier function (meaning it doesn't hold water in or keep irritants out), the deepest wrinkles, and the biggest molecular difference between young and old. That's why it ages up to 20 percent faster than the rest of the face.
The scientists at Olay studied aging patterns and perception and discovered that dark circles are the No. 1 sign of aging — not crow's feet, not puffiness, not crepey skin. "Dark circles make you look less healthy, like you're not taking care of yourself," said Frauke Neuser, the principal scientist at Olay.
Any under-eye business — including puffiness and bags, as well — can make you look 10 or 20 years older, and that gap grows as the years pass, says Neuser. "So if you're 50, your age under your eyes could be 70." Bad news in a world where women are working well past our 60s, and like it or not, it really helps to look younger.
Like entering marriage counseling, too many people employ an eye cream when the situation is nearly past hope. "Women start using eye products in their 30s but that's too late," says Neuser. "And once you have heavy sagging, no eye cream in the world can fix it." Olay scientists aimed to find biomarkers and address the issue before it becomes visible.
So go ahead, skip this annoying step in skin care at your own peril. Meanwhile, I'll be using an eye cream morning and night — and doubling down on concealer. Here are the six I recently tried that function better than a "glorified moisturizer."
I've been using this for two weeks; it feels great, and I think my lines look a little less deep. It has peptides and vitamins, a slight tint that presumably works with all skin tones, and glides on easily. It's a little thicker than some eye creams, making it best for dry skin.
This contains a patented form of niacin, which StriVectin claims makes the skin stronger and less dehydrated over time. It also has little light-diffusing particles to obscure dark circles handily.
This looks like a cream but feels bouncy and cool. With antioxidants, anti-inflammatories, and moisturizers, it makes skin look better right away. Contrary to its name, it doesn't — and can't — actually lift the eyes. Nice try.
I'm a sucker for the perfect little gold bottle, which, for the price, should be made of 14-karat. But it takes only a few drops of this lightweight serum to do the job: moisturizing and improving elasticity.
Like many eye creams, this one has its own antioxidants from organic sea flora — whatever that is — botanicals and peptides to repair sun-damaged skin. It also has a cool metal applicator.
It is a major moisturizer without a major-moisturizer's heaviness. It contains an enzyme found in salmon, but doesn't smell at all fishy.