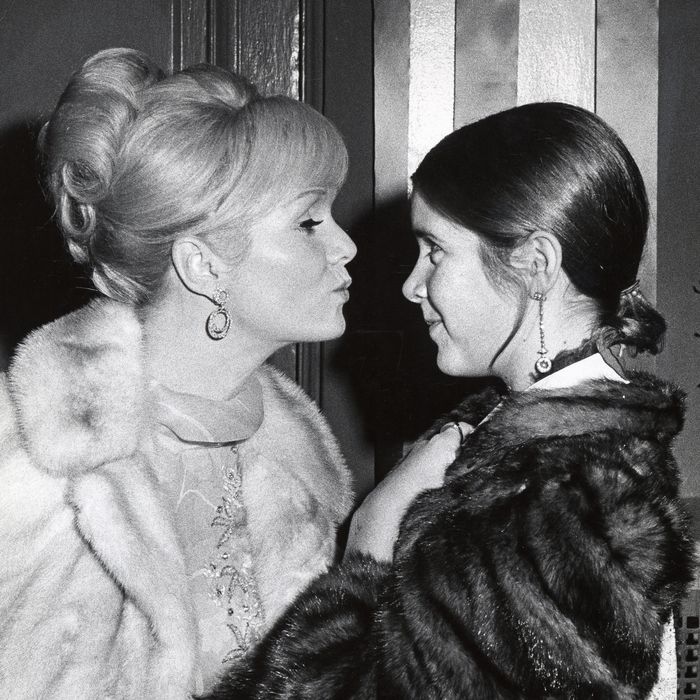 Debbie Reynolds and Carrie Fisher, 1972.
Photo: Ron Galella/WireImage
Tragedy doubled this week when Carrie Fisher died at age 60 following a heart attack, and then a day later, her 84-year-old mother Debbie Reynolds passed away after a stroke.
It's a known pattern within medicine: losing a parent, spouse, or especially child can have profound health effects. Dr. Ilan Wittstein, a cardiologist at the Johns Hopkins School of Medicine, tells Science of Us that "grief likely played a role" in Reynolds's death. The effects cascade: Grief increases blood pressure and the release of stress hormones, which can lead to conditions like heart attack, stroke, and "broken heart syndrome," where the heart muscle suddenly weakens following an intense stress. While he can't be certain without knowing the specific details, Wittstein says, "It seems likely that the death of Ms. Reynolds occurring so shortly after the death of her daughter is not coincidental."
Large-scale, nationwide studies have repeatedly found strong links between a child's death and parent mortality. A 2013 study of over 69,000 American mothers found that losing a child created an even bigger mortality risk than losing a husband or wife, a phenomenon the researchers call the "maternal bereavement effect." Most stunningly, the researchers found that a mother's "hazard of mortality" — a way economists and epidemiologists calculate chance of dying — shot up by 326 percent in the two years following a child's death.
However, the chances of parent death are still slight: Javier Espinosa, an economist at the Rochester Institute of Technology and co-author of that study, says that in their sample, just 1.2 percent of mothers died within their nine-year window, although he attributes that low rate partly to more than half the sample being mothers between the ages of 20 and 34. The increase in mortality is still "a big change in a small risk," he explained over email.
Research in other countries has come to similar conclusions. A 2016 Israeli study comparing over 5,000 bereaved parents to over 70,000 non-bereaved parents found a "hugely increased risk of death" in both fathers and mothers in the first three years following a child's death, with a significant link between bereavement and deaths by coronary heart disease. A 2003 Danish study of 21,000 bereaved parents also found an increased mortality rate in both fathers and mothers, with a higher risk for mothers. A 2012 analysis of the total Swedish population found a bigger risk of mortality for mothers, too.
"With a parent losing a child, especially a mother losing a child, it's known that the emotions are extremely intense," says Dr Victor Fornari, director of the division of child and adolescent psychiatry at the Zucker Hillside Hospital in Glen Oaks, New York. The psychological and physiological responses can reinforce one another: Losing a child "triggers the maximal amounts of stress hormones," he says, and the increases in pulse, blood pressure, and arrhythmia can be life-threatening, especially to people with preexisting conditions. "Here in the case of Debbie Reynolds, you have a mother who is older with preliminary heart disease – she is at risk for sudden death," he says.