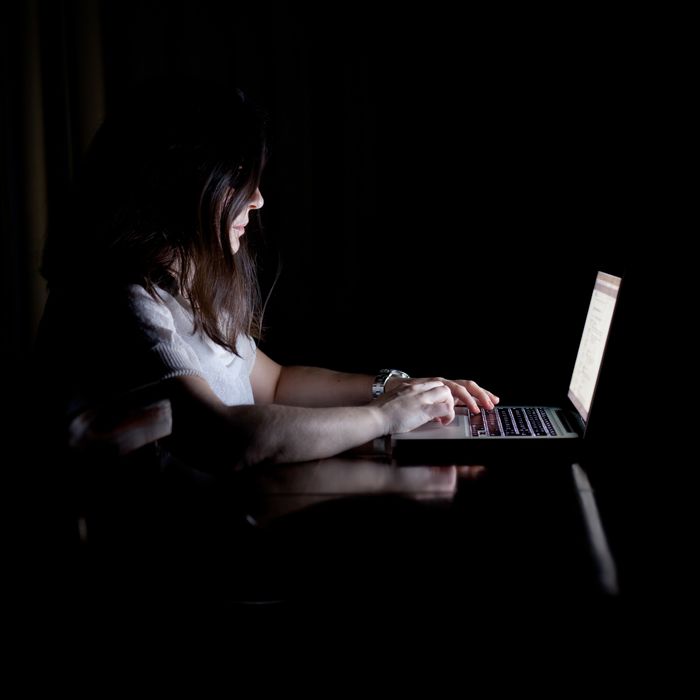 A woman created a fake Facebook profile for her ex.
Photo: Alexandra C. R./Getty Images
Some of us deal with the pain of a breakup by hacking into our ex's DirecTV; others, like Stephani Renae Lawson of Orange County, California, take their heartbreak even further. Lawson, 25, was sentenced to one year in prison on Wednesday for using a fake profile of her ex-boyfriend to send herself threatening messages, and then reporting him to the police.
Lawson and her ex-boyfriend (whom the Orange County district attorney referred to as "John Doe") lived together for ten months in his grandparents' house before his grandma kicked her out for beating him up, the Orange County Register reports. Shortly thereafter, before September 2015, Lawson created a Facebook account falsely depicting her ex, and promptly began sending herself threatening messages.
As Lawson began to file several reports with the police, her ex was arrested four times between September and December 2015, and charged with "multiple felonies," according to a release by the Orange County district attorney's office. His bail was set at $200,000 in December, and his grandparents put their house up as collateral to cover it, Vocativ notes.
But Lawson didn't stop there. On May 3 and May 4 of this year, she sent herself more threats from her own IP address — before testifying at her ex's preliminary hearing that he was continuing to threaten her. The DA's office then conducted a follow-up investigation, at which point it became clear that Doe, not Lawson, was the victim.
Lawson was charged with one felony count of false imprisonment by menace, violence, fraud, or deceit, and one felony count of perjury in September. Charges against her ex were dismissed by October. In addition to jail time, she was also sentenced to three years of probation and ordered to pay restitution.