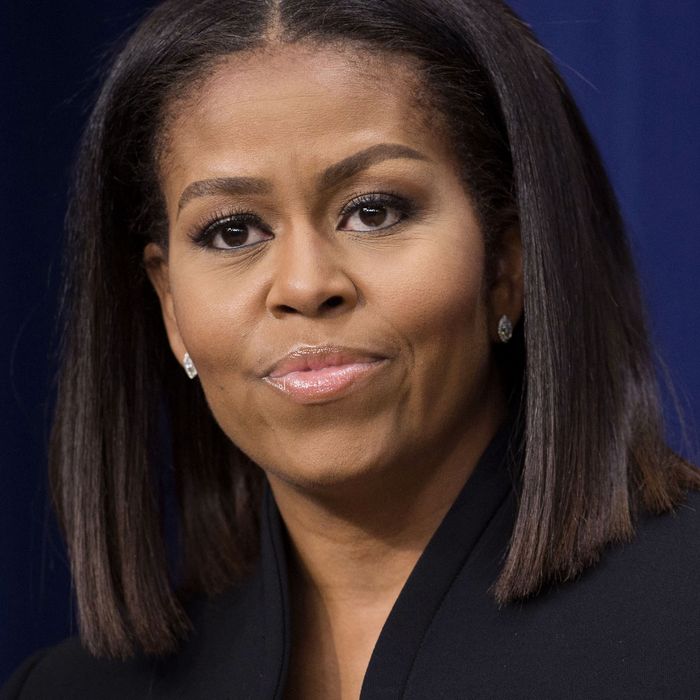 Michelle Obama.
Photo: SAUL LOEB/AFP/Getty Images
After a West Virginia nonprofit director referred to Michelle Obama as an "ape in heels" on Facebook in November, reports suggested that she was let go from her job — before it was revealed she was actually just suspended and would return to work shortly afterward. But now, after some back-and-forth, Pamela Ramsey Taylor has finally been fired for good, the Washington Post reports.
Taylor, who served as the director of Clay County Development Corp., wrote in a November status, "It will be so refreshing to have a classy, beautiful, dignified First Lady back in the White House. I'm tired of seeing a [sic] Ape in heels." Clay's mayor, Beverly Whaling, reportedly commented on the post, "Just made my day Pam."
Both the post and comment were deleted, but not before screenshots were taken and shared widely on social media. Taylor was removed from her position shortly afterward, and Whaling resigned from her post. Yet, the Charleston Gazette-Mail later reported, Taylor was merely on suspension and expected to return to her position on December 23.
According to the Post, Taylor has since been fired from her position, and the nonprofit — which provides services to low-income and elderly residents through government funds — has been placed under the watch of a state agency. Apparently Taylor's post brought closer scrutiny to the nonprofit, exposing problems in how it was being run, including a lack of open meetings or nondiscrimination policies.