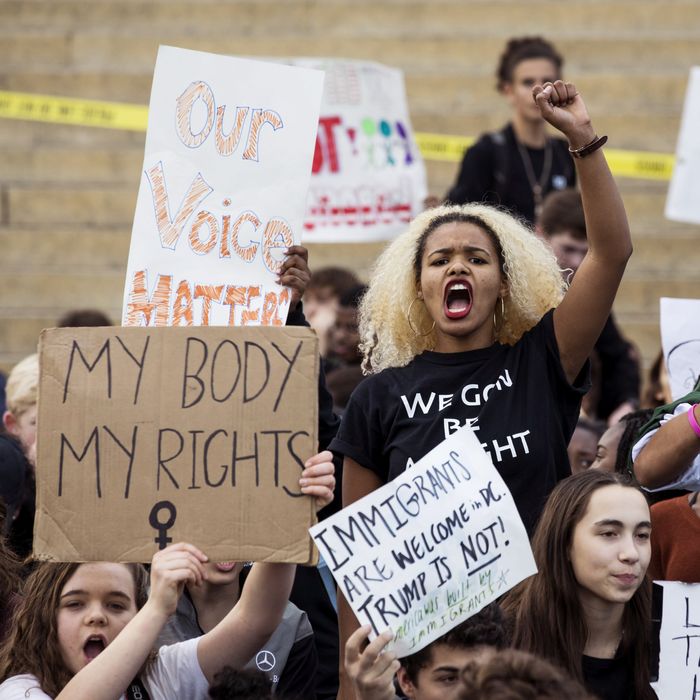 Photo: Anadolu Agency/Getty Images
At 68, Ann Massaro is still angry. With several decades of activism behind her, you'd think she'd be feeling something else — like fatigue — or at least that she'd have hung up her hat to let younger generations handle the fight. "When we elected a sexual predator to the White House," she told the Cut over the phone from Connecticut, "I was given a message on that day that as a woman I am not safe in this country. For women of color, that threat is doubled, tripled. That was it for me. I just knew that I couldn't sit here and do nothing."
In several Facebook groups for Democrats, including Pantsuit Nation, Massaro began posting about her anger in the days following the election. "I would get on various sites with women who were outraged by Trump and I would post, asking, 'Would you be willing to organize?'" Massaro didn't know if anything was going to come of her posts, but it wasn't long before she began to see people wanting to turn their anger into action. Massaro formed what would soon be known as the Women & Allies grassroots campaign, putting her experience as a lifelong activist to work for an upcoming protest. This Monday, December 12, women nationwide are being encouraged to strike.
"I was in the South in the late '60s and early '70s, helping to register black voters. I started a feminist collective in North Carolina. I had encounters with the KKK. I learned a lot during that time," she said. "It was hard. I remember standing at a rally in California with a woman holding a bent coat hanger. So many of the men at the protest didn't know what it was for." Massaro's experience in social justice is legion — she worked for Flo Kennedy in the lead-up to Roe v. Wade — but since the '60s and '70s, the methods for effecting change have shifted. That's why, when Massaro linked up online with Isabella Gutierrez, a senior screenwriting major at NYU and a woman over 40 years her junior, their partnership made growth for their forthcoming nationwide protest possible.
Gutierrez's family is from Colombia. "After the election," she said to the Cut, "my family told me how terrified they were. They came to America to find a better life, which is what I think a lot of immigrants are trying to do." After Trump's election, Gutierrez said, it was the first time in 40 years that her mother said she didn't feel at home anymore. And like Massaro, Gutierrez decided that she was not going to just wait for something to change.
"I'm not going to let this happen. And I'm going to let everybody know that I'm not going to let this happen. As a Latina woman, I was angry and scared and saddened and I wasn't going to just stand still." This was Gutierrez's first experience organizing in a major way. "I've been kind of a keyboard activist. I would read articles and raise awareness and donate and that would be the full extent of how I participated in these causes." Trump's election — and her family's fear — had pushed her into action.
For the Women & Allies strike, Gutierrez became the head organizer for the New York City event. "I was expecting maybe 200 people to join the Facebook event in the beginning," she said. "Instead, I had about 3,000 people RSVP as 'interested' in about three days." That's when she knew, even as a first-time organizer, she couldn't give up. The protest had to happen and she had to learn fairly quickly what needed to be done. "I planned to hold the protest in Union Square at first, but we had to change it to Columbus Circle because of the permits. I didn't want any of the participants to be arrested."
The objectives of Monday's strike are clear. Nationwide, in 20 different cities (four of which were still pending permits as of last week), women and allies will stand and march in solidarity as a statement against Trump's hate. There will be point people at each march to encourage participants to sign a Change.org petition that encourages the Electoral College to cast their votes for Hillary Clinton when they meet on December 19. It already has over 4 million signatures. And for those who can't take the day off to strike, Massaro and Gutierrez and the rest of the country's organizers have concocted an alternate way to express solidarity.
"We scheduled it at 12 p.m. so that people who want to take a quick lunch break and sign up for emails can go back to work afterward," Gutierrez said. "If you can't do that, participate in the all-day spending boycott. Don't spend a penny on Monday." This protest, in contrast to January's march on D.C., is a "way to express our anger locally," Massaro said. "Not every woman can pick up and travel to D.C."
But is protesting enough? Will striking actually make a difference? Massaro, speaking from her own experience, has hope. "The war in Vietnam ended a lot earlier because of people taking to the streets. And it's not just about protesting. It's about uniting people in these places across the country. This is a women-driven action and a women-driven movement. It's important to know that you're not alone." Gutierrez, who has experienced firsthand the value of her social-media connected generation, said she will know she has done her job on Monday if "at least a thousand people show up."
She stays committed to fighting back as a tribute to her family. "My mom speaks better English than anybody that I know. She fought hard against racism in her youth." Gutierrez's mom will be flying up from North Carolina for the event. "She's going to be walking with me," Gutierrez said. "The legacy that they have given me does not deserve to be trampled by Trump."