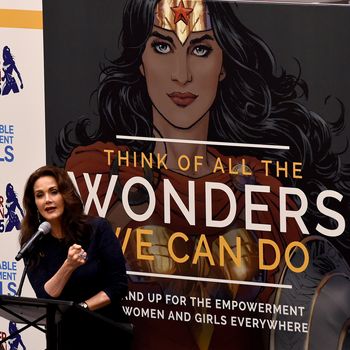 Actress Lynda Carter speaks during a ceremony as the U.N. names Wonder Woman its Honorary Ambassador for the Empowerment of Women and Girls during a ceremony on October 21, 2016.
Photo: TIMOTHY A. CLARY/AFP/Getty Images
It's just under two months since the United Nations gave Wonder Woman the role of Honorary Ambassador for the Empowerment of Women and Girls, but the superhero is already out of a job. Or, she's at least not a part of any future gender-equality campaign for the U.N., according to NBC. The much-hyped and much-contested appointment has come to an unceremonious end.

In October, the Amazonian woman with the golden Lasso of Truth was granted an "honorary ambassador" role, which is reserved for fictional characters championing particular causes. (In case you were wondering, Winnie the Pooh and Tinker Bell have earned the title before.) The trouble this time around, though, was that Wonder Woman's selection was challenged from the very beginning by much of the U.N.'s own staff. Many called the selection of Wonder Woman — an arguably sexual depiction of a busty woman in thigh-high boots — as a tone-deaf selection for an organization that works to combat the sexual exploitation and abuse of women and girls worldwide.
Things were so heated from day one, in fact, that around 50 U.N. staffers turned their backs in a silent protest during an October ceremony when the role was announced. Their protest didn't go unnoticed, since the announcement of Wonder Woman's role as an Honorary Ambassador was performed with much fanfare. Actresses Lynda Carter and Gal Gadot, who've both played the role of Wonder Woman on TV and film, were in attendance, and many young girls showed up to the event dressed as the iconic superhero, according to NBC. An online petition by "Concerned United Nations staff members" soon went up, asking the secretary-general to reconsider the choice. The petition, now with almost 45,000 signatures, calls out the "overtly sexualized" and "pin-up" image of Wonder Woman that would then be promoted as part of the U.N. Sexual politics aside, though, the petition's writers also call out the cultural insensitivity of presenting Wonder Woman as the global face of a campaign for gender equality. "The bottom line appears to be that the United Nations was unable to find a real life woman that would be able to champion the rights of ALL women on the issue of gender equality and the fight for their empowerment," the petition reads, adding that they would be happy to offer other suggestions.

In the meantime, it looks like 2017 is going to be a better year for Wonder Woman (lest we forget that upcoming blockbuster summer debut). Oh, and DC Comics will still be debuting a special comic in honor of her Honorary Ambassadorship. So, there's that.