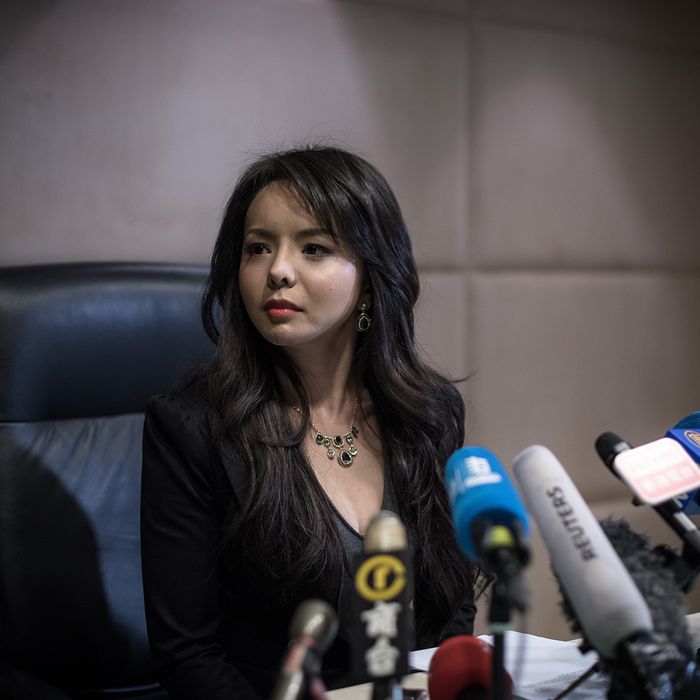 Anastasia Lin.
Photo: PHILIPPE LOPEZ/AFP/Getty Images
Anastasia Lin must, understandably, be frustrated with the current position she's in. Lin is the reigning Miss World Canada and has been nominated twice by the country to represent it in the World Pageant. But Lin isn't your average beauty queen who's content with the glitz and glamour such events typically bring. She's also an actress and an outspoken critic of human-rights abuses in China, where she was born, before immigrating to Canada in her teens. The trouble is, it now appears that her vocal stance on China isn't sitting well with pageant officials who, by all appearances, are doing everything they can to silence Lin.
According to reports in the Boston Globe and the New York Times, Lin's interviews with members of the press have been cut off while other pageant contestants are free to speak with the media. One columnist for the Globe had his interview with Lin cut short after pageant officials saw them speaking in a hotel lobby and accused her of "breaching the rules and causing trouble." Prior to the interview's abrupt ending, Lin told the Globe that she was "trying to play by the book," and only wishes to raise awareness about abuses of Chinese prisoners of conscience. "I don't care about all this — the hair, the dresses," she said. "I just want to get to that stage and be the voice for people who are silenced."

At the heart of the issue seems to be pageant organizers' efforts to not upset the Chinese government and investors who make up a large portion of the organization's financial backers. Since 2003, the pageant has been held six times in China and, as the Globe points out, the sponsors this year are all affiliates of a Chinese company. Lin's criticism of China was also what led to her being barred from attending the competition last year, when it took place in Sanya, on China's Hainan island. The Chinese government refused to grant her a visa even after she flew to Hong Kong in the hopes of participating. This time around, she's also been prohibited from attending the premiere of an indie movie she stars in called The Bleeding Edge. The film depicts the grisly crime of harvesting organs of Chinese prisoners of conscience, which human-rights activists say is backed by the Chinese government.

The finale of the Miss World competition is set for Sunday, December 18.