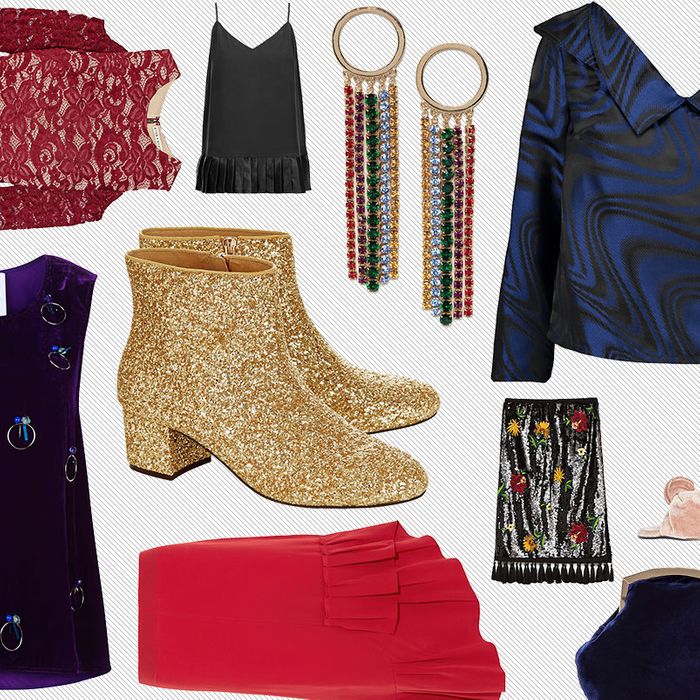 So, you missed out on getting your New Year's Eve dress on sale and now you're stuck staring at your closet, wondering what you can recycle. Don't give up and pull out the same black dress again. The sales are still going strong, and you can find something special for less than $250. Want a cool top instead of the same old sequined mini? Equipment's chic black camisole will look elegant with cropped trousers, while Opening Ceremony has a fresh take on the ubiquitous off-the-shoulder style. Maybe all you need are a fancy pair of shoes to make your basics feel new again? Gold boots or sandals in the color of the year (pink) are just the thing. Scroll down to see all of our favorite, last-minute New Year's Eve picks.
If you want to wear some subtle sparkle, this gold dress is an inexpensive way to do so. With its glittering threads and swishy, flapperlike hem, it looks like it came from a far more expensive Italian luxury brand.
When in doubt, dangly earrings are the life-saving accessory that'll make any outfit seem special. Also, they make for a great close-up selfie.
A sleek silk camisole is a smart staple to own, especially if it has interesting details like the pleats at the hem. Wear with black pants and a red lip now, then mix with skirts come summer.
Gold boots are a stylist's secret weapon. They can make jeans and a T-shirt suddenly seem like the coolest outfit in the world, transform all-black into a glam-rock fantasy, and toughen up a floral dress.
If you're looking for a traditionally pretty dress with just a hint of sex appeal, you can't go wrong with this red lace number.
Never heard of Beaufille? It's a new label that's becoming a favorite among fashion editors, so consider this purchase a smart way to get in the know before everyone else discovers it. Technically, this is a top, but since it hits at the knee on the (very tall) model, most people can wear it as a mini as well.
If you're not sick of pink yet, you'll definitely want these sandals.
When else besides NYE can you wear a gigantic, sparkly rhinestone necklace around your neck?
Going-out tops bring back horrible memories of tiny scraps of fabric strung together by flimsy strings. This is not that kind of top. The one-sleeve creation is by one of the coolest new French designers, who loves to combine streetwear with her couture experience.
Can you believe this skirt comes from Zara? It looks like one of those mythical, impeccably preserved pieces that someone claims they unearthed from an obscure vintage shop. Which is exactly the lie you'll tell everyone when they ask you where you bought it.
Off-the-shoulder tops have been trendy for the last year, but if you're looking for a fresh way to wear the style, try this Opening Ceremony top. It dips into a V instead of the standard straight neckline. And if you really want to be different (and warm!), try it styled with a turtleneck underneath.
Hosting a house party this NYE? Feathery slides that look like glamorous boudoir slippers will be perfect while you mingle with your guests.
With its curvy frame, this clutch is a nice alternative to the hard, acrylic cases that everyone else will be carrying. Bonus: It won't hurt when it's pressed against your side all night long.
Here's how to truly embody the "dancing girl in a red skirt" emoji.
If you buy something through our links, New York may earn an affiliate commission.