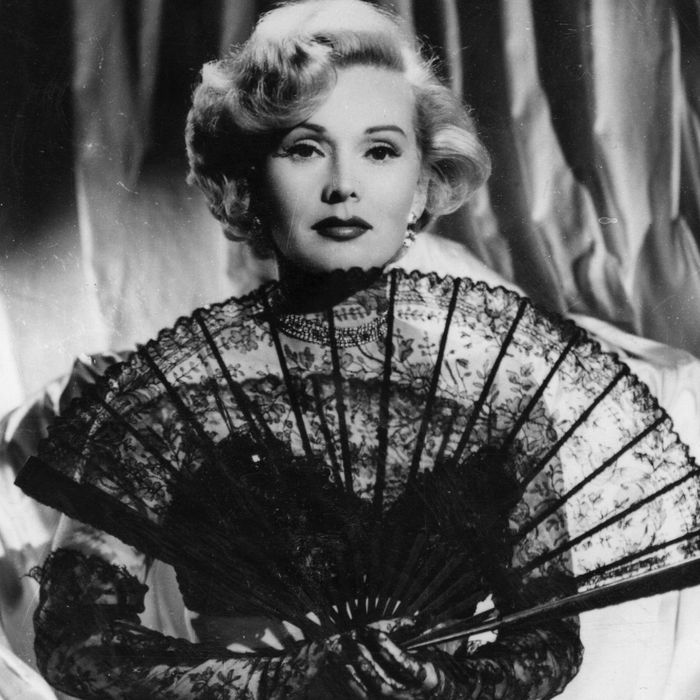 Zsa Zsa Gabor.
Photo: Keystone/Getty Images
Zsa Zsa Gabor, an actress known better for her many marriages and glamorous social life than her career in film and television, died on Sunday in Los Angeles, reports the New York Times. Though there are some conflicted accounts, she was most likely 99. The Hungarian-born actress entered the spotlight when she won the Miss Hungary title in 1936. Her family, including her sisters, Eva and Magda, who were also actresses, moved to America right before World War II. By the 1950s, Zsa Zsa and her sisters were famous for their film careers and appearances in the society pages. Zsa Zsa was the last living Gabor sister.
Gabor's film career reached its height in the 1950s when she had memorable parts in Moulin Rouge (1952), Lili (1953), Touch of Evil (1958), and Queen of Outer Space (1958). All together she would appear in over 60 made-for-television movies and feature films. In addition to her various credits in American cinema, she also got parts in Italian, French, and German films. Her many appearances in the tabloids and television, her eccentricities, like calling everyone she met "dahlink," and her penchant for clever one-liners ("I am a marvelous housekeeper: Every time I leave a man, I keep his house") made her a cultural icon.
Gabor's eight husbands included hotel heir Conrad Hilton, actor George Sanders, and Barbie designer Jack Ryan. Though many of her marriages were short-lived — such as one that was likely never legal owing to bigamy laws and was annulled after one day — Gabor was still married to her last husband, Frédéric Prinz von Anhalt, when she died. They celebrated their 30th anniversary as husband and wife in 2016. Gabor is survived by Prinz von Anhalt.