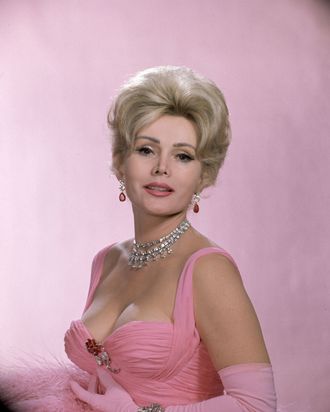 Photo: Allan Grant/The LIFE Picture Collection/Getty Images
Zsa Zsa Gabor passed away yesterday at the age of 99, a few months shy of her 100th birthday. We should all give thanks for almost a century of Zsa Zsa. The Hungarian expat and Hollywood socialite married nine times, appeared in pageants and B movies, claimed affairs with world leaders, and made tabloid headlines and talk-show rosters for decades. Zsa Zsa, along with her sisters, Magda and Eva, and their mother, Jolie, were proto-Kardashians, but with European aristocratic flair.
Gabor grew up in Hungary, attended boarding school in Switzerland, and lived briefly in Vienna before immigrating to the United States in 1941. Though she started her career as an actress in movies like 1958's Queen of Outer Space, she grew famous for her social appearances and her many divorces. Among her husbands: the hotelier Conrad Hilton, the actor George Sanders, and Jack Ryan, one of the designers of the Barbie doll. In 1986, she married Frédéric Prinz von Anhalt, a former nightclub owner 26 years her junior.
In celebration of Gabor's life, and of the lives of bejeweled socialites everywhere, spend this holiday with her best legacy: her books.
Zsa Zsa Gabor's 1991 autobiography, One Lifetime Is Not Enough, is a factually dubious book with lots of cardinal advice for how to be the woman who has it all (all = lots of diamonds). It's the kind of thing best read naked while in a perfumed bubble bath. Published a couple years after a 72-year-old Gabor was convicted of battery for slapping a police officer in the face, it opens with her crying in her jail cell. She writes about courting Charlie Chaplin, feeding flowers from suitors to her pet poodles, being startled by detectives while nude at home, kissing Greta Garbo, and saying things like, "I am a marvelous housekeeper. Every time I leave a man, I keep his house."
One Lifetime Is Not Enough is an ideal companion to Zsa Zsa's 1971 comedy advice book, How to Catch a Man, How to Keep a Man, How to Get Rid of a Man, in which she patiently advises on matters of the heart with classic wisdom like, "Is it a good idea that your husband should know that his good friend is also your lover? I would say no."
Zsa Zsa makes a life of marrying and divorcing millionaires look like so much fun: On YouTube, you can watch a celebrity home tour that she gave a daytime talk show in 1989. She is atomically blonde and resplendent in satin puff-sleeves and furs. She casually flirts with the show's host while she explains her purchase of a ready-made hot-dog machine for her in-home disco rink. She is luminous.
In most ways, we are no longer living in Gabor's century. There's a dearth of beautiful émigrés and lapsed nobility from Eastern Europe at Hollywood's white-glove parties these days. Attempting to have an affair with prominent political figures (she tried for Henry Kissinger) is not as in style as it once was.
In other ways, Zsa Zsa was far ahead of her time: She was a reality star before reality TV, a sex symbol and a tabloid antihero, an expert at crafting her own image. Her synchronicity with the Kardashians is more than a casual similarity. An immigrant clan, the Gabors were seen as slightly exotic and slightly lascivious. Like the Kardashians, they were sisters, famous for being famous, and fertility icons directed by a domineering mom-ager. Also like Kim, Zsa Zsa was once robbed of a substantial amount of jewelry in a fancy hotel, but left physically unharmed. Her statement — that she was "shaken up" — was almost identical to Kim's recent missive.
But most tellingly, Zsa Zsa pioneered The Bombshell Who Marries for the Bottom Line, a role more elaborate than any she played in her movies. We owe her a lot of what's fun about entertainment these days, Kardashians included.
Gabor had not been in good health for years prior to her death. A 2002 car crash led to health problems from which she never recovered. Her only daughter, Francesca Hilton, passed away in 2015 at the age of 67, after being mostly dispossessed of her inheritance. In 2010, Gabor had to have part of her leg amputated. Following her hospitalization in February for breathing problems, her husband said that she uses a feeding tube and that he hoped she would live to see her birthday. How were they going to celebrate? A fabulous party, of course.